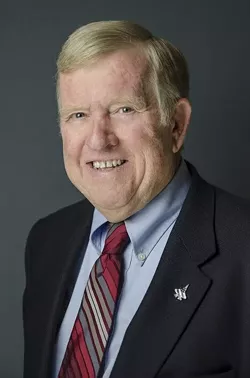 Amending the emergency proclamations issued yesterday, the towns of Marana and Oro Valley have announced Thursday afternoon all bars, gyms and places of public gathering would have to close through the end of the month.
The order also prohibits all restaurants from serving on-site, and encourages the use of delivery, curbside and take out service.
The restriction does not apply to grocery stores, markets, convenience stores, pharmacies, food banks and several other establishments.
The move follows this morning's vote by the Pima County Board of Supervisors to adopt similar measures. On Tuesday, Tucson was the first city in the region to close bars, gyms and other businesses were people congregate and limit restaurants to take-out and delivery.
"While each community has unique needs, our goal as a region is to bring Pima County into alignment with the management of COVID-19," said Mayor Joe Winfield. "As this crisis continues to unfold, community leaders are having to constantly reassess current guidelines and determine when to take new measures. Our County Board of Supervisors has determined that this next level of precaution is necessary, so the Town of Oro Valley will follow their lead and adjust our local recommendations accordingly."
The Town of Marana issued the following statement:
To further protect the safety of our residents, businesses, faith-based groups and non-profit organizations, Mayor Ed Honea has issued an amendment to the Town of Marana Mayoral Proclamation of Emergency which will order all bars, gyms, and places of public gathering to close, and will prohibit all restaurants from being open for on-site consumption. The amendment also encourages the use of restaurant delivery service, curbside-service, or drive-through service, and to use other appropriate precautions so as to mitigate the potential transmission of COVID-19. This amendment serves to aggressively assist in flattening the curve of the spread of the COVID-19 virus, and keeping our hospitals from becoming overwhelmed.
As of today, Arizona Department of Health Services report, seven people in Pima County have tested tested positive for COVID-19. In Arizona, a total of 44 people have tested positive. Among state tests, 130 cases are still pending and 175 have been ruled out. Private labs are testing people for COVID-19.
Statewide numbers updated here.
According to the CDC, COVID-19 symptoms typically occur two to 14 days after exposure, and include fever, cough and shortness of breath. However, some cases of the virus are entirely asymptomatic. Practices to avoid infection include social distancing (of at least six feet), washing your hands, avoiding unnecessary trips and not touching your face. COVID-19 can survive on cardboard for up to 24 hours, and on stainless steel and plastic surfaces up to three days. If you think you have been exposed to COVID-19 and develop a fever and symptoms, call your healthcare provider for medical advice. For more information, visit the
Centers for Disease Control and Prevention.