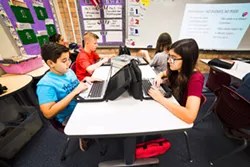 The Marana Unified School District is planning to distribute Chromebooks to all students who need one while schools remain closed until at least March 27.
That news came in a letter sent to MUSD parents and guardians from district superintendent Doug Wilson. In his letter, Wilson wrote that the district "is continuing to work diligently to make decisions that best serve our students, employees, and community."
"Like you, we have many questions surrounding AzMERIT and other state-mandated academic testing, supplemental instruction, activities, and graduations, just to name a few," Wilson wrote. "We are continuing to receive information from the Arizona Department of Education (ADE) regarding school closure, testing, instruction, and services."
Parents of students who need a Chromebook to support online resources and activities to support at-home learning should
click here to apply
for a computer. Chromebooks will be given to each student who does not have access to a digital device.
The request form must be completed by Monday, March 23 at noon. Questions can be sent via email to
engage.parents@musd.com
.
In the same letter, Wilson announced that the district will provide its Marana Cares Mobile meal services Monday through Friday as long as schools are closed. Marana Cares Mobile will provide lunch service. Breakfast and lunch will also be available for pickup beginning March 23 at several MUSD schools. Breakfast runs from 7:30 to 9 a.m., while lunch runs from 11 a.m. to 12:30 p.m.
Grab-and-go meals are available from the following schools through the closure:
Butterfield Elementary School: 3400 W. Massingale Rd. Tucson, AZ 85741
Estes Elementary School: 11280 W. Grier Rd. Marana, AZ 85653
Picture Rocks Elementary: 5875 N. Sanders Rd., Tucson, AZ 85743
Quail Run Elementary: 4600 W. Cortaro Farms Rd., Tucson, AZ 85742
Roadrunner Elementary: 16651 W. Calle Carmella, Marana, AZ 85653
Marana Unified will also not send out report cards Monday, March 23. Future updates from the district will provide more information. The next expected update is also March 23.
As of today's Arizona Department of Health Services report, five people in Pima County have tested positive for COVID-19. In Arizona, a total of 27 people have tested positive, 102 cases are still pending and 148 have been ruled out. Statewide numbers
updated here
.