Asian Flavor Hands-On Cooking Class. The Garden Kitchen is teaching you everything you need to know to have a solid beginning on multiple Asian classics. This three-hour class goes over how to create a soup stock, proper technique to roll a spring roll, stir-fry technique, and flavor combinations to create balanced Asian-style dishes. But what's the point of learning if you don't get to experience? That's why the class also includes a lunch of all the dishes you'll be making: spring rolls, noodle stir fry, and coconut lemongrass soup with shrimp. 10 a.m. to 1 p.m. Thursday, Sept. 26. 2205 S. Fourth Ave. $55. To register go to thegardenkitchen.org. Details.


Stormin' the Sazerac. This is a little-known piece of U.S. history, but one worth celebrating nonetheless. Every year, The Parish celebrates the 1949 anniversary of when women stormed a bar in New Orleans, thus breaking the tradition of men only being allowed inside. To celebrate, The Parish is partying all week, hosting live music from local female musicians, extending their happy hour and making specialty "sazerac" cocktails. Celebrate history and drink while you do it! 3 to 10 p.m. Wednesday, Sept. 25, throughout Monday, Sept. 30. 6453 N. Oracle Road. Details.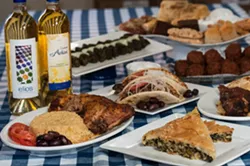 Tucson Greek Festival. Opa! You'd better put on your stretchy pants, because it's time for baklava, falafel, gyros and other food that will make you want to move straight to the Mediterranean to pursue a life of seaside leisure and tableside deliciousness. Of course, Greek culture is more than just food—this festival also features plenty of dancing, live entertainment and local artisan vendors. There are also full-scale carnival rides, which may not be especially Greek, but will be especially fun. And hey, it's all Greek to me, anyway, am I right? 5 to 10 p.m. Thursday, Sept. 26. 5 to 11 p.m. Friday, Sept. 27. 4 to 11 p.m. Saturday, Sept. 28. Noon to 5 p.m. Sunday, Sept. 29. 1145 E. Fort Lowell Road. $3. Details.


Free Barefoot Yoga. Barefoot yoga is the best yoga. And doing it outside now that the weather is cooling down is a delight. Throw in the fact that this is a free, quick, 30-minute sessions that you can fit in before work, and wow! You better get your yoga clothes on, and your shoes off. The Lohse Family YMCA of Tucson is leading this class in Jacome Plaza downtown to get your Thursday off to a good start—in body, mind and spirit. And if you still have time before work, you can continue to unwind with a game of giant Jenga! 7 a.m. Thursday, Sept. 26. Jacome Plaza Downtown, 101 N. Stone Ave. Free. Details.

Spirit Animal Month
. The Madaras Gallery is celebrating 20 years this year, and, in honor of the last two decades of art, they're highlighting a different subset of Diana Madaras' work each month. For the spookiest month of the year, they're featuring her spirit animal paintings, which tell the story of her deep, lifelong connection to animals. By the end of the year, she'll have 20 of these babies—colorful, geometric portraits of birds, fish, tigers, bears, horses and more—completed. Come see them on special display throughout the month. Hours are 9 a.m. to 5 p.m. Monday through Saturday and 11 a.m. to 5 p.m. Sundays. Madaras Gallery, 3035 N. Swan Road. Free.
Details.


Princess Mononoke. Although they're getting toward the end of their Anime Essentials series, The Loft sure isn't running out of good films to screen. Grand in every sense of the word, Princess Mononoke was the highest-grossing film in Japan in 1997 and helped solidify anime as a global phenomenon. Featuring fantastical forest creatures, some of the greatest medieval war scenes outside of Lord of the Rings and Joe Hisaishi's greatest orchestral arrangements, this is definitely a work of art to be witnessed on the big screen. 7:30 to 10 p.m. Thursday, Sept. 26. 3233 E. Speedway Blvd. $10. Details.


F Bombs. We at the Weekly love the word "fuck." In the realm of local journalism, we have it to ourselves, and we flaunt it accordingly.
Tucson's venerable story-telling gang, Female Storytellers (FST!), has made our pet word the topic of its Sept. 26 show, F*ST! Presents: The F Word Vol. 2, live at Club Congress. We know those FST! Women won't be holding back with the "u"s.
The show, for ages 21 and older, starts at 8 p.m. Tickets are $8 at the door. Proceeds benefit Spoken Futures, Inc. and, as always, ASL interpreters are provided.
Going on nine years, FST! has encouraged and inspired women to read their unique stories for a hundred or so perfect strangers every month. Their website, fstorytellers.org, provides prompts and comfort for the journey. Details.