Spring Break! Family Fun Day at the Farmers Market.
Were you planning to take the family over to Trail Dust Town this weekend anyway? Well, now, you should make sure to, because they're going all out this Friday, with 15 local food vendors, live music, face painting and a whole area just for hula hooping! In honor of Earth Day, they'll also have plenty of themed games for the kids. $6 wristbands will provide unlimited access to the Ferris wheel, carousel and train, to keep the kids busy while adults check out the gift shops and vendors. Millie's Pancake Haus is open for breakfast and lunch, as well! 8 a.m. to noon. Friday, April 19. Trail Dust Town, 6541 E. Tanque Verde Road. Free.
Details here.

Pima County Fair.
From carnival games to a beer fest to an exhibit on the pharaohs of Egypt, you'll find there's something for everyone at the fair—there always is. Thursday, April 18 through Sunday, April 28. Gates open at 2 p.m. Monday through Friday and 10 a.m. Saturday and Sunday. The carnival starts at 3 p.m. Monday through Friday and 11 a.m. Saturday and Sunday. 11300 S. Houghton Road. $9 GA, $5 youth 6 to 10, free for kids 5 and under with the purchase of a GA ticket. Admit discount day is Monday, April 22, with $2 tickets for all ages!
Details here.
The LeBoeuf Brothers.
When your last name is LeBoeuf and you've got a brother, what are you to do but end up as a precocious jazz duo? With Remy on the saxophone and Pascal on keyboards and composing, these two have won accolades like the Independent Music Awards' best Jazz Album and Best Eclectic Album, and took first place in an international songwriting competition in 2010. They've performed all over the country, and now they're coming to Tucson. They're holding a free clinic at Utterback Middle School at noon on Saturday, April 20, at which everyone is welcome. But the main event is their performance, where they'll be joined by bassist Giulio Xavier and drummer Christian Euman. 7:30 p.m. on Friday, April 19. Utterback Middle School Theater, 3233 S. Pinal Vista. $15 adults, $10 students/seniors.
Details here.

Reata.
Named after the Spanish word for lasso, this collaborative multimedia event combines film, photography and textile art into an experimental story rooted in the history of Arizona. Created by artists Cassidy Araiza, Marcea Decker and Ariana Lujan, this project examines the landscape of the desert, goth and cowboy subcultures, and the power of contrasts. 6 to 9 p.m. Friday, April 19. At Wooden Tooth Records, 426 E. Seventh St. All ages. Free.
Details here.
Won't You Be My Neighbor? (Free Outdoor Screening).
True kindness deserves to be appreciated, and few people brought as much depthless kindness to the cold realm of television as Fred Rogers. Arizona Public Media, in partnership with Ben's Bells, are hosting a free screening of this documentary of Mr. Roger's Neighborhood, and in his memory, they are also hosting some events for the public good. Before the screening, you can participate in a park cleanup with the Sam Hughes neighbors, and "Kindness Coin" making with Ben's Bells. Be the good person Mr. Rogers knew you were! 5 to 8 p.m. Friday, April 19. At Himmel Park, 1000 N. Tucson Blvd.
Details here.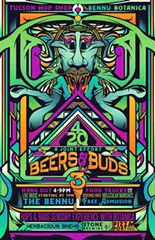 Dramatic Shorts.
This series of short films, all under half an hour, includes the tales of how a man spends his last free day before going to prison, what happens when the clone of a deceased teenager is returned to his parents, and more. 9:45 to 11:45 p.m. Friday, April 19. 127 E. Congress St.
Details here.
Beers & Buds III–A Joint Effort at Tucson Hop Shop.
For their third year in a row, Tucson Hop Shop, The Bennu band, and Botanica dispensary are celebrating everything they love about 4/20. There will be "an extensive cannabis-themed tap list," plus live music and food trucks. What better way to celebrate Earth Day—or any other holiday that happens to fall on April 20—than enjoying festivities with your local comrades. 4 to 9 p.m. Saturday, April 20. 3230 N. Dodge Blvd.
Details here.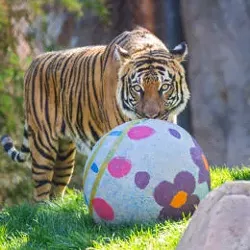 Easter ExtravaganZOO.
Is it really a holiday weekend if the Reid Park Zoo isn't throwing a special event in honor of it? Bring your own basket for an Easter egg hunt that starts at 8 a.m.—and keep an eye out for the golden eggs, which will get you special prizes. You can turn in your eggs for a treat bag sponsored by First Watch Café after the hunt. And you'll get to meet plenty of the zoo's animals—including the Easter Bunny, who we heard may be spending a summer sabbatical in Tucson. Delicious breakfast will be served! 8 to 10 a.m. Saturday, April 20 and Sunday, April 21. Reid Park Zoo, 3400 Zoo Court. $35 adult nonmembers, $30 adult members, $25 child nonmembers, $20 child members, $30 Easter. Special Adopt-An-Animal, free for kids under 2.
Details here.

Earth Day Festival at the Children's Museum.
Earth is something to celebrate every day! What's cooler than a rock floating through space that has exactly the right resources to support all of the wonderful plants and animals that roam its surface—including the entire human race? Head over to the Children's Museum to learn about ways to make our planet a healthier and greener place to live by recycling and composting, gardening, and getting out to enjoy nature. Local wildlife groups can also show you how to bring nature into your own backyard. 10 a.m. to 2 p.m. Saturday, April 20. Tucson Children's Museum, 200 S. Sixth Ave. Admission to the museum is free all day!
Details here.

Earth Day at Kartchner Caverns.
There's lots to celebrate about this big, beautiful Earth every day, but on April 20, we celebrate it a little extra. One of its coolest features: caves! Head over to Kartchner for a day full of presentations and interactive activities (like dissecting an owl pellet!) You'll also get to hang out with live animals and make crafts. What better way to celebrate Earth Day than by climbing right into Earth via Kartchner Caverns? 10 a.m. to 4 p.m. Saturday, April 20, and Sunday, April 21. Kartchner Caverns State Park, 2980 S. Highway 90, Benson, AZ. $7 per vehicle, with cave tour tickets being extra.
Details here.
Buffalo Exchange Earth Day $1 Sale.
If you're ever feeling like the world is just too full of problems that you can't do anything about, it sometimes helps to remember that, technically, treating yourself to a day of thrift-store shopping is helping the planet. But reusing existing items and upcycling old fashions, you're supporting sustainability and putting a little bit less stress on our planet's resources. So treat yourself, and the planet, this Earth Day, at Buffalo Exchange's special sale: a selection of men and women's clothing, shoes and accessories will be just one buck, with 100 percent of the proceeds going to the Humane Society of the United States. It's cash only, and the clothes move quickly, so get your booty over to Buffalo—and into a cute, affordable, new (to you) pair of pants. Starts at 10 a.m. and goes for as long as supplies last. Saturday, April 20. Buffalo Exchange, 2001 E. Speedway Blvd. (plus all locations across the country, except outlets).
Details here.
Easter BOGO Weekend at Old Tucson. I
f you're going to be celebrating Easter in Tucson this Sunday, then you have no choice but to celebrate Easter in the west. Why not make it the old, wild west? Old Tucson is offering a buy-one-get-one offer on admission for both Saturday and Sunday. Plus, Big Jake's will have a special Easter Dinner on both days, with honey glazed ham, jalapeno scalloped potatoes, roasted cut corn, a honey butter biscuit and a drink for just $16.95 for adults and $9.50 for kids. Sounds irr-Easteresistable, right? 10 a.m. to 5 p.m. Saturday, April 20, and Sunday, April 21. Old Tucson, 201 S. Kinney Road. GA is $19.95 for adults and $10.95 for kids ages 4 to 11.
Details here.

Sinkers: An Original Work of Physical Theatre.
The School of Theatre, Film & Television Studio Series is putting this show on as part of their Studio Series. It's focused on physical theatre, and they brought in Wolfe Bowart, a physical theatre playwright, performer, educator, artist-in-residence and mentor to work with the BA theatre art students. They started rehearsals at the start of the spring semester, and let the performance piece evolve throughout. How would Bowart describe it? Well, he says it's counterintuitive to describe something so visual with words. But he does add, "I've enjoyed watching as we solve the puzzles inherent in translating a theatrical form that is more about muscle than memory." 8 p.m. Thursday, April 18, through Saturday, April 20, and 2 p.m. on Sunday, April 21. Harold Dixon Directing Studio, Drama Building, room 116 (SE corner of Park and Speedway on the UA campus). $7.
Details here.

Horizons–Student Spotlight.
The UA has a nationally reputed dance program that teaches its students ballet, modern and jazz in equal amounts. As dancers prepare to graduate and take the stage at professional venues all over the world, the School of Dance presents this concert as a culmination of all of their work here in Tucson. The student choreography and diverse perspectives will have the whole audience looking forward to what lies on the horizon for the dancers. 7:30 p.m. Thursday, April 18, and Wednesday, April 24. 1:30 p.m. on Saturday, April 20 and April 27. 6 p.m. on Sunday, April 21. Stevie Eller Dance Theatre, 1737 E. University Blvd. $25 GA, $23 senior/military/UA employees, $12 students.
Details here.

Things I Know to be True.
You kind of think, or at least hope, that being a parent will get easier when your kids are all grown up. And in many ways, it does get easier. But when it's time for kids to leave the nest, and sometimes to push behind the confines of their parents' loving expectations, things get tricky. This show at Arizona Theatre Company paints a portrait of Bob and Fran, working-class parents who have dedicated their lives to giving their children more opportunities than they had themselves. It takes place over the course of a year, in which we watch regrets come to life and many parts of their lives fall apart. Saturday, April 20, through Saturday, May 11, with showtimes at 2 and 7:30 p.m. on various days. Temple of Music and Art, 330 S. Scott Ave. $41 to $66.
Details here.

Doggie Shorts: A Furry Film Festival.
The Loft Cinema is hosting a selection of the best shorts from The Bow Wow Film Festival, plus some of their favorite canine clips from around the internet. These clips are all 10 seconds to 10 minutes long from across the globe. Plus, You Sly Dog food truck will also attend the screening. Hosted by The Loft Cinema and Handi-Dogs assistance dog training program. 7 to 9 p.m. Saturday, April 20. 3233 E. Speedway Blvd. $20.
Details here.

Stoke.
Inspired by the "divisive reactions" to Hawaii's volcano tourism industry, this film follows a tourist who hires two "wannabe tour guides" to take her to an active volcano. The director set out to make a road film with authentic Hawaiian characters at the forefront. 7 to 9 p.m. Saturday, April 20. 127 E. Congress St.
Details here.
Dragoon Anniversary.
To celebrate their lucky 7th birthday, Dragoon Brewing Co. is hosting a party all week long. For seven days, they're hosting daily raffles, food trucks and beer releases. And especially through this weekend, they'll be tapping specialty brews from their cellar, selling new merchandise and hosting live music. 3 to 10 p.m. Thursday, April 18, to Saturday, April 20. 1859 W. Grant Road.
Details here.
Easter Brunch at Maynards Market & Kitchen.
Regardless of your reason for celebrating Easter, you can rest assured this meal from Maynards is deserving of a "holy moly!" This brunch includes beef short rib, charred onion potato puree, scones, cauliflower velouté, lemon cornmeal pancake and more. 10 a.m. to 3 p.m. Sunday, April 21. 400 N. Toole Ave. Reserve your spot online.
Details here.

Easter Brunch Buffet at The Horseshoe Grill.
It doesn't matter what day or what event, if there's a waffle bar, it's a party. Better yet, the Horseshoe Grill is hosting a waffle bar and so much more for Easter! This smorgasbord includes house-smoked BBQ brisket, prime rib, omelets, house-made desserts, fresh fruit, crab legs and more. 11 a.m. to 6 p.m. Sunday, April 21. 7713 East Broadway Blvd. $49 adults/$14 kids 5 to 12 (children under 5 are free). Add $15 per person for endless mimosas! Reservations are encouraged, call: (520) 838-0404 or reserve online: TheHorseshoeTucson.com.
Details here.

Avalon Gardens Eggstravaganza.
It's an Easter Eggstravaganza: organic edition. Which is probably the best kind of Eggstravaganza there is. Don't worry: There's all the usual hayrides, pony rides, face painting and live music. There's just also a super healthy, super delicious lunch buffet made with local organic food. There are also theater and dance performances by students from the Global Community Communications Schools for Teens & Children. And you get to tour Avalon Organic Gardens & EcoVillage, to see their sustainable practices like permaculture, water harvesting, solar power and composting. 9 a.m. Sunday, April 21. Avalon Gardens, 2074 Pendleton Drive in Tumacacori. (Use the directions on their website, not your GPS.) $12 adults, $10 kids 5 to 17, $5 for kids 4 and under. Pony rides are $5 and face painting is $2. Ecovillage tours are $15/$5/free for respective age groups.
Details here.
Sundays in the Garden: UA Steel Band.
If you love a good calypso piece, you'd better not miss this afternoon at Tohono Chul, where the UA Steel Band—one of the longest running collegiate steel bands in the country—will be serving up traditional Trinidadian music and works composed specifically for steel drum ensemble. Picture yourself: prickly pear margarita (or lemonade) in hand, sitting in the shade at the beautiful gardens of Tohono Chul, and letting yourself float away on the beat. Looks like your Sunday afternoon is set! 1:30 to 3 p.m. Sunday, April 21. Tohono Chul Performance Garden, 7366 N. Paseo del Norte. $13 adults, $10 military/student/senior, $3 kids 5 to 12, free for members and kids under 5.
Details here.

Monty Python's Life of Brian.
The Loft Cinema is celebrating Easter Sunday with a very special 40th anniversary screening of Monty Python's satire of Biblical life. This un-historical comedy tells of Jesus' next-door neighbor, featuring some of the troupe's greatest scenes and compositions. 3 to 4:45 p.m. Sunday, April 21. 3233 E. Speedway Blvd. $10.
Details here.

Moananuiākea: One Ocean One People One Canoe.
This documentary examines an historic Polynesian voyage in 1976 that reignited the Pacific culture of sailing and navigation. 7 to 10:30 p.m. Sunday, April 21. 127 E. Congress St.
Details here.
Events compiled by Briannon Wilfong, Emily Dieckman, B.S. Eliot and Jeff Gardner.