Cuban Night at the Crooked Tooth Brewing.
It's getting lively at Crooked Tooth Brewing! The funky tropical Cuban trio "Acerekó" is performing, with additional music from jazz musician Max Goldschmid. Food will be provided by Cuban Twist Cafè, with a special menu of bean and rice bowls, special Cuban chicken and citrus red cabbage slaw. Plus, there are always plenty of great in-house drinks from Crooked Tooth. 6 to 9 p.m. Friday, Feb. 22. 228 E. Sixth Street.
Details here.
Wines from Another Hemisphere.
Maynards Market & Kitchen's own personal sommelier Will Olendorf invites you to explore a series of wines from below the equator. You're always saying you want to be more worldly, and you know you always are in the mood to drink wine, so this is the perfect fit. Tastings are $12, but free for Wine Club members. 6 to 8 p.m. Friday, Feb. 22. $12. 400 N. Toole Ave.
Details here.

Farmers Market Roundup
As we slowly move away from wintertime, more and more farmers markets are returning from hibernation around town, though some toughed it out all winter through.
The Lazydays Farmers Market
is every Friday from 4 p.m. to 6 p.m.; next up is Feb. 22.
Details here.

The St. Philip's Plaza Farmers Market
runs every Saturday at St. Philip's Plaza, 9 a.m. to 2 p.m.; next up is Feb. 23.
Details here.

The Picture Rocks Farmers Market
is on every Sunday from 8 a.m. to 2 p.m.; next up is Feb. 24.
Details here.

The 5 Points Farmers Market
is every Sunday from 9 a.m. to noon; next up is Feb. 24.
Details here.

The Farmers' Market at Mercado San Agustin
is every Thursday from 3 to 6 p.m.; next up is Feb. 28.
Details here.
St. Matthew Passion.
What were you doing in 1727? Probably nothing monumental. And certainly nothing as monumental as what Johann Sebastian Bach was doing in 1727: writing one of the great masterpieces of classical sacred music. This work tells the story of Christ's final sufferings using text from the Book of Matthew, German poetry and chorales, and the sheer number of musicians needed to perform it means it's not often seen outside of major metropolitan areas. But with ten soloists, several choirs (including the Tucson Arizona Boys Chorus) and two orchestras, True Concord has put together a crew to make it happen. 7 p.m. on Friday, Feb. 22, at the Valley Presbyterian Church in Green Valley, 2800 S. Camino Del Sol. 7:30 p.m. on Saturday, Feb. 23, at Catalina Foothills High School, 4300 E. Sunrise Drive. 3 p.m. on Sunday, Feb. 24, at Catalina United Methodist Church, 2700 E. Speedway Blvd. $25 GA and $40 for premium seating.
Details here.

Sharks: Magnificent and Misunderstood.
You might be familiar with Flandrau for all of its astronomy-themed events, but their latest exhibit takes us into the deep ocean rather than deep space. With interactive displays, full-size shark models, a deep-sea sub simulator and models of giant tail fins, this is going to be too cool to pass up. Since the science of sharks is also connected to the health of our oceans, visitors also get a chance to learn about the oceanographic research going on at the UA. AND a new planetarium show, Great White Shark, is starting that will take you beneath the waves with these predators. Exhibit opens Friday, Feb. 22. Great White Shark screening times are 4 p.m. Wednesdays, 7 p.m. Fridays, 2 and 7 p.m. Saturdays and 2 p.m. Sundays. Flandrau hours are 9 a.m. to 5 p.m. Monday through Thursday, 9 a.m. to 10 p.m. Fridays, 10 a.m. to 10 p.m. Saturdays and noon to 5 p.m. Sundays. 1601 E. University Blvd. Admission + one planetarium show is $16 adults, $12 kids 4 to 17 and free for kids 3 and under.
Details here.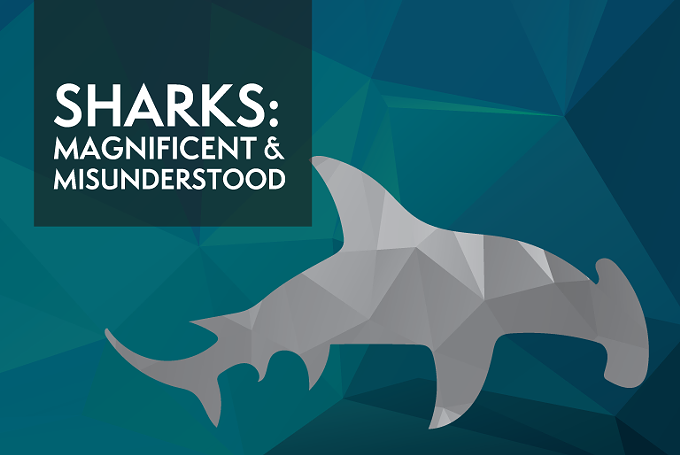 Catalina Organ Festival: Douglas Cleveland.
Internationally acclaimed organist (he won first prize in the 1994 American Guild of Organists National Young Artists Competition in Dallas, and has gone on to record four CDs, appear on all sorts of radio and perform across the nation and world) is currently the John Delo Faculty Fellow in Organ at the University of Washington School of Music, as well as the director of music and liturgical arts at St. Thomas Episcopal Church. At this event, he'll be playing the western premiere of UA professor Pamela Decker's huge, award-winning new work The Last Seven Words and Triumph of Christ. The night will also feature performances by UA dancers for an irresistible experience. 7 to 9 p.m. Friday, Feb. 22. Catalina United Methodist Church, 2700 E. Speedway Blvd. $20, or $15 for seniors and $5 for students.
Details here.

Tucson Quilter's Guild 41st Annual Quilt Show.
Most of you have literally missed the Tucson Quilter's Guild's Annual Quilt Show for the last 40 years in a row. This is your chance to redeem yourself, and to ooh and ahh over the work of more than 300 quilters over three days. Or, it might just be your chance to get an old quilt you have lying around finally appraised. With demonstrations, vendors, a raffle quilt and door prizes, this has something for everyone. Guest speaker Joanne Hillestad will talk about her journey from being a database and business analyst to opening her own quilt business, and why life is too short to not have chickens. 9 a.m. to 5 p.m. on Friday, Feb. 22, and Saturday, Feb. 23. 10 a.m. to 4 p.m. on Sunday, Feb. 24. Tucson Convention Center, 260 S. Church St. $10 a day or $20 for all three days.
Details here.
The Dark Crystal.
This haunting "children's movie" introduces you to a world of uncanny-valley elf puppets and morose crow monsters who look constructed of burnt plastic. How exactly did this cult classic get made? Well, Muppets-mastermind Jim Henson had just brought his puppets to the big screen, and Hollywood was embarking on its '80s fantasy/adventure obsession. At the same time, Disney was entering its Dark Age with films like The Black Cauldron. This all fused together for a perfect storm, resulting in a spooky experience I still haven't recovered from. 10 p.m. Friday, Feb. 22. 11 a.m. and 10 p.m. Saturday and Sunday, Feb. 23 and 24. 3233 East Speedway Blvd. $8.
Details here.

Cupping at Savaya Coffee Market.
If you've always wanted to be more of a coffee connoisseur, Savaya has your back. Join their coffee professionals with a class on cupping, the ways those in the industry determine the "uniformity, sweetness, mouthfeel, and taste of coffees before deciding to bring them to market." Now you too can be a barista-in-spirit. Noon to 1 p.m. Saturday, Feb. 23. 2958 North Swan Road. Free.
Details here.
Caribbean Indian Fusion at Desert Island Eatery.
Well, India isn't an island, but the Caribbean holds plenty, so I guess this checks out for Desert Island Eatery. They're fusing Caribbean and Indian food, with dishes such as vegetable samosas, curry chickpeas, red lentils, cauliflower, curry chicken and potatoes, naan and more. Noon to 5 p.m. Sunday, Feb. 24. 2513 N. Campbell Ave.
Details here.

Ansel Adams Public Celebration.
Every day should be a public celebration of the iconic photographer and conservationist Ansel Adams, if you ask us. But the UA's Center for Creative Photography is setting aside some special time for it on this day. Enjoy some self-guided archival object tours, a vintage cameral display and hands-on family activities like making a chalk mural and sun prints. Photographer Mark Burns will also be speaking at 1 p.m. in the auditorium. If you're still not convinced you should go, then please note there will be cake. Noon to 4 p.m. Saturday, Feb. 23. Center for Creative Photography, 1030 N. Olive Road. Free.
Details here.
Tucson Roadrunners vs. Bakersfield Condors.
This weekend, our home hockey team is facing off against its Southwest neighbors, with two games that are all about the youth. Saturday night, DentalPros is hosting a youth jersey giveaway. And this plays perfectly into Monday night's promotional special, where kids 14 and under wearing their favorite team jerseys get in free with a paid adult. Ah, to be young again. If you're not 14 or under, grab your favorite person who is and treat them to a free jersey or hockey game. 7:05 p.m. on Saturday, Feb. 23, and Monday, Feb. 25. Tucson Arena, 260 S. Church Ave. $11 to $61.
Details here.
David Huckfelt.
He wrote his upcoming debut solo album, Stranger Angels, in two weeks, and it shows. Not in a rushed or unfinished sense, but in a sense of intimacy, cohesion and connection. Huckfelt, founding member of The Pines, sings with subdued vocals, romantic instrumentals, and an all-around dark atmosphere. Describing his music as "Transcendental Folk," Huckfelt channels Leonard Cohen, acoustic psychedelia, and the natural world around him. The music video for the title track off Huckfelt's new album is dedicated to the protectors and stewards of America's national parks and wild places—the nighttime pastoral reminiscence certainly shines through. Catch David Huckfelt's album release show at Club Congress, 7 p.m. Saturday, Feb. 23.
Details here.
Picture This… Life Through a Different Lens.
Saguaro National Park has all sorts of events going on this month. At this one, take a walk through the west district and learn some photography basics for how to capture the desert's beauty and emotionality. Maybe you'll finally capture some photos you can show to your friends and family from out of town to show them exactly why you love Tucson so much. Call the Visitor Center at 733-5158 on the day of the program, as it is subject to change. 10:15 a.m. Sunday, Feb. 24. Tucson Mountain District, 2700 N. Kinney Road. $20 for a weekly pass.
Details here.
Colorguard Classic 5K Run/Walk.
What will you choose? Run to Win, which means that your race through the Omni Tucson National Resort will be eligible for a first, second or third place medal? Or Run for Fun, which means you can make a more leisurely journey, and maybe make some friends along the way? Either way, getting up early to exercise and join hundreds of other participants in supporting the Colon Cancer Coalition is a great way to spend a Sunday morning. Throw in a breakfast, snacks, beverages and a race shirt, and you've got yourself some serious fun. Starts at 7:45 a.m. Sunday, Feb. 24. Omni National Resort, 2727 W. Club Drive. Race day registration is $45 for adults and $20 for youth 12 and under.
Details here.
Winds of Change: New paintings by Lawrence W. Lee.
It's always wonderful to see artists supporting other artists. So, it will be wonderful to head over to the Madaras Gallery this weekend and see some new works by Southwest artist Lee, who's made a living with his paintings of shamanistic imagery and whimsical landscapes for nearly 50 years. As he says on his website "I've seen fire and I've seen rain. I have known love and loss in near equal measure… I continue to paint." This new series depicts the abstractness of wind in brilliant swirls and colors. See him unveil them at this event. 11 a.m. to 2 p.m. Sunday, Feb. 24. Madaras Gallery, 3035 N. Swan Road. Free.
Details here.

Fifth Annual Apex Short Film + Music Video Festival.
This short film festival gathers some of the most fascinating and underrated films from across the world, as well as right here in the Southwest. The event also includes Q&A panels with local filmmakers, as well as a red-carpet photo opportunity. The Screening Room is your home for independent films for the day. 4 to 8 p.m. Sunday, Feb. 24. 127 E. Congress St. $8.
Details here.
Oscar Viewing Party at Brodie's Tavern.
A Marvel movie nominated for Best Picture—it's been that bad of a year, huh? Well Brodie's Tavern is embracing the occasion, giving you drink specials to get through the evening. Plus, you can submit your guesses for each category and the customer with the most correct answers get free drink tickets! 5 to 10 p.m. Sunday, Feb. 24. 2449 N. Stone Ave.
Details here.
Events compiled by Briannon Wilfong, Emily Dieckman, B.S. Eliot and Jeff Gardner.