Being the vocalist or drummer alone in a funk rock band is enough of a role, but Peter Rivera did both while dishing out some of the most iconic blue-eyed soul hits of the early '70s. The former drummer/vocalist of Rare Earth, Rivera still keeps the jamming alive with an intricate drum kit, alongside a Motown chorus and groovy guitars that will make you move in one way or another, whether it's clapping or stomping. But perhaps the most impressive aspect of Rivera's modern shows is how much the man retained his voice and spirit, sounding and playing just like he did in the golden days.


Catch Peter Rivera performing with Mr. Skynyrd, Jeordie, The Schoolhouse of Rock, and Soul Essential. 8 p.m. Friday, Feb. 8. at El Casino Ballroom, 437 E. 26th St. General admission tickets are $45.

Ray Charles

Pinning down a favorite album or a favorite song is probably the hardest thing I could write about. I've been in music for 60 years and I've heard the most unbelievable songs and heard the most unbelievable artists. If I were to name my favorite artists, number one would be Ray Charles. To me, Ray had more feeling than I've ever felt.
Elvis Presley
One of my all-time favorites Elvis Presley, changed my life. When I had hair I used to wear it just like him so did my friends at school. My favorite song was "Loving You."
David Ruffin
David Ruffin from the Temptations was a friend of mine and I used to hang out with him a little bit. And no one could sing "Ain't Too Proud To Beg" or "I Know I'm Losing You" better than David.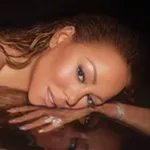 Mariah Carey


I loved Mariah Carey's "Vision of Love." What a great song and performance.

Frank Sinatra


"The Summer Wind" from Frank Sinatra is one of my all-time favorites Sinatra was one-of-a-kind and I've always loved him. There isn't enough time left on this earth to completely remember every singer or every song that I have loved just know that I have loved them all.