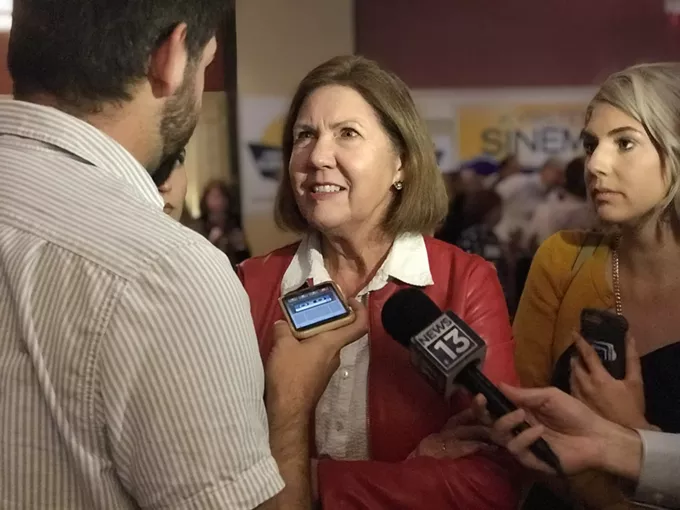 Democrat Ann Kirkpatrick just declared victory at the Democratic Party's election night party.
Kirkpat rick is leading Republican Lea Marquez Peterson, 55 percent to 45 percent.
"They always said the path to the majority is through District 2," Kirkpatrick said. "Thank you from the bottom of my heart. This is for you."
Speaking with Tucson Local Media at the Pima County Democratic Party election night event, Kirkpatrick said that protecting healthcare, "taking care of dreamers," preventing the Trump administration's plans for a southern border wall and protecting the future of Fort Huachuca and Davis-Monthan as her priorities.
Kirkpatrick also mentioned letting Special Council Robert Mueller "finish his investigation" into possible Russian interference in to the 2016 election and possible ties to the Trump campaign.
Reflecting on her likely victory, Kirkpatrick said she started the day cautiously optimistic.
"I'm very pleased that I'll be representing Southern Arizona and I have a track record as a representative," she said. "I'll do town halls, I'll be accessible. We'll hit the ground running."
On working with President Donald Trump, Kirkpatrick said she can "work with anyone."
"I've been in the legislature when we were in the minority, I've been in the majority, but my way of working is to work with my colleagues to find that common ground," she said. "That's how we get things done."