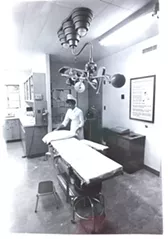 On Thursday, Oct. 18, from 3-5 p.m. Campus Health Services will be in the Highland Commons Courtyard celebrating their 100th year anniversary on campus.
What started as a quarantined Flu Infirmary is now UA's official campus health. In 1918 they first began to fight the Spanish Flu, which was going around campus causing people to become extremely ill. Certain sections of Old Main and the Forbes building were turned into quarantined spaces for infected students and soldiers. Today, Campus Health is one of the longest-serving units on the University, according to UA News.
In 2004, they moved into their current space on Highland Commons that now serves over 70,000 patients a year. Lee Ann Hamilton said in a release, that they see about half of the University population in a given year. Their return rates are high, as 99% of students would recommend it to their friends.
Hamilton says they are set apart in many ways, one being that their three main goals are outreach, education and prevention. She also added that they have a dedicated passionate staff that genuinely wants to help their students. According to the release they were the first credited college health service in the nation and they were ranked No. 2 in Princeton Review's Best Health Services.
Students taking one credit hour or more at UA are eligible for treatment from Campus Health; employees can also be seen. What began as a flu infirmary is now a health department with a multitude of outreach potential for its students. From a simple cold to mental health, UA Campus Health has got its students covered.
To continue the history lesson,
Click Here.