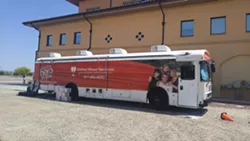 MHC Healthcare and United Blood Services will be hosting their third annual Halloween Vein Drain on Oct. 31 from 11 a.m. to 3 p.m.
Not only can you get in the spooky spirit at the Vein Drain by donating blood, they will also be holding a costume contest.
Depending on what your fellow donators come up with, the distractions may take away from the poke of the needle-a perk for those of you who aren't the biggest fans of donating blood. They will also be accepting book donations for the Children's Steele Center.
The blood drive will be hosted on the side of the MHC Healthcare building. On wheels, your veins will be drained at the Bloodmobile. Make sure to dress up and get ready to drain some blood!
For more information and appointments,
Click Here.