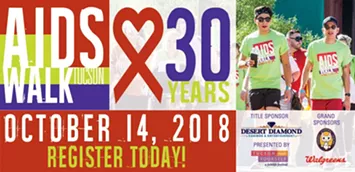 The AIDSWALK will be celebrating their 30th year at Tucson Meet Yourself Folklife Festival on Sunday, Oct. 13. It will be their 8th year working as a team with TMY. Both, TMY and SAAF work together for support and the sharing of funds. SAAF alone, has 300 volunteers for the AIDSWALK.
The event will be held, at Joel D, Valdez Main Library. Registration begins at 7:00 a.m. While the fun run starts at 7:30 a.m. The walk starts at 9:00 a.m. The Quilt Ceremony will be at 10:00 a.m.
The Quilt Ceremony is an event that honors those who have lost their lives to AIDS. During the ceremony a quilt will be displayed with the names of people who have lost the battle to AIDS. SAAF will also provide free HIV testing at TMY.
Early registration is from Oct. 10-Oct 12, 8 a.m.-6 p.m. Walkers are able to fundraise for the AIDSWALK and depending on how much they make can receive incentives.
There are three levels of rewards. Level one, for those who raise $500+ will receive a AIDSWALK pennant and T-shirt. Level two is for those who raise $750+ and they will receive the level one rewards as well as an AIDSWALK30 towel. Finally, level 3 is for those who have raised $1000+ and will receive the AIDSWALK pennant, T-shirt, beach towel, and a duffle bag. The walker who raised the highest amount of money will also receive a surprise.
Funds raised for the walk go to care services, prevention programs, and LQBTQ initiatives of the Southern Arizona AIDS Foundation, according to a TMY press release.
For more information go to the
SAAF AIDSWALK Tucson Website.