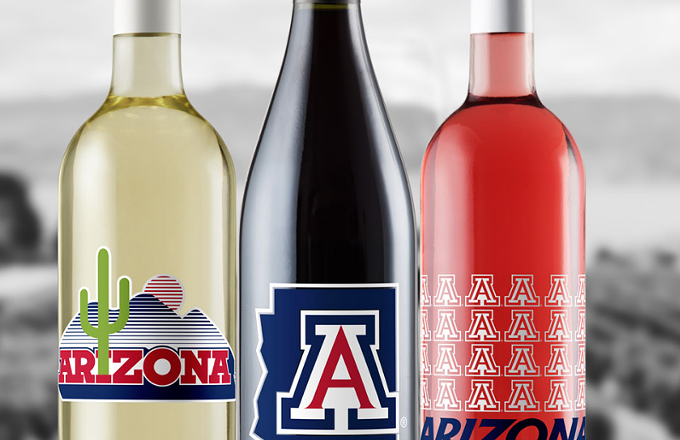 It's easy to find t-shirts, bumperstickers and water bottles in Tucson stamped with the Wildcat logo or University of Arizona "A" but now, thanks to a partnership with Mano's Wine, you can receive engraved bottles of wine in the mail to celebrate the Wildcats.
Mano's Wine and the UA have partnered to start up a wine club, which will send members three bottles of wine every quarter, each painted and engraved with a different UA Wildcats designs.
"We think this is a really fun way for Arizona fans and alumni to engage with the university," said Alixe Holcomb, director of Arizona Trademarks and Licensing.
Proceeds from the wine club will benefit the university and help create new programing and enrichment opportunities.
Perfect for graduations, alumni parties and other UA themed events, the high-quality bottles would make a perfect gift for any Wildcat.
"This collaboration with Mano's Wine gives our alumni another way to display their Wildcat pride," said Melinda Burke, president of the Alumni Association. "We look forward to the wine club's growth, which will open up future opportunities to collaborate with out talented alumni in the wine industry."
Currently, Mano's wine sources their grapes from around the world. After the wine is selected, artists create designs for the wine club members. Each new wine club member will receive a custom-etched bottle with their name and member number.
Throughout the year they will receive three hand-selected varietals each quarter, all with Wildcat designs.
For members who join soon, this quarter's selections are Mano's Pinot Noir, a Handcrafted Reserve which is a blend of Cabernet Sauvignon and Merlot and a California Rose.
The initial bottle costs $29.95 and the three bottle packages are $89.95 each quarter after that.
For more information about
Mano's Wines click here
and for more information about the
Wildcat Wine Club click here.