Bluegrass & Brews Jamboree.
The Gas Light Theatre is hosting another Jamboree! Get excited because there will be beer tastings and specials all night long. Admission is $12.50. Old Pueblo Bluegrass and Cadillac
Mountain
Bluegrass will both be there to get you into the dancing groove. A perfect untraditional date night and a great way to get some activity in your day at the same time! 6 p.m. 7010 E. Broadway Blvd.
Details Here.
Full Moon Hike.
A great opportunity to get outdoors for a couple hours, bring your steady walking shoes, water and and a flashlight and you're set to go. Explore the sounds and views of the Sonoran Desert during sunset and end during the dead of night. A night in the desert is the perfect way to get into the Halloween spirit, who knows what will be wandering out there when the sun goes down; even better it's a full moon. Watch out for the werewolves. The activity itself is free but parking will be $15. 6:30 p.m. 3693 S. Old Spanish Road.
Details Here.
Tucson Tuesday Laughter Yoga.
Looking for peace and healing? Looking to feel better through the healing power of laughter? Try yoga! Quaker House hosts Laughter Yoga every Tuesday from 6-7 p.m. In an effort to make light of certain situations, this is a chance to just breathe, relax and forget about your problems for one hour. Through breathing and yoga exercises, playful laughter is an addition to this untraditional yoga class. Free. 931 N. 5th Ave.
Details Here.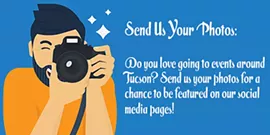 Send Us Your Photos:
If you go to any of the events listed above, snap a quick pic and tag us for a chance to be featured on our social media sites! Find us on
Twitter
,
Facebook
and
Instagram
@tucsonweekly.


Events compiled by Brianna Lewis, Emily Dieckman, B.S. Eliot, Ava Garcia and Jeff Gardner.