Hot Blues & Brews Tuesday.
Sometimes music and beer is exactly what a Tuesday calls for. In fact, it can only be a matter of time before they change the name of Tuesdays to "Bluesdays" or "Brewsdays." But even before the name change becomes official, the Gaslight Music Hall is here to save you from the early-week slump. Mike Herbert's Prison Band and the Bad News Blues Band are playing, and tastings specials by a local brewery will give you the extra little push you might need to get out on the dance floor. 6 p.m. Tuesday, Sept. 18. Gaslight Music Hall in Oro Valley, 13005 N. Oracle Road. $12.50
Details Here.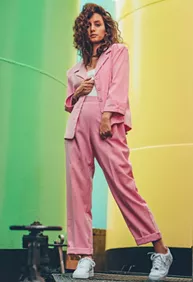 Olivia Gatwood:
Smart, sexy and a damn good poet, 26-year-old Oliva Gatwood could be a reluctant mouthpiece for the post-#metoo world. Born in Albuquerque, Gatwood is a certified Sexual Assault Prevention educator when not writing or performing. Her hard-smacking, matter-of-fact take on being a 21st century woman in Trump's America is catching on with readers and podcast listeners the world over. Last year, her book,
New American Best Friend
, won the Goodreads Poetry Award and the Button Poetry prize (both mad competitive) while her performance skills landed her a finalist in the National Poetry Slam. As an openly queer and sex-positive person, Gatwood's thoughts on the male gaze, the sensuality of a female lover's hands and her relationship with her dad are both relevant and authentic. Precisely rendered, her words never suffer the pitfalls of knee-jerk anger, rather weave a complex, searching viewpoint with poise, candor and dash of astutely-observed humor that's beyond her years. With Joaquina Mertz on Tuesday, September 18. 191 Toole. Doors at 7 p.m. $12-$15. All ages.
Details Here.

The Vampire:
A story of Count Dracula and his effort to make an innocent woman his bride who happens to be already married is a play at the Gaslight Theatre you won't want to miss. Sure to give you a good laugh, it's the perfect way to get you in the Halloween Spirit. Nothing like vampires to spark a craving for Halloween. 7 p.m. $22.95, 7010 E. Broadway Blvd.
Details Here.