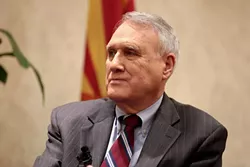 Gov. Doug Ducey named former U.S. senator Jon Kyl to succeed the late Sen. John McCain.
Kyl said at a press conference that he would serve until the 2020 special election and not seek re-election.
There were rumors Ducey might appoint Cindy McCain to take the late senator's place. But Cindy McCain tweeted Tuesday morning that Kyl is a dear friend and it's a tribute to her husband that Kyl is "prepared to go back into public service to help the state of Arizona."
Kyl served with McCain as one of Arizona's U.S. senators from 1995 to 2013 and was Minority Whip starting in 2007. Before being elected to the Senate, he served in the House of Representatives.
Democratic gubernatorial candidate David Garcia said in a statement that he would have appointed someone with "
a history of independence and bipartisanship," such as Cindy McCain or former Arizona attorney general Grant Woods.


"Jon Kyl has served as Brett Kavanaugh's 'sherpa' through the nomination process and will undoubtedly vote for his confirmation, which puts many rights we take for granted at risk, chief among them are women's reproductive rights, civil rights, voting rights, environmental rights and workers rights," Garcia said.
Kly has been leading Kavanaugh, Donald Trump's Supreme Court nominee, through the confirmation process, which started today.
Kyl could be sworn in on Tuesday or Wednesday.