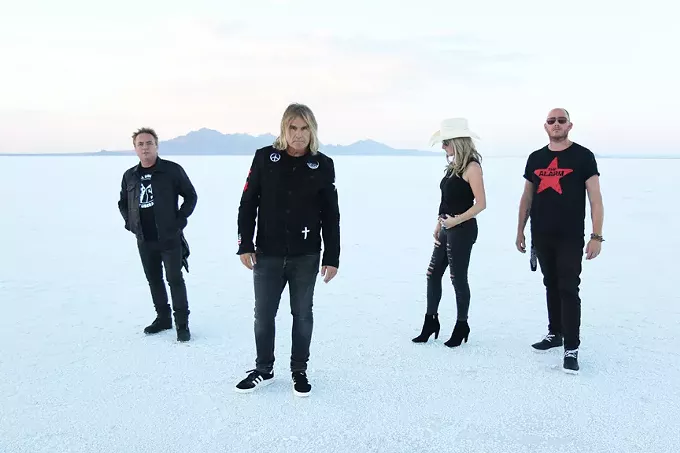 The Alarm performs on Wednesday, Aug. 22, at 191 Toole, 191 E. Toole Ave. Tickets are $24-$26, at rialtotheatre.com
Mike Peters first hit the world music scene with his Welsh rock band The Alarm back in the early 1980s with dramatic and anthemic gritty battle songs like "68 Guns", The Spirit of 76" "Blaze of Glory" and "The Stand."
He and his band mates from a neighborhood in the seaside resort and factory town of Rhyl Wales, bass guitarist Eddie MacDonald, drummer Nigel Twist and guitarist Dave Sharp fought hard to differentiate their sound from the sea of U2-sound-alikes of the time, and to create their own signature style. They did just that, and between 1981 and 1991 the quartet amassed 17 UK Top 50 hits and sold more than five million records, including, "Rain in the Summer Time" "Sold Me Down the River" and "Where Were You Hiding When the Storm Broke?"
In their signature song "Blaze of Glory," Peters once sang, "I'm learning how to hit back, I'm learning how to fight." The words would echo over time in Peters' mind and then in life.
Peters could never fathom in those heady, titanic Top of the Pops days of yore, that he would face a tougher battle than that one for music supremacy, but he would end up in an epic fight for his mortality, not once, not twice, but three times.
After five successful albums and 10 years together, a fissure began to split the band's members over songwriting leadership and music direction. The culmination of this tug-of-war would come when Peters would announce on the Brixton Academy concert stage in 1991 unbeknownst to the band and fans alike, that he was leaving the band after that show.
Four years later while reconstructing his career on a solo front, and in between his first two solo albums Breathe in '95 and Feel Free in '96, Peters was diagnosed with Non-Hodgkin's Lymphoma in while preparing a US solo tour. He would somehow survive the scare.
Peters was finding it hard to gain favor with radio stations, who were looking for the next young and brash punk band. So, Peters gave them what they wanted, or so they thought.
Under the band alias the Poppy Fields, Peters' new Alarm incantation released a new super-charged single "45 RPM" in 2004 telling the world and media they were a younger group of teens. A young band the Chesters were hired to play on the single's official video, only they lip-synched. The hoax was to prove that an old group could create a fresh punk single, and it did just that by peaking at No. 28 on the UK singles chart.
The true identity of The Alarm was then revealed on Top of The Pops which led to a media frenzy worldwide, including a TV appearance on CBS Headline News with Dan Rather. The hoax was made into a movie called Vinyl created by fellow Welsh native and longtime Alarm fan, film writer-director Sara Sugarman in 2013.
In 2005, after being then diagnosed with Chronic Lymphocyte Leukemia (CLL), he would survive again, somehow. Good fortune and well-timed fate would come calling a year later for Peters when longtime Alarm fan and US entrepreneur and CSI Entertainment president James Chippendale, a fellow leukemia survivor and successful bone marrow transplant recipient, formed a charitable partnership with Peters. The two survivors created a cancer awareness and bone marrow transplant registry awareness campaign entitled Love, Hope and opeHStrength inspired by lyrics from the band's second album Strength title track and love song "Walk Forever by My Side."
After going into remission, the cancer came back in 2015 and the next year, his battled widened when wife of now 30 years, Jules, mother of their two teen sons Dylan and Evan, came down with breast cancer. She made her story bravely visual and public to break the stigma that can dehumanize those stricken with cancer and was praised in the world media.
Each time the grim reaper had knocked on their door, The Peters stared it down and fought on. In fact, their epic struggles and journey were recorded on
The Man in The Camo Jacket
, filmed over eight years by noted film-maker Russ Kendall. The film landed on several award stages including Best Music Documentary at the Arizona International Film Festival in 2017.
The film tells the story of Peters' ups and downs in his battle to not only beat cancer but chronicles his unlikely trek 18,536 feet trip up a venerable Mount Everest's base camp. All to promote his cancer charity, Peters and Chippendale were graced with the accompaniment of alt rock luminaries to participate in the climb: Slim Jim Phantom of the Stray Cats, Glen Tilbrook of Squeeze and Cy Curnin of The Fixx. Besides raising awareness for cancer causes, the concert performed made it the highest elevation concert ever recorded in the world, and the event was covered on MTV and in a documentary, "Everest Rocks."
The charity began as a way of not funding research, but to purchase medical equipment and supplies, raise awareness through special events, documentaries and media, and help build cancer centers.
Peters and Chippendale's LHS have since staged UK fundraising treks including the summit of Mount Snowdon (outside of Ysbyty Gwynedd in Bangor, North Wales) where Peters was treated and inspired, Mount Kilimanjaro, and Mount Fuji, Japan. Funds raised have enabled LHS to fund the installation of the first ever mammography machine at Bhaktapur Cancer Center in Kathmandu, build a Children's Cancer Unit in Dar Es Salaam, Tanzania, and fund a multitude of other cancer projects within the UK.
This October, LHS will take their cancer-fighting caravan into the depth of the Grand Canyon on a journey called Rock the Canyon (Oct. 14-21). The hike and concert trip will culminate with a finale concert with The Alarm in Las Vegas.
Amid all the fight for life and charitable work, Peters and band, now consisting of Steve Smiley Barnard (Robby Williams and Joe Strummer and the Mescaleros) on drums and James Stevenson (The Cult, Gen Loves Jezebel) on guitar and Jules on keyboards, have not forgotten the vehicle that connects them with fans: the music.
The release on June 29 of Equals the band's first full-on studio album in eight years, since 2010's Direct Action has them back on the charts on both sides of the Atlantic.
The new 11-track album jives with Peters fight for life and his ability to deliver a versatile offering of new songs that uplift. This one balances between the sprinkles of electronica on "Two Rivers" and more familiar rock blasts such as on "Beautiful", "Coming Backwards" (with familiar guest guitar Billy Duffy of the Cult) and "Tomorrow." The album broke through to the Billboard Top 200, No. 47 on the Indy Chart and No. 30 on the Alternative LP charts.
Tucson Weekly recently caught up with Peters, who brings The Alarm to 191 Toole next week. Peters spoke of: taking risks, battling cancer, the inspiration behind his Love, Hope Strength Foundation, and the purpose of the new album, Equals.
What was the spark that was lit in the young Mike Peters mind upon seeing the likes of the Sex Pistols and the Clash in the mid-'70s?

The Sex Pistols brought a negative, nihilistic sort of force, and when I asked Johnny Rotten what "Anarchy in the UK" was, he kind of threw it back at me. A few months later, I saw the Clash and they were singing about things that were a little more optimistic and, about the future. They sang White Riot, and I asked Joe Strummer what "White Riot" meant, and he said it was about the future. So, it was about the dynamics of the positive and the negative. There's a spark that comes from those two energies, and that's what really gave birth to The Alarm, and the idea that I could actually write me own songs, create my own bands and forge my own path in life.
Looking back at what set you free as a musician, how difficult was it to break the cycle of following your father's footsteps into factory work, and determine your own course of action?

We were born of a generation where when into the same trades as your parents did; you know, jobs for life. Jobs were handed down from father to son. And, I realize quickly that that era was coming to an end. You had to wake up to the fact that you had to make your own way in life. My dad wanted me to work in a big factory, and I didn't want to do that. There was just an instinct in me that said, 'there's a bit more out there; are you prepared to take a look at it?' … to stand up to this force of nature that is your father and your mother willing you to go into what they think is a safe job for life. 'No, I am going with this guitar I've got, and I'm going to London and try and make it.' It takes a lot of nerve and courage.
How big a risk did you feel once you came to this musical career decision, and for the past 23 years with facing cancer head on?

There's a balance of risk and reward. I think you've got to take risks in life to be happy; to take a risk to fall in love with someone you shouldn't; there's an element of risk, to really find yourself. I think that's what we've always been about with the band, and I think that's the way I have been with my cancer life. I took a risk; a big when first heard the word cancer spoken to me; carried on touring and that has set the way I have been able to live alongside it, and still feel to make music and retain my humanity that cancer strips away from people very quickly.
Speaking of risks, reassessing your music goals once you left the Alarm in 1991, you had to rebuild yourself as a solo act. In that time, you played solo gigs in Phoenix and Tucson. How difficult was that time?

I played at the Mason Jar (now known as the Rebel Lounge). That would have been way back in 1995, but at that time nobody really knew who Mike Peters really was. And, it was a different time then. Our generation has had to learn to go underground and it was a good breeding ground to have that challenge. How to live and create music by using the internet, find a way to connect with people around the world, …it was back to basics, and the whole punk ethic of do it yourself, and making it happen.
One gets the sense after following your story thus far, that the journey you are on, is never complete, and this dates to the earliest songs of the band.

So, we never have arrived, we are on a journey, and it doesn't end, and it just keeps flowing. A door close and another one opens, and you can't take anything for granted. I learned that from U2 when we traveled with them in '83. We saw how serious they took it; how dedicated they were.
It was never an opportunity to get on stage, but an honor, a privilege. We've been on a journey, and we're right here, right now, and who knows where it's going to go. It's been an exciting ride and there's lots of great hills and valleys to discover in the future.
Many people will say that in spite of your tireless work with The Alarm touring, fighting cancer, hosting events for LHS and raising a family with Jules, maybe you are doing too much. Do you worry that you are doing too much?

Of course, I have had to climb some incredible mountains to sustain it all, but everything I have been doing is worth fighting for and putting a stake in the ground and claiming it for yourself. So, I have been blessed in many ways, and long may it continue. I really just listen to myself, and if I felt like I was doing too much, of course I'd back off a little bit.
When did the idea to use the title-track "Strength" of your second album, as a rallying call to arms against cancer come about, that would eventually lead to Love, Strength and Hope Foundation?

The words love, hope and strength have been staring me in the face all my musical career. They first appeared in "Forever by My Side" song, and then they are strewn across the Strength album. When I was first diagnosed in '95 with Non-Hodgkin's Lymphoma, I was on the way to a gig, and I got hit with this massive diagnosis; it confused me and shook my world … and then I had to walk on stage find the where-with-all to walk out there when nobody knew anything, and I'm singing this song "Strength" and it hit me like a train, the lyrics. "…You'll be the live blood coursing them my veins…." That was the question I was asking, "How am I going to survive?" So, we felt that with different health systems that existed in America and Great Britain, with these kinds of imbalances in the way, cancer is dealt with, there was an opportunity for us to create something, that we could affect the change to create an event that would give access to the kind of treatments that kept us alive.
On the latest Alarm album, the 16th studio album,
Equals
, a common thread lyrically is about coming to terms with fear. Is that a fair summation?
Fear is the worst thing we have; it stops us from doing what we really want to do I life. We get comfortable, and that comes from fear; fear of change, fear of losing something we think we need to live by. Live with. It's fear that drives people to alcohol, drug dependency. And, it's about setting yourself free from that fear to be able to discard things that you don't need anymore. Not be afraid of what the future brings. That's really what is at the center of
Equal
. The whole album is about taking center stage with your own life and dealing with things that are right there in front of you. Life is precious, not a second of it is to be wasted.
What's next for LHS past your current 26-first leg tour and second US leg 19-date October/November tour?

We're 10 years old now, we've got a lot of challenges to face which we're relishing. But we really seem to be growing at the right pace. We've got an international hike. In America this year in the Grand Canyon in October. We're getting bone registry in Ozzy Osborne and Flogging Molly tours, Lollapalooza. I am really lucky 10 of the past 12 years at the hospital for my treatment meant which meant every three weeks, go in for a day, be wired up to machines and get some chemo. I had a relapse (2015) and that really wasn't a pleasant experience. It took me into another regime of treatment. I was on a clinical trial for the new drug Idelalisib. That set me free from hospital and I take my chemotherapy with me. And, because I've been set (in remission and new drugs to fight cancer) I want to tour and do more and more. Now I can come to America and I can get to Arizona.
Is it weird or ironic that without cancer, you may not have accomplished as much off the concert stage and as much or more on a much bigger world stage?

No, it's not because I was trying to say, my life has been blessed by cancer in a strange way, but I would never wish it on anybody for one second. But, because it's happened to me, it's taken me to places in life I would have never have walked into, taken me down some corridors I would have never ventured into. And I have met some incredible people on my way., seen some incredible, inspiring situations. The positives far outweigh the negatives, and look, I've been very, very lucky. I have been in opposite beds with people getting the same treatments with the same diseases, and they're not here anymore, and I'm still here. So, I count my blessings every single day, and I am very lucky to be alive. I seem to have been able to just keep running out faster than the disease. So, here I am.
To date over 16,400 people have stepped forward (via LHSF UK Donor Drives), and some 150,000+ (via LHS USA), and some 4,000 matches to potentially offer lifeblood to save lives have been made. If you wish to volunteer or become an event leader in Tucson to raise awareness for bone marrow registry or to assist LHS, you can call 720-379-7013 or contact via email at volunteers@lovehopestrength.org