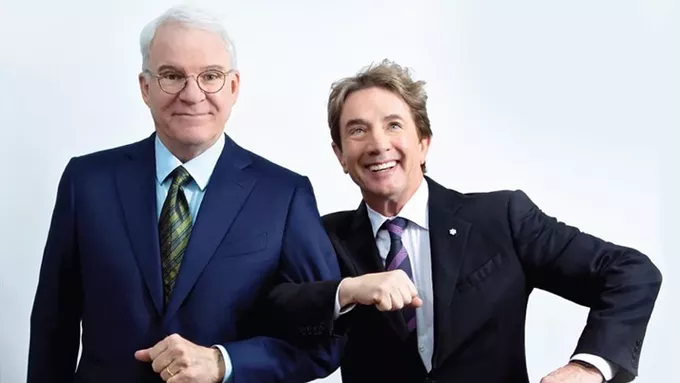 I jump at opportunities to say I discovered Martin Short, at least in my office. On Johnny Carson, he was the funniest person ever, so the next day I asked the break room comedy fans, "Have you ever seen Martin Short?" It turned out to be a mic drop moment.
Short appears with Steve Martin at the Tucson Convention Center Arena on Sunday, August 26, in "An Evening You Will Forget For The Rest Of Your LIfe." One hopes that's a joke given the ticket prices: $55 to $175 via tucsonarena.com.
Short is a smart and physical comic, generating laughs with the merest gesture of any visible body part. A veteran of Second City and SCTV, he is the person Robin Williams first reminded me of, and, to me, he is the star of The Three Amigos.
You know that 1986 movie was made at Old Tucson, right? Steve Martin co-wrote it with Lorne Michaels. Martin, Short and Chevy Chase starred. You should own it.
Titan-of-comedy Martin has been brilliantly picking banjo since he started in show business. He has said he started telling jokes in his juggling and banjo act. Comedy's won him two Grammys, but songwriting and banjo have won him three, including a Best Country Instrumental.
The show represents a throwback to an era of duo comedy that virtually ended with the Smothers Brothers (Google Laugh In, kids.) and the gamut of TV variety shows once hosted by popular comedians. It includes, in addition to amusing back and forth banter, side-splitting bits from Short's one-man show, a ventriloquist segment featuring Short as the dummy, a slide show of baby pictures, Martin's playing solo and with The Steep Canyon Rangers, and a story swap of encounters with Elvis and Frank Sinatra, complete with imitations.
There will be no politics, though. Short told the Los Angeles Times, "We're not social satirists. We're more clowns."
For the budget conscious, Steve Martin and Martin Short: An Evening You Will Forget is available on Netflix. It's been nominated for four Grammy awards, but obviously won't include inevitably entertaining live adlibs.
Note: The Hope After Dope show scheduled for Saturday, Aug. 25 at House of Neighborly Services is being rescheduled. We'll have updates as they are available.