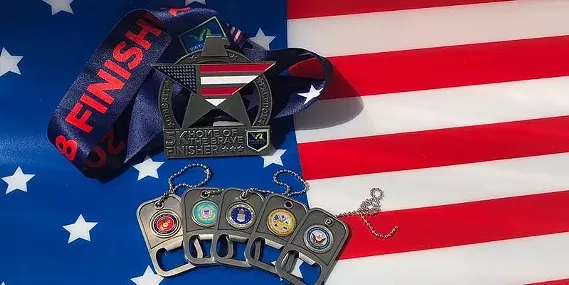 Home of the Brave Virtual 5K Run/Walk – Tucson.
Want to take part in a race that pays tribute to some of the men and women of our armed forces, but don't want to get up early and make a drive? Here's your chance. Register for this race online, then go do the run wherever and at whatever time you want. Or do a walk! It's all up to you. Then submit your results online and earn a "Home of the Brave" finisher medal. You'll also get an official race bib and your choice of Army, Navy, Marines, Air Force or Coast Guard dog tags. A portion of your registration goes to the Catch a Lift Foundation, a group that helps post-9/11 combat wounded vets to recover and rehabilitate both physically and mentally. What's not to love about this race? Thursday, Aug. 9 at whatever time and in whatever place you want. $29 to $52.
Details here.
Long Neck
(aka Lily Mastrodimos) writes unrequited love songs because the person she loves is dead. Her most recent LP, Will this Do?, is a musical attempt to continue living and make her lost love proud. Originally a lone singer/songwriter recording on an M Box, Lily's Dolores O' Riordan pipes and open-palmed honesty attracted a full rock band. Long Neck is now picking up where Hum left off 20 years ago, spinning sonic black stars of effects-rich guitar around Lily's plaintive vocals as she struggles to believe in something greater. "Counting stars and slowly speaking/But the stars were just truck lights on the ceiling." The deliberate choice to avoid sentimentality—be it the half-step down to deny chorus resolutions or the intentional lack of melody in favor of singular pitch—leads to unexpected gut punches by song's end. This is a band and an album of harnessed raw emotions, summoned and woven and ultimately hopeful, because with every grieving note, Lily is still very much alive. With Fern Mayo on Thursday, Aug. 9. Owl's Club, 236 S. Scott Ave. Doors at 6 p.m. Free. 21+. —B.S. Eliot
Details here.


Persona.
Continuing their Bergman centennial, The Loft is screening the Scandinavian master's perhaps most cryptic piece. An actress inexplicably goes mute, and a nurse is tasked with helping her recovery. It's a seemingly simple tale, and at only 83 minutes, how densely layered can it be? I thought I was artsy and deep, and I'm still trying to figure this one out. But that doesn't mean I didn't have a great time watching it. 7:30 to 9 p.m. Thursday, Aug. 9. 3233 E Speedway Blvd. Regular admission prices.
Details here.



Events compiled by Emily Dieckman, B.S. Eliot, Ava Garcia and Jeff Gardner.