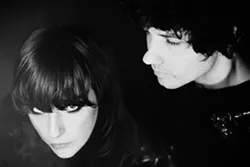 Beach House
pen cool, dreamsicle pop for summer. For whatever season, listeners are transported to beach land, Cali or Brooklyn, sand in hair, waves breaking offshore with every repetitive melodic synth line. For 14 years, Beach House have been materializing the ethereal into those rolling sonic waves of instant nostalgia, sped up and slowed down in the way that memory alters time. Victoria Legrand and Alex Scally spin music that floats, drifts or dreams its way into listener psyche—and makes them feel like it's been there all along. Fans of Tame Impala and Yo La Tengo will appreciate the dynamic dude-chick interplay of chi and the soft, gentle builds that mimic euphoria while interjecting a subtle longing—if only moments like this could last. With Ed Schrader's Music Beat Thursday, Aug. 2, Rialto Theatre, 318 E. Congress. Doors at 7 p.m. $30-$45. —B.S. Eliot.
Details here.
The Western Attraction.
The Wilde Meyer Gallery is hosting a monthlong group show featuring artwork that's all about the West and why we love it. From contemporary cowboy and Native American interpretations to western landscapes to some of the area's most iconic features, you'll walk through the gallery and be reminded of why we love where we live, even in the heat of summer. With artists like Karen Bezuidenhout, Judy Choate, Ka Fisher and Jim Nelson, there will also be plenty of variety. Through the month of August. Gallery summer hours are 10 a.m. to 5 p.m. Tuesday through Saturday, but open until 7 p.m. on Thursdays, when there is a weekly art walk from 5 to 7 p.m., and 1 to 4 p.m. on Sundays. Wilde Meyer Gallery, 2890 E. Skyline Drive, Suite 170.
Details here.
Southwest Wings Summer 2018.
Did you know that the Southwest Wings Birding and Nature Festival is the oldest birding festival in Arizona? Pop over to Sierra Vista to check out free programs, wildlife exhibits, vendors and a keynote buffet. There are about 200 species per festival, on average, and you can see them on guided field trips through areas like Carr Canyon, Ramsey Canyon, Cave Creek and all over the Huachuca Mountains. Rick Taylor, founder and director of Borderland Tours, is the keynote (which is only $35, and includes dinner). 5:30 a.m. to 9 p.m. Wednesday, Aug. 1 through Saturday, Aug. 4. Cochise College, 901 Colombo Ave. Sierra Vista. Prices vary widely. Some events are free, while an overnight field trip is $250 (including transportation and meals).
Details here.


Tucson Museum of Art.
TMA is the place to be this Thursday with three events happening throughout the day. First, from 10:30 a.m. to 12 p.m. there will be Storytime in the Creative Space with a craft activity afterwards. Next, starting at 5 p.m. it is Free First Thursday in the galleries and kids can make pipe cleaner crafts and see mingle with Arizona Biennial artists. Lastly, to round out the evening, it is a Cinema La Placita night in the Plaza of the Pioneers at 7:30 p.m. Entrance is $3 and includes popcorn. So, head over to the Tucson Museum of Art for not one, not two but three great events!
Details here.


Odyssey Storytelling Presents: Red Flags.
That guy you were dating who said he still lived with his parents because "it's complicated." That job you had in college where your boss told you he'd "pay you when he could." The 2016 presidential campaign season. At this event, seven local storytellers will tell true tales about times in their own lives that they've ignored red flags—or even failed to notice them. After all, hindsight is 20/20. It'll be a fun way to support local artists, and to remind yourself that you're not the only one who's made this mistake. 7 to 9 p.m. Thursday, Aug. 2. The Sea of Glass Center for the Arts, 330 E. Seventh St. $10 GA, $7 student with ID.
Details here.
Events compiled by Emily Dieckman, Dylan Reynolds, BS Eliot, Ava Garcia and Jeff Gardner.