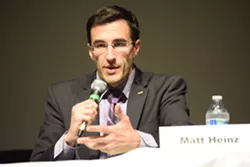 Find an updated and extended version of this story here.

The tension was thick between Congressional candidate Matt Heinz and former-Congresswoman Ann Kirkpatrick at a Congressional District 2 Democratic primary forum, the evening of Thursday, July 20.
The animosity between the two candidates widely considered to be the front runners, popped up repeatedly while all six candidates on stage debated a host of issues.
Represent Me AZ, who hosted the event, revoked an invitation to the seventh candidate, Yahya Yuksel, for the way he handled rape accusations at a press conference earlier in the week. Moderator Marion Chubon said Yuksel's behavior lacked responsibility following rape allegations.
Heinz released three attack ads, earlier this week, against Kirkpatrick, a day after she sent out mailers accusing him of supporting the NRA during his time as a state lawmaker.
Heinz's attack ads accuse Kirkpatrick of not having "progressive values" for a number of reasons. One, which persisted at the debate, was her checkered past on supporting or opposing gun-control legislation.

One ad has a two-second clip of Kirkpatrick saying she has an A-rating from the NRA. According to a 2012 New York Times article, Kirkpatrick did have an A-rating from the NRA. though they did not contribute to her campaign. In 2009, she welcomed the gun-rights group with open arms for their annual conference in Phoenix.
An article in the White Mountain Independent, which covers the White Mountain region in the eastern part of the state, quoted her saying, "I am proud that my state is hosting the group that has protected that right (to keep and bear arms) for 138 years. This is a chance for Arizonans to show our nation's leaders we will not let them take away our freedoms."
During her first term representing Arizona's CD1, before she moved to Tucson, Kirkpatrick voted to allow guns in national parks and against reinstating a ban on the sale of semiautomatic weapons.
At Thursday's debate, Kirkpatrick said she changed her tune on gun control after the 2011 mass shooting at a Tucson Safeway, where then-Congresswoman Gabrielle Giffords survived being shot in the head and six people were killed, including a 9-year-old girl.
"I re-evaluated my position on guns, and changed my mind," she said at the forum. "I not only changed my mind, but I changed the way I voted. And I supported legislation that would increase background checks. I supported legislation that would keep guns out of the hands of terrorists on the terror watch list. And I supported legislation that would keep guns from domestic abusers."
In Kirkpatrick's attack flyer on Matt Heinz, and on the debate stage, the Congressional candidate also accused her opponent of supporting the NRA when he was a state representative.
"In 2012, the NRA testified at the state legislature about a bill they really wanted to pass, a bill that would allow high-capacity magazines, and Matt Heinz voted for it," she said. "He supported the NRA."
Heinz, a doctor at Tucson Medical Center, said the idea that he would support the NRA when he treats patients with guns shot wounds is "ridiculous" and a "distortion of his voting record."
The vote was on a 2012 bill that blocked the Arizona Game and Fish Commission from limiting hunters' magazine capacity on authorized firearms. The bill received primarily Republican backing, but a few Democrats voted for the bill besides Heinz, including Reps. Steve Farley, Ruben Gallego and Macario Saldate. Former-Rep. Bruce Wheeler, also a Democratic CD2 candidate, voted against the bill.
Heinz says the bill didn't have backing from the NRA and had no opposing groups. A representatives from the Arizona Wildlife Federation and Sandy Bahr, the conservation director for the Sierra Club Grand Canyon Chapter, signed up in opposition to the bill during a committee hearing but did not speak. And former NRA lobbyist Brent Gardner registered in support of the bill.