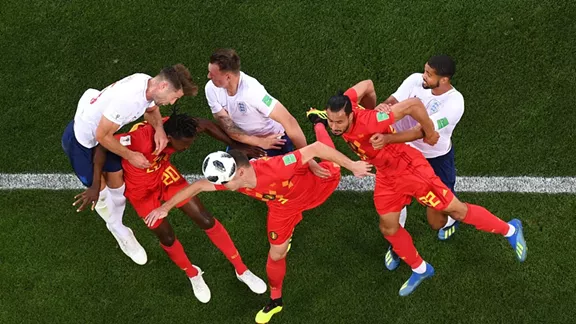 It's been another week of preliminary games at the World Cup, and the matches have been full of excitement, surprise and heart wrenching moments.
The round of 16 starts this weekend, and the top two teams from each group have been decided. Most of the games played this week were extremely difficult to predict, and many were playing in eliminations.
Many favorites went through like Portugal, Spain, Brazil and France, but to say they did so easily would be a huge understatement.
One of the week's more exciting games was Argentina versus Nigeria. The Argentineans were facing elimination, though they survived, by the grace of Marco Rojo. The Manchester City player scored the winning goal for the Argentineans at the 86th minute. This game was expected to be a true nail bitter, but it was beaten by the group of Mexico, Sweden, South Korea and Germany.
This group was seen as the toughest. Germany, for instance, were the defending champions, yet been a complete surprise since the beginning.
Mexico was in first place of their group and won their first two games. It was almost a given they were going on to the next round, but man, if we were wrong.
In their last group stage game against Sweden, Mexico needed a tie or a win to go through, but Sweden was ready to surprise.
Beating Mexico 3-0, the Swedish team ensured their advancement to the next round, and their position as first of the group. Unfortunately for the Mexican team, their future would be decided by a game they weren't involved in, being played by South Korea and Germany—Mexico needed Germany to lose.
As the game progressed, many Mexican fans followed on their phones and were happily surprised. South Korea shocked the world and beat Germany, 2-0. Both goals were scored in extra time.
Even though Mexico lost horribly in their own game, fans were celebrating when Korea beat Germany, ensuring their passage to the next round.
As a Mexican who's a Germany fan, this was one of the most stressful games I've ever watched. Kind of my Sophie's Choice, but obviously I was rooting for my home country.
Now, Germany has joined the list of defending champs who've fallen victim to the "Champions Curse". This term has become very popular in the last decade as every team that has won the World Cup since 1998 has been eliminated in the group stages the next tournament.It happened to France in 2002, Brazil in 2006, France in 2011, Spain in 2014, and now Germany in 2018.
The drama would not stop there: Colombia beat Senegal. The African squad tied with Japan on points and goals, and second place was determined by fair play. This means the team with fewer cards (yellow and red) would advance.
Japan proved to be the lucky ones with four yellow cards. Senegal had six, and became the first team in the history of the World Cup to be eliminated via fair play.
Elsewhere Belgium beat England, taking the first place in their group.
As a huge soccer fan, I am at a point that I take it game by game. Teams may look great on paper, but that doesn't always translate to the pitch.
So, with just two weeks left, this competition is sure to keep us guessing...who's getting that trophy?
The round of 16 (All times local; games shown on Fox/FS1):
• France vs. Argentina: Saturday, June 30 at 7 a.m.
• Uruguay vs. Portugal: Saturday, June 30 at 11 a.m.
• Spain vs. Russia: Sunday, July 1 at 7 a.m.
• Croatia vs. Denmark: Sunday, July 1 at 11 a.m.
• Brazil vs. Mexico: Monday, July 2 at 7 a.m.
• Japan vs. Belgium: Monday, July 2 at 11 a.m.
• Sweden vs. Switzerland: Tuesday, July 3 at 7 a.m.
• Colombia vs. England: Tuesday, July 3 at 11 a.m.
Maria Angulo is a Northern Arizona University journalism student and Tucson Local Media intern.