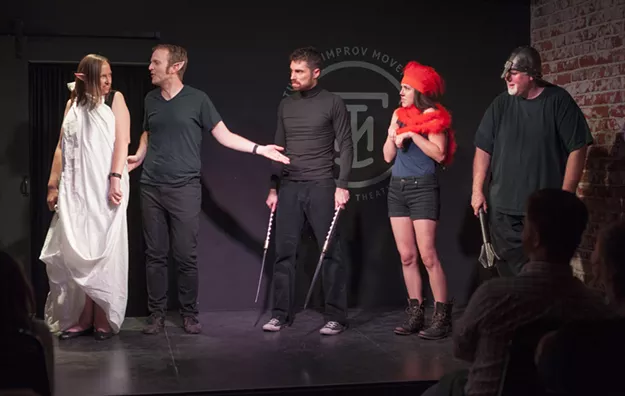 If
Saturday Night Live
is your jam, the Best of Sketch Show at TIM Comedy Theatre at 9 p.m., Saturday, June 23 should be well worth your $5. You'll see the TIM sketch team's favorites of the 28 sketches they've staged since their first show in January.
Whimsically named Baby Fish Mouth (an obscure When
Harry Met Sally
reference), the team fulfills a fantasy of TIM's artistic director, Daniel Kirby, who actually favors Key and Peele.
"I like their approach," Kirby says, "because it's in line with the Upright Citizen's Brigade philosophy. A lot of the writing staff is UCB trained."
That philosophy, Kirby explains, is to establish quickly a who-what-where that everyone can relate to, then focus on one absurd thing, exploring and heightening it throughout the sketch.
Kirby says, "I try to teach that methodology in TIM sketch classes so when we are in writers' meetings and I'm giving feedback that's what I'm filtering it through. Our goal is to set up something that people recognize and then cheat their expectations."
Kirby's sketch fandom began in grammar school, but he never tried writing until he joined the UA's Comedy Corner. That company produced improv and sketches weekly.
"Nobody had official training in that group," Kirby says, "but writing new content every week was crazy. I might have done it wrong but at least I did it and tried to figure it out."
After college, Kirby formed a comedy-based band, did a little stand-up and ultimately connected with other Tucson improvisers to stage late-night shows at the Beowulf Theatre. By the time that closed, Justin Lukasewicz had founded Tucson Improv Movement. Kirby joined the company and within a year began offering classes in sketch writing. Two and a half years later, he had a large enough pool of writers to start TIM's sketch team.
"We learned kind of on our feet how to perform and run the sketch show best," Kirby says. "Now we're executing at a higher level. We're more familiar with the best way to get laughs." Variety is key, he says. "Writers bring their own perspectives and sense of humor, so we get social satire, absurdity and sometimes just goofiness."
Mad as hell about those kids?
An organization that provides free legal and social services to detained migrants benefits from a an all-star comedy show at Borderlands Brewing Company on Thursday, June 21 from 8:30 to 10:30 p.m. Tickets are $15 via squareup or at the door.
Billed in the Facebook event as Morgan Murphy and friends, the show features Murphy, who has written and produced for
Jimmy Kimmel Live!
(388 episodes), and
Late Night with Jimmy Fallon.
She's also performed standup multiple times on
Chelsea Lately
, John Oliver's New York Stand-Up Show, the
Joe Rogan Experience
and many others.
Kristine Levine of The Frank Show and Pauly Casillas of The Switch hold down the feature slots, and other special guests are promised.
Juggling?
Laff's Comedy Cafe has a decades-long reputation for bringing the best club comedy to Tucson. So when they book a juggler, we go, "This, I gotta see." Ian Pecel juggles at 8:30 and 10:30 p.m. Friday and Saturday, June 22 and 23. Admission is $12.50 or $27.50 via laffstucson.com. There is a two-item minimum.