Mark your calendars...
Thursday, May 24
Their fresh new album, Offerings, finds these film school dropouts exchanging B&W film stock for technicolor. Cults find hope in darkness at Club Congress with Reptaliens... Punk rock "weirdos" Gaza Strip will be sporting their "Million Dollar $$$uits" along with Shooda Shook It. Fronted by twin sisters Dawn and Kee Kopps, they will rain down the disco punk/funk/no-wave at Surly Wench Pub... Denver nihilists Primitive Man are out touring for Caustic, their second full-length. Overflowing with soul-crushing blackened doom, it should come with a caveat. With Infernal Coil, Hist and Blackened at Cans Deli... A night of punk 'n' roll awaits at Zen Rock when Ted Riviera's Gunrunners, Los Perros and Ese (Houston punk/metal vatos) take to the stage... Taco Sauce (saucy girl group/surf punks), Bruja and the Coyote (existentialist desert punks) and Deschtuco (imaginative rockers with a tuba) are at The Flycatcher...
Friday, May 25
Like Ultraviolet light, dream poppers Mute Swan veer off the visible spectrum at Cans Deli. With Phoenix shoegazers Shallow... Zen Rock is the place for Bangers & Mash. A monthly bass/house dance night on a mission to raise your heart rate with DJs Kool Arrow, Jacob Ladder, Spencer Thomas, A MINOR and Cuddle MUFFin... A luminous evening of American folk revivalism awaits with Leigh Lesho & The Night Lights at The Flycatcher. With The Jim Howell Band and Fuentes, Febbo & McCammond... The progeny of the late Gregg Allman and an accomplished musician in his own right. Devon Allman can't help it; He has guitar playing in the double-helix of his DNA. The Devon Allman Project slides into The Fox Theater. With Duane Betts (son of Dickey Betts)...
Saturday, May 26
Are they still alive? After a storied career—charting four studio albums, building a rabid worldwide following and production credits and guest appearances on albums by The Weeknd, Pharrell Williams, Kanye West, Franz Ferdinand and Chemical Brothers—this French electronic duo remain mysterious as ever. In their absence, One More Time: A Tribute to Daft Punk picks up the slack at The Rialto Theater... DJ Butta Fly spins at Owls Club... A rose may not smell the same to everyone? Qualia, the title to this Hermosillo progressive rock band's album, explores how sensory perception is subjective. Lost Nebula with death metalists Pain Patterns and Sons of Providence at House of Bards... With members from Zimbabwe, Mexico and the U.S., The Key Elements of African Soul embrace the positive spirit of multiculturalism through their blend of afro-pop fusion at Monterey Court... With a background in music composition for theater, songwriter Jake Sorgen will perform his latest release American/English. A collection of songs that draws from Americana, jazz and classical. Sorgen will be joined by violinist Vicki Brown for an evening of songcraft and improvisation. At Cans Deli... On "Se Van Alzando Muros," this indie folk artist speaks out on the dehumanizing effect that separating human beings with border walls has on the psyche. Carmina Robles expands, "In this song I open my feelings with respect to the internal walls within our culture, because being an outcast community, naturally we believe that our value as People is less than others. I encourage you to recognize us as Latinos in all our greatness, to look up and show all our abilities before our shortcomings." Carmina Robles (Ciudad Obregón, Sonora) with garage country punk Jean Caffeine (Austin, Texas) and singer-songwriter Dal Hodges...
Sunday, May 27
This Southwestern alt-country ensemble, with a side of refried Texas twang, were recently featured in an AZPM profile. David Bryan's Loveland hold court at Che's Lounge... For his seventh grade piano recital, this wunderkind wrote his first original composition. Since then, he has amassed 30 Billboard No. 1 singles. Impressive by any measure. Genre-crossing contemporary jazz/R&B pianist Brian Culbertson illustrates the Colors of Love at The Rialto Theater... Rooted in spirituals, gospel and the music born of the Mississippi Delta, explore country blues with guitarist Christopher T. Stevens at Tap & Bottle Downtown... Slim Jeff (L.A. hip-hop/rap), Jansport J (neo-soul/conscious rap), Talk2Strangers (psychedelic soul) and songbird/snowbird June West (soul/R&B/country/rock), who will be flying away for the summer. At Club Congress... Vancouver, BC's Puzzlehead pop into town. "When I play in your city/Your money's no good here.../You can use my currency/You can do anything you please.../Just don't touch my Epiphone SG." Got it? At Owls Club...
Tuesday, May 29
This American folk artist's somber voice may stand as testament to an inward journey through ravaged impressionistic landscapes of Devotion and Doubt. Richard Buckner at Club Congress... She has performed with giants: Keith Richards, Van Morrison, Roger Daltrey, Buddy Guy, Bob Weir, Levon Helm. And that's just the short list. Dubbed the "Goddess Of Soul, Blues & Boogie," singer/keyboardist Doña Oxford brings her funky, groovy grit to Monterey Court...
Wednesday, May 30
In the stirring elegy "Hiapsi" Alyssa Sandoval bellows, "Angel come back to haunt me/But I am not going softly/I am moving on..." In Yaqui, hiapsi means the heart of a living person and the soul of a dead one. Obligations to the dead can only be fulfilled through faith, love and devotion. Tucson indie rockers Sur Block cast off spirits. With Phoenix dream poppers Citrus Clouds and shoegazers Cool Funeral at 191 Toole...
Thursday, May 31
Garage rock revivalists Peach Kelli Pop bring their badassery to the Club Congress stage. With jangle popsters Nanami Ozone... Singer-songwriter/guitarist Joe Peña (Greyhound Soul/The Sundowners) bares his soul solo at Mercado San Agustin... Perhaps, best known for playing a fictional version of himself on The Office, and erstwhile member of '60's pop rockers The Grassroots, this actor/folk rock musician is out in support of his latest musical offering: While the Young Punks Dance. Creed Bratton at 191 Toole... Matt Rendon—record producer, Resonar, one-man band—can now add DJ to the list when he spins "only the good God almighty knows what," as part of Wooden Tooth Records' last-Thursday-of-the month-residency at Che's Lounge... On The Thread That Keeps Us, longtime engineer Craig Schumacher worked with the band to create an aesthetic that is at once earthy yet spiked with multibursts of distortion. "There's a little more chaos and noise in the mix than what we've done in the past," commented Joey Burns. Creating a duality, to powerful effect, of both dream state and nightmare. Calexico returns to The Rialto Theater with Australian singer-songwriter Julia Jacklin...
---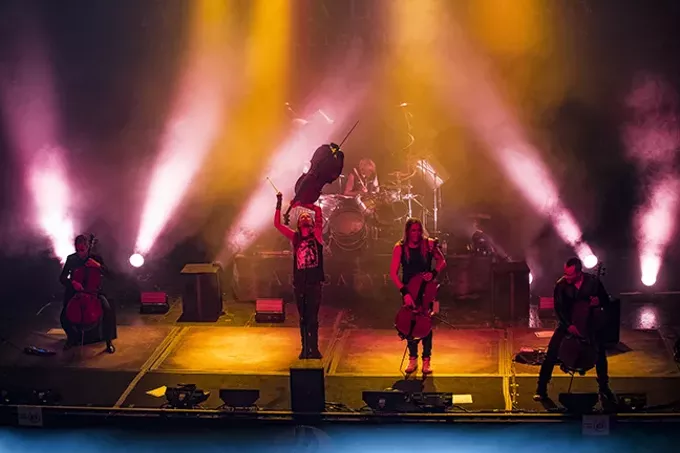 IN THE FLESH...
A palpable electricity was in the air. Pleasure receptors flooded with dopamine as a crowd of approximately 700 anticipated this Finnish cello quartet of neoclassical deconstructionists taking the stage, Saturday, May 12, at The Rialto Theater.
Apocalyptica formed in 1993, at the Sibelius Academy in Helsinki. Then they were a mere clique of heavy metal enthusiasts who, when not enmeshed studying classical music, would gather to jam on Metallica covers. Similar to the character played by Joseph Gordon-Levitt in Hesher—loosely modeled after Metallica's deceased bassist Cliff Burton—the members of Apocalyptica display an aversion to convention. They embody a twist of anarchy and virtuosity that demands to be taken seriously.
Released in 1996, Apocalyptica Plays Metallica by Four Cellos marked their debut. It features eight instrumental covers from Ride the Lightning (1984), Master of Puppets (1986), ...And Justice for All (1988) and Metallica (1991). Forever redefining heavy metal music and creating a genre: Chamber metal.
This evening's performance celebrates the 22nd Anniversary of this epic album's release.
Opening with "Enter Sandman," the quartet manifested from the inky black seated, as for a recital, in front of backdrops. Not far into the piece, as the stage lights evoked different moods, lead cellist Perttu Kivilaakso began to flail tearing into the solo section, augmenting the cello's sound by running it through effects and a wah-wah pedal.
With its dramatic movements and tempo changes, "Master of Puppets" transposed to classical instrumentation seamlessly. Cellist Eicca Toppinen whipped his long flaxen hair, headbanging manically. Afterwards, in heavy Finnish accent, he greeted the audience, "Hello Tucson. Tonight we are playing the album in its entire the way it was recorded back in 1996," before launching into "Harvester of Sorrow."
The foursome dug horsehair bows deep into strings on the mesmeric ostinato riff. Whereas the delicate melodic lines of "The Unforgiven" mirrored sorrow and beauty.
"In 1996, when this album was recorded, we had no expectations of a future. Let alone a career," said Kivilaakso sheepishly. This one is "Sad but True." A roar moved through the hall. "Creeping Death" and "Wherever I May Roam" featured masterful solo passages and lockstep rhythms that hypnotized. Before breaking for intermission the quartet rose to their feet to receive the full enthusiasm from the audience. Again Kivilaakso stepped out front. "We've been doing this a long time. Were gonna take a break...so you can get your coffee and cakes," he said with a hint of sarcasm, as the arpeggiated motif underlying the sorrowful aeolian melody of welcome despair and foreboding permeated the concert hall air.
After the intermission, Apocalyptica expanded into a quintet with the addition of drummer Mikko Sirén. Sirén is a feral beast capable of giving Lars Ulrich a run for his money. Proving just such, they sank canine teeth straight into the sinew of some of Metallica's earlier works. From Ride the Lightning: "Fade to Black," "For Whom the Bell Tolls" and "Fight Fire With Fire."
No longer able to contain themselves, the audience spilled into the aisles heading towards the stage. Now able to rock even harder, with Sirén behind the drum kit, they bombarded the audience with "Battery." At full stride, "Battery" can exceed a breakneck 220 beats per minute. Followed by "Seek and Destroy"—whic h morphed into a medley that included a snippet from AC-DC's "Thunderstruck"—that left the raucous crowd wailing like banshees at the vernal moon. Apocalyptica returned for two encores. The first, "Nothing Else Matters" from the Black Album, was a song James Hetfield previously said has come to mean so much more to Metallica fans than the love song he intended for his then girlfriend.
The second encore was "One." Notes trilled out true to form during the solo passage, as they did throughout the entire performance, conveying a deep respect for this beloved music. Hair spun aggressively in circular motion as the tension of the song mounted. Unrelenting, Apocalyptica galloped onward to the coda.
Masterful in their own right. And, despite the accolades, Apocalyptica have earned with the release of nine studio albums, it remains the work of Metallica that continues to garner fervent loyalty and unite battalions of fans. Tonight was no exception.
---
HOT WAX...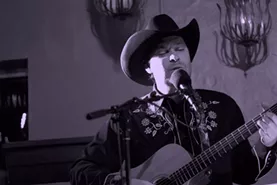 The opening prelude to Desert Sounds finds singer-songwriter Jacob Acosta assuming the role, in a fantastical world, that an eco-friendly Gene Autry might have taken. That of a big-hearted cowboy Ridin' on a Rainbow of adventure; His resonant tenor echoing off of canyon walls Beyond the Purple Hills. (See Jeff Gardner's feature A Sonoran Song Cycle for the track-by-track.) TW caught with Acosta for a brief Q&A.
What inspired you to write Desert Sounds?
The inspiration for the Desert Sounds arose when I began to take notice of the gentrification, population growth and development in Tucson. I really love this place. And I wanted to make sure that those who move here were also able to appreciate and learn about Arizona. And, to start conversations about our history and ecology.
Why did the project take so long to complete?
This project took much longer than my previous works because of the grandness of the theme. Arranging, writing and the recording process was extensive and expensive. Luckily, I got help from family and friends and through Desert Sounds [Indiegogo] campaign. Which was a big sign that people wanted to hear this music.
What are your favorite tracks? And why?
It's really hard to pick favorites on this one. I fell in love with every song. As each piece came together, the album itself started to a feel like a novel.
Is there anything that you would like listeners to walk away with...?
Many of these songs are stories about my life, from childhood to adulthood, in Arizona. I hope people pick up on the things I've tucked away in the music. And will fall in love with Arizona along the journey.
What's next for Jacob Acosta?
This will likely be the beginning of a new period of writing. And a break from recording for the next couple of years. I will continue to play live with Mason and HYTS. In the meantime, I hope all who hear Desert Sounds will enjoy it. It took a huge part of my heart.
Jacob Acosta celebrates Desert Sounds at Club Congress with Jillian & the Giants and Leila Lopez on Saturday, May 26 at Club Congress.
Desert Sounds is available at: jacobacostamusic.com
---
ON THE HORIZON...
The Mystifying Oracle, DJ/producer Ghastly, will "Crank It," thumping house/dubstep, at The Rialto Theatre on Friday, June 1... Redefining folk in North America. Carnaval: The Tour aims to reclaim the spirit of Carnaval, an inner space where tradition and rebellion coexist, through solidarity and celebration. Featuring the hot Latin sounds of Making Movies, Alex Cuba and Las Cafeteras. Friday, June 1 at Club Congress... Indie folk duo The Milk Carton Kids let their trademark harmony vocals soar at The Fox Theatre on Friday, June 22...
Until next week, XOXO...