Five children straggled into the cafeteria at Thornydale Elementary to get some breakfast at 7 a.m. on Monday morning. They were greeted by two cafeteria workers and a mom with the school's Parent-Teacher Organization. Outside, a maintenance worker ran a leaf blower. Other than that, the school was silent.
Three days into the teacher walkouts, students from low-income families who receive breakfast and lunch at their schools still needed to eat. About 20 kids came in the previous Thursday and Friday each, according to the two women serving in the Thornydale cafeteria.
The children, three little ones who go to Thornydale and their two older brothers who go to nearby schools, open their juice boxes, milk and breakfast bars.
As the Red for Ed movement goes into its second week of teacher walkouts, things become increasingly complicated for the school districts and families. As schools continue to announce closures day by day, parents are starting to wonder if the school year will be prolonged into the summer break.
Thornydale cafeteria worker Cathette Vartell says while she is still working, she has two grade-school kids at home whom she's worried about.
Her oldest daughter is set to graduate in May, and while most local school districts have said they'll host graduation ceremonies as planned, students will have to make up instructional hours for days missed because of the walkouts. How many days varies by district and even school and won't be decided until the walkouts end.
Vartell's daughter plans to leave for a two-month out-of-town trip with her church the Monday after graduation. Everything is paid for, and for a mother of two who makes minimum wage, paying more to change plans may not be an option.
"Of course I support our teachers," Vartell says. "I also feel like our kids are the ones paying a price to make a statement."
Christina Harris, Thornydale's PTO vice president, is a stay-at-home mother of three who's been volunteering at the school for 11 years.
She said the closures have been hardest because her son, a second grader who receives Title 1 services, needs to keep up on his reading skills or he'll fall behind. Nonetheless, Harris has been an active supporter of the Red for Ed movement, and was out on Ina Road on Saturday morning lining the road red with many other teachers, parents, students and supporters.
Vartell and Harris are not alone in dealing with the complications and hardships of the shutdowns. But Arizona teachers are among the lowest-paid educators in the country, and education funding is among the lowest in the nation as well.
School funding in Arizona was cut following the 2008 recession and, while there have been increases in recent years, it has yet to return to where it was a decade ago. Educators are demanding a 20 percent raise for teachers, raises for all support staff and school funding restored to 2008 levels, which would cost the state an additional $1.1 billion annually.
Between crumbing school facilities, outdated supplies and their own struggles to make ends meet, many teachers felt they had no choice but to walk out.
Rachel Tankersley, a math and science teacher in the Vail School District, was out on downtown's Congress Street on Monday morning, wearing red with a few hundred other educators and allies. She started at 7 a.m. and by by 8, the sun was already beginning to beat down on the crowd while they cheer and wave at the many passing cars that honk in support.
"Teachers are having to spend their own money on their classrooms all the time," she said. "This is my job right now, to let people know this is not OK."
Mid-April, as the Red for Ed movement was gaining support and talking about a walkout if their demands were not met, Gov. Doug Ducey announced he had a plan for the teacher raises and to restore recession-era cuts to education funding. Only, by his math, that would mean an additional $371 million, about a third what educators are asking for.
Ducey's plan didn't mention raises for support staff and critics accused him of using fuzzy math to come up with the revenue needed to pay for it. On Ducey's website, it says the state will achieve the money for the pay hikes through a growing economy and reduction in state government operating budgets, "all without raising taxes while maintaining Arizona's balanced budget."
On Friday, Ducey announced that a deal had been reached, and tweeted a plan that included $100 million for support staff. But he's still yet to meet with teacher groups leading the Red for Ed movement.
"We want to know what this deal is Ducey is referring to because we haven't seen any more details," Tankersley said.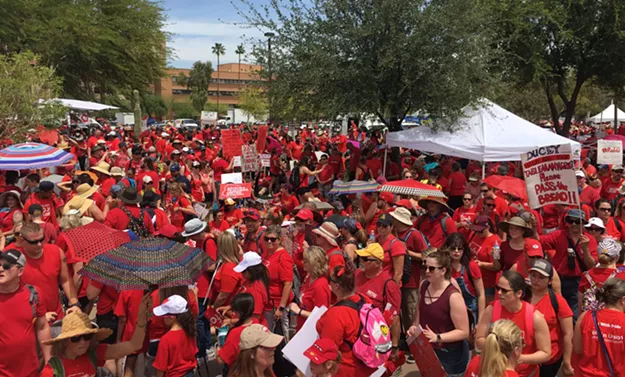 Last Thursday and Friday, protesters painted the Arizona capitol red as thousands with the Red for Ed movement flooded into Phoenix. As they were pushing for the governor and state Legislature to find a solution, Arizona lawmakers called it a week on Thursday without discussing the education budget.
On Friday, Joe Thomas, president of the Arizona Education Association, told the huge crowd in Phoenix that the lawmakers "turned tail and fled." He encouraged the educators to hold strong until their demands are met.
"You put your jobs on the line yesterday and today," he said. "You stepped out of your classrooms and your work sites to be down here with your students because they're that important for you, and we may have to continue to do that because they're playing political games."
Over the weekend, local teachers continued to protest in Tucson, and on Monday, many returned to the rally in Phoenix. In downtown Tucson, a group of teachers and supporters not headed to the capitol continued to rally on the streets.
Anissa Jimenez, a fourth-grade teacher in the Sunnyside Unified School District, joined the group along Congress, her three kids in tow. Her sister brought her own baby to lend support, wearing red and flying a sign.
Jimenez said she was surprised to hear Ducey say a deal had been reached. She appreciated that the governor is trying, but she said she hopes he negotiates with teachers to get their input. She also understands how hard the walkouts are for parents, but says it must continue until "we get it done, until we get it right."
"We need to look at it as a short-term inconvenience and a short-term sacrifice for something that's gonna be really good for our kids in the long run," she said.
UPDATE: Many schools districts have announced they'll remain closed on Tuesday, including Amphi Public Schools, Marana Unified School District, Tucson Unified School District, Catalina Foothills Unified School District. Sunnyside Unified School District announced it will close for the entire week, and Vail School District is back open Tuesday.