The drive to Winkelman isn't long or difficult—it's about 60 miles up the 77 from downtown Tucson, but toward the end, it does involve a jaunt down a dusty, bumpy dirt road that has you feeling like you took a wrong turn somewhere.
But then you go swooping down a dirt hill and into an unexpected oasis, complete with a citrus grove, a pool and more handmade birdhouses than you can count.
Kevin Madden, who bought the property with his wife Jill in 2016, tells us he thinks the canyon is the most special place in all of the Sonoran Desert. I'm not arguing. The place has everything, including WiFi, but all of the other offerings are enough to almost make you not need it.
Quiet in the Canyon
Not long after my partner and I arrive, we're back on the dirt road again, heading toward the trailhead of Aravaipa Canyon Wilderness with a hiking permit that our hosts arranged for us. Kevin sent us off with some words of wisdom: The farther you hike into the canyon, the prettier it gets.
And boy, does it. It seems like the photo opportunities get better with every turn. The landscape fades from dusty desert all around to a canopy of trees overhead to enormous canyon walls rising up on either side of the trail. The creek in Aravaipa Canyon flows all year round, which a) makes you feel like you're not in Arizona at all and b) means your feet are going to get wet. Most of the trail is along the shallow water of the riverbed, so your shoes will pick up some water—and hitchhiking pebbles—along the way. The views are worth it, I promise. But choose your shoes or sandals carefully. Aside from an array of frogs, birds and small critters, we were even lucky enough to see a coati slinking along a path overhead. Park ranger Heidi Blankenship says the Sky Island region we're in stretches across parts of Arizona, Mexico and New Mexico, and is home to about 7,000 plants and animals. An hour and a half deep into the canyon, I had to force myself to stop looking for birds and turn around so that we could be back in time to clean up for dinner.
Meanwhile, Back at the Ranch
After the journey back, there's more time to take in the finer details of what makes the area so special: The trees are vibrantly green, and it feels quieter than the rest of the world. The ground is covered in gravel so that when you're walking across the property, the little rocks crunch under your feet and remind you of going to camp when you were a kid.
There's a three-bedroom house, plus five casitas, or one-room cabins, on the property, which are even more charming than they sound. Each has a unique setup—for example, the room with a tree growing through the middle of it.
We stayed in the Mountain View casita, which was definitely the best one. (I'm only half joking. I think whatever room we'd been assigned to would have seemed like the best one, but ours did have the only king-sized bed.) The indoor fireplace, enormous shower and cozy patio were all highlights, and so were the thoughtful furnishings, like a tea set, dominoes and a stack of books on the bedside table. The place used to be an Arabian horse farm in the '70s, and the enormous door to our bathroom, formerly a horse stall, is proof.
Our breakfast for the next morning is waiting for us in the fridge: fresh fruit, yogurt, orange juice and some sort of cranberry loaf. The original owner of the inn, Carol Steele, explains over dinner that evening that her early-morning experiences with B&Bs left her thinking it would be better to let guests wake up on their own time and lounge over breakfast, and do a communal meal for dinner instead—"the opposite of a B&B." She shrugs.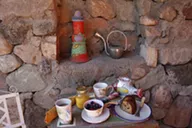 Dinner is a cozy affair prepared by the resident cook and general keep-the-place-running guru, Polly Choate. Sitting with the other guests made for ample conversation: An author talks about what it was like attending UA at the same time as her kids. A painter reveals which TV shows she listens to while she works. And everyone exchanges stories about times their small children or small animals have accidentally called 911.
(Pro tip: The conversation really starts to flow if you take advantage of the property's BYOB policy while you enjoy your farm-to-table meal.)
"We want this food to come from that garden this morning onto this table," Kevin says over a plateful of a goat cheese and citrus salad.
Secret Origin
In another life, Steele—tonight, a vision in a pink velvet shirt and an abundance of necklaces and rings—was a culinary superstar in the Phoenix gourmet food scene, but she decided she wanted a change of pace—something remote and far-removed from technology.
Now, she's been in Aravaipa for nearly 23 years and tells us she never wants to live anywhere else. When Kevin and Jill bought the property, she moved right across the creek, and says she couldn't imagine a better pair to take over the endeavor.
"They took the essence of where I was and what I was doing and made it better," she says.
In the year that they've owned the property, Jill and Kevin have put in some serious work, planting 350 new fruit trees, bringing in 600 tons of gravel and giving the property's trees some much-needed trimming.
"I still have a list of about 300 projects to work on," Kevin laughs. "And frankly, when that gets done, there'll be another 300 things to do, and that's OK."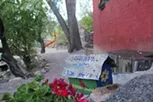 It's easy to understand where he's coming from when you're lounging on the front porch of your casita with a cup of coffee and some fresh fruit, in air that's cool but not cold, beneath a sky that's bright but not searing. In Aravaipa, you can sit quietly with the knowledge that the papers on your desk can wait, checking your email can wait, the hustle and bustle can wait. And that's OK.
Aravaipa Farms is located at 89395 E. Aravaipa Road, Winkelman, AZ 85192. For reservations, call 261-7373 or email info@aravaipafarms.com. Visit their website, aravaipafarms.com, for more information.