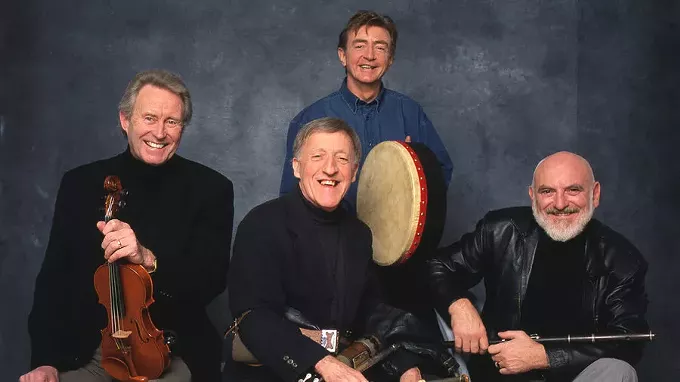 In 1969, at the ripe young age of 17, I first head The Chieftains. It was their second album and the tune was called "Banish Misfortune." Until then, my general concept of Irish music was Bing Crosby singing "McNamara's Band." I had never heard an Irish Uilleann (elbow) pipe or a or a bodhrán drum or even a penny whistle. It blew my mind much more significantly than the various recreational drugs I was experimenting with at the time, and it endeared me to Irish cultural tradition as an indescribable enrichment in my life. Their recent performance at the Fox Theatre has not diminished my esteem for their incredible talents or their infectious inclusivity in all they do.
Their 56th Anniversary tour reveals many ol' members who have passed on, including some of Ireland's stand-alone greatest traditional musicians, but they came to Tucson with three original members: leader Paddy Moloney, flutist Matt Molloy and singer/bodhrán player Kevin Conneff. They not only brought with them a treasure house of great young Celtic performers to share with us, but they seamlessly incorporated local artists with them on stage. I have seen them in many parts of the world and they always bring a surprisingly fresh offering each time.
Triona Marshall on harp proves to be an honorable replacement for the lovably wacky Derek Bell (Van Morrison's one-time spiritual advisor and fellow Belfast man). Tara Breen on fiddle jolted us by jumping to her step-dancing feet (only later to play Irish music on a saxophone. Really, a sax?). Jon Pilatzke (where'd ya get them bloomers, lad?) embarked on his own fiddle-frenzy before leaping into wild steps with his brother Nathan, along with more singing and dancing with Alyth McCormack and others. With the Chieftains it is wise to expect the unexpected.
Recognized as a world renowned music group given credit for changing the face of music history—certainly traditional Irish music history—they are winners of six Grammy Awards and an Emmy, recipients of a Lifetime Achievement Award by the BBC and the title of Ireland's Musical Ambassadors by the Irish Government. They have played with everyone from Elvis Costello to Willie Nelson, Van Morrison to Chet Atkins, Sinéad O'Connor to Joe Ely, Alison Krauss to Luciano Pavarotti, Tom Jones to the Rolling Stones, and from Galicians to Bretons and even in space! Which makes it all the more heartwarming that they always purposefully highlight local talent, as they did in bringing to the stage the Tucson Boys Chorus, the McTaggert School of Dance and the Tucson Highlanders bagpiper band. Talk about sharing the spotlight.
At this crazy time in human history, they seem to be one group that gives me a sense of place. Recently, with talk of building walls against "the others," the Chieftains put out an entire historical and beautifully rendered album dedicated to the San Patricio's—Irish immigrants who deserted the U.S. Army to join Mexico against the Yanqui invaders. (If you have not heard their "Sands of Mexico" with Ry Cooder you damn well should). Likewise, in the midst of the Tucson concert—just when you thought it was almost "safe"—Paddy Moloney announced he would like to play a song in honor of a great fighter for justice. As the music began, a huge backdrop of the smiling face of Nelson Mandela was projected. Just to remind us ….
Paddy Moloney tells the story [in Chieftain's biography by John Glatt about being a smaller boy than his other classmates where he grew up near Dublin. But he said he could counter the bullying and ensure some popularity by playing his simple little penny-whistle, which he has since mastered like nobody and as proficiently as the intricately complicated Uillean pipes.
Back then, "I was like a pied piper," he says. "I'd play the whistle and have everyone marching after me in a procession."
And we are all still following him and his friends.