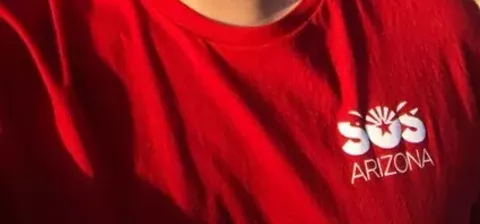 Today teachers all over Arizona are wearing red to spotlight low teacher pay—and the shortage of teachers which is exactly what you'd expect in a state with some of the lowest salaries and largest class sizes in the country. Teachers are asking the rest of us to wear red in solidarity.
You know, red and black go really good together. Arizona can say yes to the demands of teachers wearing red and still keep the state budget in the black. How do we manage it? The first step is to make a commitment to increase the state budget so we can afford to fund schools, social programs and infrastructure adequately. The next step is to ask, "What's the best way to do it?"
We have plenty of options to choose from. Close tax loopholes for corporations and other special interests. Renew the Prop. 301 sales tax for education, with a penny added to the total. Stop the stupid, goddamn tax cuts for corporations and the wealthy. Increase taxes on the wealthiest among us so they pay their fair share.
I'm not suggesting which are the best ways to increase state revenue. That's the next step, after we agree to take the "red and black" challenge.
However, I do have two suggestions for things we need to do if we hope to add needed money to the state coffers. Give voters the opportunity to repeal Proposition 108 from 1992 which requires a two-thirds majority in the legislature to pass any new taxes. And vote out politicians who say "No new taxes, period."