Tucson theaters are off and running in their assorted staged stories of folks, fate and folly as revealed by dynamic playwrights. We're right there with them.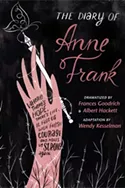 From March 10-31, the venerable theater that has brought us some blues-y bliss in past musical productions will get down and dirty, metaphorically speaking (I think), with Low Down Dirty Blues, a musical revue featuring veteran blues musicians jammin' with "songs of passion, soul and a love of life," promises their promo materials. Arizona Theatre Company will finish the 2017-2018 season with The Diary of Anne Frank, that beautiful, heart-rending story of a young girl hiding with her family from the murderous Nazis during World War II. It runs April 21 through May 12. Arizonatheatre.org
The Invisible Theatre remains quite visible in its search for excellence. After an outstanding fall line-up, next is Black Pearl Sings, a two-person show about soul, family, history and prison. Then, after importing Remembering Mr. Sinatra, here for two days March 10-11, the theater concludes the season with Mr. Goldberg's Prodigal Sun, a comedy about families and their foibles. It runs April 24 through May 6. Invisibletheatre.com or 882-9721.
Rogue Theatre's next production is Edward Albee's Three Tall Women, which features an unusual look at a woman edging toward death and two other stages of her life. That runs March 8-25. Then for a rip-roaring wind-up of their season comes King Lear, yeah, that King Lear, Shakespeare's great tragedy. This is one not to be missed for all Shakespeare fans. Catch it April 26-May 19. Theroguetheatre.org or 551-2053.
Closing in a couple of days is Live Theatre Workshop's House of Blue Leaves, and then comes The Best Brothers by Canadian playwright Daniel MacIvor, opening Feb. 15. It's a comedy featuring a collision of family members when their matriarch dies after an incident at a gay pride parade. LTW declares that audience members will leave the theatre wanting a dog. (Don't let your cat know where you're headed.) It runs through March 24. Then Wendy McLeod's Women in Jeopardy opens March 29 and runs through May 5, delivering a story of women, wine and imaginations out of control. And just as the summer heat is settling in, LTW brings us the irreverent Christopher Durang's Miss Witherspoon. It runs May 10-June 9. Livetheatreworkshop.org.
LTW also is trying to revive its walk-on-the-wild-side group, Etcetera. Coming up is Abeyance: A State of Temporary Disuse or Suspension featuring Tyler West, March 9-10. Then, An Unkept Secret, A Rehearsed Improvisation directed by Gretchen Wirges can be seen May 19-20.
Something Something Theatre has just concluded a run of Anna Ziegler's interesting little play, A Delicate Ship. Opening Feb. 23 is The How and The Why by Sarah Treem, which, according to SST's website, is about two biologists, evolution, love, success and menstruation. Treem won a Writer's Guild of America award for the series House of Cards and In Treatment. It runs through March 11. Closing their season is How the World Began by Catherine Trieschmann, also the winner of several awards, running May 8-20. Its subject is the clash between science and religion. Somethingsomethingtheatre.com or 468-6111.
Winding Road Theater Ensemble surprises us by featuring a musical, that old but ever-remarkable The Fantasticks, running now through Feb. 16. Then they tackle Sam Shepard's 1979 Pulitzer Prize-winning Buried Child. It runs May 3-20. Windingroadtheater.org.
But—what ho! As sometimes happens, two theaters have landed on the same page of the play catalog. Speak the Speech Theatre is also doing Buried Child, April 6-22. ststheatre.org.
Borderlands Theater hosts Marga Gomez doing her one-woman show Latin Standards, Feb.14-18. Borderlands describes it as "a hybrid of stand-up and poignant autobiography," honoring the legacy of Gomez's Cuban father. March 15-April 1 the group will present The Mermaid Hour by David Valdes Greenwood. It examines the power of a YouTube video and the fallout it causes for a family engaged in numerous transitions. Then, April 25-28, we'll get another installment of the group's ongoing Barrio Stories series. Borderlandstheater.org.
College theater in Tucson can be very impressive. Arizona Repertory Theatre at the University of Arizona brings us three shows this spring: Doubt, A Parable Feb. 4-25 (by John Patrick Shanley who wrote the show at ATC nearing the end of its run); Shakespeare's Merchant of Venice March 12-April 1; and they will try to breathe life into The Pajama Game, a rusty old musical, April 8-29.
Pima Community College is going to give us some fun with Priscilla, Queen of the Desert, Feb. 22-March 4. Then in April they will mount Eurydice by Sarah Ruhl, a playwright who continues to impress. That will run April 12—22.
The inaugural season of the Scoundrel and Scamp Theatre will continue with two mainstage productions, Salome, a wild spin on Oscar Wilde's play, Feb. 8-18, followed by Mr. Burns: A Post-Electric Play, April 12-22. The script by Anne Washburn takes a look at what goes on (and on) after a cataclysmic event. The group's studio series will feature There is a Happiness That Morning Is March 15-April 1. More info on Pima's program online at pima.edu/community/the-arts/theatre-arts/.
Broadway in Tucson brings us road shows of popular Broadway musicals, many those we know and love. The King and I is one of those and it runs March 13-18. Then, April 3-8 BIT will host a return engagement of the outrageous and uber-funny Book Of Mormon. If you missed out the first time, get your tickets pronto. Rain-A Tribute to the Beatles drops by for one show only, April 10, and the final show on BIT's dance card is Finding Neverland, a fanciful look at the journey of creation of J.M. Barrie's Peter Pan. It runs April 24-29. Broadwayintucson.com.
Roadrunner Theatre Company, on the near-east side keeps their faithful theater-goers pretty busy. I Hate Hamlet runs Feb. 16-March 11; Perfect Timing runs April 6-29; way-way funny How the Other Half Loves by master farceur Alan Ayckbourn runs May 11-June 3. They produce shows year-round so check out their website for more. Roadrunnertheatrecompany.org or 207-2491.
The St. Francis Theatre has been around for years, and their work is always impressively heartfelt. Coming up is a revamped version of the musical Godspell, which was a hit for years after it premiered in 1971. This version is called Godspell 2012, and it runs March 2-18. Artmeetsheart.com.
The Community Players has also been around for years. Running February 9-18 is Groovy Baby—Sounds of the 60's. Then they tackle a hefty piece, A Life in the Theatre by David Mamet March 9-25. The Comedy Playhouse has closed its doors, but their website suggests a new-ish venture, the Radio Revival Theatre, housed in the Community Playhouse. Squareup.com/store/the-community-players.
There are some interesting happenings in Tucson's theater world that don't quite fall into the play production category. There's a long-time organization nurturing the development of local writer's scripts called Old Pueblo Playwrights, and they do an annual New Play Festival. This year it's scheduled for April 12-15. It's usually an intense and revealing weekend. Check it out. sites.google.com/site/tucsonopp.
We mustn't forget to applaud the 40-year-plus efforts of the Gaslight Theatre, which not only continues to produce its repertoire of goofy musical fun for all ages at its location on East Broadway, but has opened Gaslight Music Hall in Oro Valley. This is a venue for all kinds of musical revues and such, but not the shows seen at the Broadway location. There, now through March 25 you can enjoy The Lone Stranger, and then, The Rockabilly Raceway, March 29 through June 3. Gaslighttheatre.com or gaslightmusichall.com online.
New events can pop up from time to time, so make sure you check theater listings regularly.
I have a challenge for you. Many of you have your own favorite theater group. (If you do I hope you buy season tickets. That's vital currency for every not-for-profit theater.) But this spring, branch out. Attend a show at a different theater or two, without neglecting your favorite, of course. You might be inspired to add an additional option to your play-going adventures. Don't let ticket prices deter you. There are numerous ways to catch a show on the cheap. Most theaters have discounted tickets for previews, and most also offer discounts to seniors, students and such. There are group rates if you want to wrangle a theater adventure for a bunch of friends. Sometimes a theater will offer tickets that haven't sold for a particular performance at a greatly discounted rate at the last minute. You can also gain admittance by offering your ushering services. And here's something that dedicated users of libraries know but others might not: there's a program called Arts Performing Passes that offers free tickets to productions of theaters that participate in the program. They are limited, but check it out.
Now, begone! And get thee to the theater!