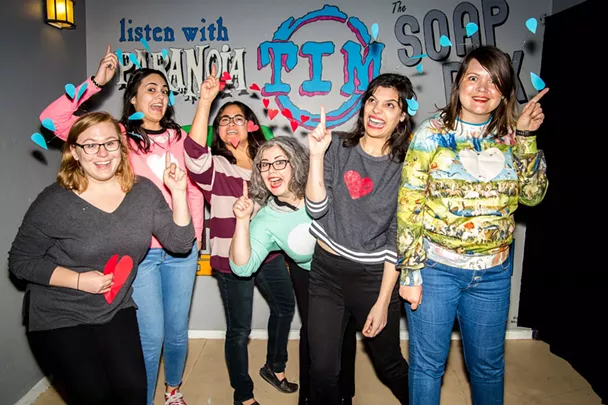 The Cactus Flower Comedy Festival of funny women kicks off at Tucson Improv Movement at 7:30 p.m. Thursday, Feb. 22, with a set by FST (Female Storytellers), and runs through standup comedy, improvised sets and jams, bilingual improv, workshops, an all-gender jam, and more through Saturday, Feb. 24. The lineup includes teams from the UA, Unscrewed Theatre and Phoenix's Torch Theatre as well as TIM.
Saturday at 9 p.m. "The Best Show, Period" benefits Project Period, the YWCA's program to provide sanitary products to anyone in need. The program features The Riveters, TIM's long-running, all-woman improv team; memoirist, poet and comedian Molly McCloy and Phoenix comedian Genevieve Rice, founder of the Bird City Comedy Festival.
Friday's "Ladies Who Lead" improvises around stories told by Arizona gubernatorial candidate Kelly Fryer and others. Saturday's 10:30 p.m. headlining set features L.A.'s punk Latina improv twins, Animal, and Portlandia alum Kristine Levine, the boundary-pushing Friday co-host of The Frank show on KLPX.
Details and reservations for all ten shows are at tucsonimprov.com .
Cactus Flower is the grand public debut of TIM's new 414 E. 9th Street address, across from the Shanty and next to the Geronimo Hotel, in the same building as Revel Wine Bar. The move is a big step up for the theater, formerly located in a dilapidated garage next to D&D Pinball.
Improvements include air conditioning and heating, a space arrangement made to order, and next month. beer and alcohol service.
Says TIM executive producer Justin Lukasewicz, "The new theater has the vibe and amenities we need. The space feels really cool, and I think complements the high quality our shows. We should be able to serve liquor in time for our Improv Madness duo competition in March. That's generally our most popular show every year. Two-person teams compete, and the audience votes for their favorites."
Lukasewicz says the move also accommodates the growth of TIM comedy training programs. We launched our first Stand Up 101 this year. It sold out within two weeks, and the students loved it. We also have sketch, stand up, improv, and teen classes starting soon.
As for Cactus Flower, Lukaseswicz says, "We have a smart, talented group of females running the show on this. We've been thinking about what does year 5 or 10 of this festival look like, and how do we get there incrementally. I think that will make this fest a Tucson treasure for years to come."