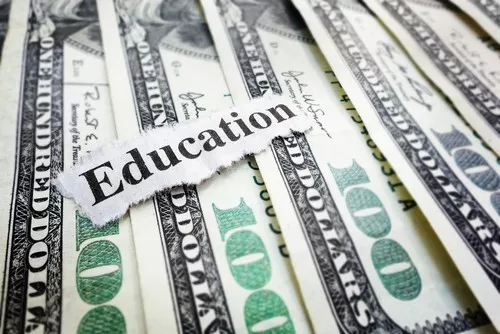 A billion dollars. That's on the high end of the figure you hear when people talk about increasing Arizona's K-12 funding.
Governor Ducey came in at one-tenth of that, $100 million. At the latest Koch brothers summit, Ducey said to the assembled multi-millionaires and billionaires, "I didn't run for governor to play small ball. I think this is an important idea." But that "important idea" in his pitch for campaign cash wasn't public education. It was private school vouchers, which are near and dear to the Koch network's hearts and wallets. When it comes to increasing public school funding, Ducey plays the smallest ball he can manage and still call himself "the education governor" with a straight face.
But education groups and a sizable number of business leaders say, if we're going to give our teachers a reasonable wage and provide the needed resources for our students, it's going to take an extra billion dollars in this budget and every budget in the future.
So who is this radical group that recommends we add $2 billion a year to the school budget? And a one-time allocation of $1.3 billion to make up for past budget shortfalls? And get rid of the law requiring a two-thirds majority in the legislature to increase taxes so all it takes is a simple majority to add to our revenue base?
All those radical proposals come from a not-so-radical group of participants in the 110th Arizona Town Hall held last November. The Arizona Town Hall's topic changes each year. For 2017, it was "Funding preK-12 Education." Community town halls were held in 15 locations around the state, each attended by a few dozen to a hundred participants, and each group submitted a report with findings and recommendations. Then in November, about a hundred people representing community members, business people and educators gathered for three days at the Hilton Hotel in Mesa. (The Hilton venue is an indication of the un-radical nature of the organization, as is the makeup of its executive committee, which includes wealth advisors, realtors, engineers, and even Lea Marquez Peterson, recent CEO of the Tucson Hispanic Chamber of Commerce and current Republican candidate for the CD-2 House seat occupied by Rep. Martha McSally.)
The Town Hall produced a
17 page report
explaining why Arizona's current education funding is inadequate and what needs to change. The crowdsourced set of recommendations does a better job of recognizing what it will take to meet the financial needs of our K-12 public schools than just about any other document I've read, including its understanding that we need to get rid of the two-thirds majority the legislature needs to get a tax hike through the legislature.
Here's the short version of the report's recommendations.
"In simple terms, we need to invest at least $1.3 billion (to be updated to reflect the current need) on a one-time basis – and at least $2 billion annually, with annual increases for inflation in the future – to position our preK-12 education system to meet the educational goals that we have identified for it."
The increased funding is allocated as follows: $900 million to increase teacher pay "with a view toward bringing Arizona's teacher salaries in line with the national median"; $380 million to restore the capital funding formula; $18 million to restore the cuts in Charter Additional Assistance; $250 to update and fully fund the building renewal fund; $250 million for new school construction (with an additional $343 million the first year); $240 million to fund full-day kindergarten; and $200 million to develop and implement a state-funded preK program.
Tax increases are in the report's mix of funding sources. The problem is, it's nearly impossible for the legislature to raise taxes because of Proposition 108, passed in 1992, which requires a two-thirds majority of the legislators to vote in any new taxes. The report recommends that Arizona voters overturn the 25 year old proposition so new taxes can be voted in by a simple legislative majority.
(When I spoke with Tara Jackson, President of Arizona Town Hall, she told me that Proposition 108 comes up repeatedly in the gatherings, with the majority of participants wanting to get rid of it. Why this idea isn't talked about more, and why we haven't seen a major push for a "Repeal Prop 108" ballot measure is a mystery to me.)
The AZ Town Hall's radical-sounding funding increases really aren't very radical. They only sound extreme because we've been in the funding cellar for so long, it takes some real money for us to climb out. When it comes to dollars spent per student, we're one of the bottom three states in the country. If we added the recommended $2 billion, our funding level would move past 9 states and pull even with Georgia, Florida and Michigan, but we'd still be well below New Mexico, Louisiana, Kansas and Kentucky and 34 other states.