When the annual Gem, Mineral, and Fossil show comes to town about the time the new year really gets underway (this year starting on Jan. 26), the entire industry takes over the town.
"It's big, crazy, overwhelming—all in a good way—because it's the largest event of its kind in the world," according to Dan Gibson of Visit Tucson.
To the tune of 50,000 visitors who drop some $120 million in direct expenditures, nearly $11 million of which stays here in the form of tax revenue.
In 2017, the show hosted 45 different exhibitions with vendors and buyers coming from around the globe.
One of those exhibitions that has been a part of the main tent show for nearly half of its 62 years is the American Indian Art Exposition, to be held this year, Jan. 28 through Feb. 11, at the Flamingo Inn Ballroom, 1300 N. Stone Ave.
"We're unique in the fact that all artwork in all forms is all crafted from a Native American point of view," says expo organizer Fred Synder.
Qualifying as an official gem show event, the festival includes Native arts, music, and dance with craftsmen and women creating, displaying, and selling on a rotating basis.
"We're among the smallest of all the shows with just over two dozen vendor spaces, but we routinely win the 'third most-visited show' prize," Synder adds. "After viewing diamonds and pearls and rubies, a ton of this and two kilos of that, the items in our show stand out because they are handmade, one-of-a-kind items. Among the tons of rocks and gems and minerals, the masses of those kinds of things, we have a unique show."
"Even Native American artists come to the big show to collect high-quality or difficult-to-obtain semi-precious stones, gems, and beads—which they later incorporate into their own jewelry or other artwork," Synder says.
And speaking of stones of the turquoise variety:
"I started collecting turquoise in the 1970s and have 15,000 stones from which I can find a match for any old, missing, stones from concho belts.," Snyder adds. "The show has two silversmiths and a goldsmith on the property doing repair work and although some other venues may sell Indian jewelry, I don't think any of the other shows can offer the repair service."
Depending on which vendors display in 2018, shoppers will find jewelry, paintings, pottery, baskets, blankets, kachinas, flutes, and quillwork. "We'll have split-stitch and willow basket weavers from the Tohono O'odham nation, Hopi beadworkers, and a Navajo flute maker who also makes hand drums—all rich cultural resources."
Prices are modest for smaller items like a child's whistle or a small dream catcher, but can range into the thousands of dollars for one-of-a-kind paintings and bronze sculptures. "We bend over backwards to find Indian Rembrandts and Picassos and reach out to a world market," Snyder says.
Snyder sees the show as "more than an exhibition. It's a cultural experience involving arts and craft demonstrations, live music, social dancing, and food. Artists are happy to answer questions about their respective cultures or explain how natural materials are prepared, how an item is crafted, and its cultural significance. You can watch these artists as they make things by hand—weaving blankets, beading gourds, or working with precious metals."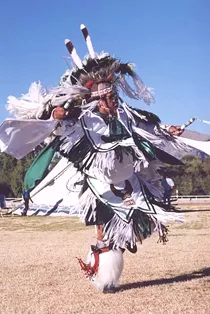 Because of the handcrafting, the finished product is not assembly-line, but an item unique with its own personality.
"Products are individual creations, durable, and a reflection of the spirit of the artist who crafted the item," says Snyder. "And prayers of the artists go into everything they make. We're more than just selling arts and crafts, we try to show the spirit of nature via the art that passes from craftsman to customer."
Synder says he wears a businessman's shoe on one foot and an Indian moccasin on the other, bringing in Native talent from all over the Southwest.
"Our 27 vendor spaces turn over about three times during the show which means 90-some-odd artists will be on hand," he says. "Many of our vendors have religious duties to undertake or livestock to tend, and can't be away for an extended time. Some come for a 3-day weekend, some spend a full week, while others stay for the entire show. From a customer standpoint, in order not to miss something, perhaps a second visit might be in order?"
Admission is free, although donations intended for Native American art scholarships are invited.