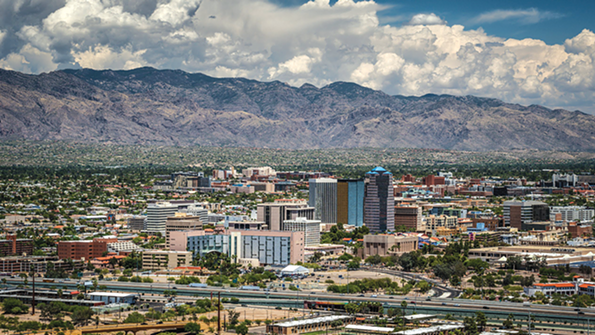 Best Way to Donate Your Time and/or Money
Community Food Bank
3003 S. Country Club Road
520-622-0525, communityfoodbank.org
The 501(c)(3) Community Food Bank of Southern Arizona helps to keep hungry families fed through its emergency food assistance program. It also helps keep them fed in the future through its community gardens, farmers market and culinary training school. Donations and volunteering can be set up online.
Reader Recommended
PACC
4000 N. Silverbell Road
520-724-5900, pima.gov
Humane Society of Southern Arizona
635 W. Roger Road
520-327-6088, hssaz.org
Best Mariachi Band
Pueblo High School
Mariachi Band
3500 S. 12th Avenue
520-440-3200, mariachiaztlandepueblohs.com
Founded in 1992 by Richard Carranza, Mariachi Aztlan de Pueblo High School enables students from ages 14 to 18 to play mariachi music arranged by teacher and director John Contreras. Over the years, the hard-working young musicians of the award-winning band have shared the stage with notable acts such as Linda Ronstadt, Rita Moreno, Pink Martini, Rufus Wainwright III, Calexico and numerous symphonies. They not only entertain the local community, but also bring their musical talents on the road to events such as an Independence Day parade in the nation's capital.
Reader Recommended
Desert View High School Mariachi Band
4101 E. Valencia Road
520-545-5100, susd12.org/22/desert-view
Luz de Luna
363 N. El Camino Norte
520-906-6023, mariachiluzdeluna.com
Best Annual Festival
4th Avenue Street Fair
fourthavenue.org
Attracting over 600,000 visitors every year, the 4th Avenue Street Fair is the most popular event in Tucson. For over 55 years, old and young alike have come for the artwork, food, entertainment and fun. A free shuttle service is provided.
Reader Recommended
Festival of Books
tucsonfestivalofbooks.org
Loft Film Fest
3233 E. Speedway Boulevard
520-795-0844, loftcinema.org
Best Gym
YMCA
Multiple locations
tucsonymca.org
When Tucson readers want to pump some iron or break a sweat, they prefer to do so at the YMCA. The Y offers its members group fitness classes, personal training, swim lessons and more to meet its mission of improving the quality of human life and developing the individual's spirit, mind and body. Child care, family camps and teen leadership programs are available.
Reader Recommended
Rocks and Ropes
330 S. Toole Avenue, 520-882-5924
8975 E. Tanque Verde, 520-209-2562
rocksandropes.com
Tucson Jewish Community Center
3800 E. River Road
520-299-3000, tucsonjcc.org
Best Yoga Studio
Yoga Oasis
4631 N. Campbell Avenue
7858 E. Wrightstown Road
520-322-6142, yogaoasis.com
Whether in studio, outdoors, or online, our readers find serenity through Yoga Oasis. Classes offered include basic, flow, vinyasa, yin and candlelight restorative. Children's classes and a monthly unlimited classes membership are available.
Reader Recommended
Fourth Avenue Yoga
413 E. Fifth Street, 4thavenueyoga.com
The Yoga Connection
3929 E. Pima Street
520-323-1222, yogaconnection.org
Best Crossfit
Old Pueblo Crossfit
7225 E. Broadway Boulevard
520-392-8329, oldpueblocrossfit.com
Hard work meets fun at Old Pueblo Crossfit. The crossfit gym's fitness experts help members increase strength, stamina, agility, flexibility and balance.
A free class or free one-on-one training is available.
Reader Recommended
CrossFit Fixx
8987 E. Tanque Verde Road
520-317-6154, crossfitfixx.com
Gym 244
244 S. Tucson Boulevard
520-584-8244, gym244.com
Best Bowling Alley
Lucky Strike
4015 E. Speedway Boulevard
520-327-4926, tripleshift.com/lucky-strike-bowl
With 32 lanes and full lane-side food and drink service, Lucky Strike always rolls a perfect game with our readers. The bowling alley hosts league competitions as well as open bowling for all ages. Galactic bowling, birthday parties, group events and same-day lane reservations are available.
Reader Recommended
Fiesta Lanes
501 W. River Road
520-887-2695, tripleshift.com/fiesta-lanes
Cactus Bowl
3665 S. 16th Avenue
520-327-6561, tripleshift.com/cactus-bowl
Best Marijuana Dispensary
Downtown Dispensary/D2
221 E. Sixth Street
520-838-0492, thedowntowndispensary.com
7139 E. 22nd Street, 520-214-3232
d2dispensary.com
Established in 2013, the Downtown Dispensary, which serves medical and recreational shoppers, is the home of iLava concentrates, edibles and vapes. Downtown Dispensary is veteran owned and operated by a first-generation immigrant. Downtown Dispensary prides itself in providing safe and affordable cannabis products to all.
Reader Recommended
Earth's Healing
78 W. River Road, 520-253-7198
2075 E. Benson Highway, 520-373-5779
earthshealing.org
The Prime Leaf
4220 E. Speedway Boulevard
1525 N. Park Avenue
520-447-7463, theprimeleaf.com
Best CBD Store
Earth's Healing
78 W. River Road, 520-253-7198
2075 E. Benson Highway, 520-373-5779
earthshealing.org
Earth's Healing places a strong emphasis on patient education and serves both medical and recreational shoppers.
Reader Recommended
Botanica
6205 N. Travel Center Drive
520-395-0230, botanica.us
NatureMed
5390 W. Ina Road
520-620-9123, naturemedaz.com
Best Auto Repair
Jack Furrier Tire & Auto
Multiple locations
520-547-4737, jackfurriers.com
Starting as one little shop in 1960, Jack Furrier Tire & Auto has grown and there's a reason for that: excellent service. These days, besides new tires, customers can get their oil changed, air conditioning serviced and front end aligned. There's more. Check out its website.
Reader Recommended
Buck's Automotive Service Center
4360 N. First Street
520-292-0904, bucksautomotive.com
Dan's Toy Shop
2502 E. Fort Lowell Road
520-620-1957, toyshoptucson.com
Best Car Wash
Mister Car Wash
Multiple locations
mistercarwash.com
Readers say Mister Car Wash is the best place to clean their four-tired baby. No one at Mister Car Wash stands around; they work hard to keep that gorgeous paint job shiny, the deck dusted, and the carpets free of dirt and other road grime. Need a wax? They're on top of it. They top the entire thing off with a spritz of new car smell perfume. There are plenty of locations so there's no excuse not to have a clean ride.
Reader Recommended
Surf-Thru Express Car Wash
Multiple locations, surfthruexpress.com
Clean Freak Car Wash
Multiple locations, cleanfreakcarwash.com
Best Hotel
Hotel Congress
311 E. Congress Street
520-622-8848, hotelcongress.com
At Hotel Congress, guests get the complete package. They can start their stay with a gourmet meal at Maynards, relax to smooth jazz in the intimate Century Room, or find their groove again at Club Congress. In the morning, they can sip a cuppa at Cup Cafe. Enjoy the beautiful Southwestern art deco decor and, of course, have a comfortable night's sleep in one of the luxurious rooms. Lonely? Ask for a haunted room; it has them. Finally, you can't step foot in the place without feeling the history.
Reader Recommended
Arizona Inn
2200 E. Elm Street
520-325-1541, arizonainn.com
Ventana Loews Canyon
7000 N. Resort Drive
520-299-2020, loewshotel.com
Best Cigar/Tobacco Shop
Moon Smoke Shop
Multiple locations
facebook.com/moonsmokeshopgrant
Pipes, hemp cones, heady rigs and dabber toys: If you know what these are, then you know Moon Smoke Shop is the place to be. Find your favorite smokable art (i.e., pipes you will find nowhere else) and power docks, too. Headed out of town? Get the Puffco travel pack.
Reader Recommended
Anthony's Cigar Emporium
Multiple locations, anthonyscigars.com
Chico's Smoke Shop
2161 W. Drexel Road, chicossmokeshop.com
Best Plant Nursery
Green Things
3384 E. River Road
520-299-9471, greenthingsaz.com
Since 1970, Green Things has been a sanctuary for plants in Tucson's Binghampton Historic District. The nursery is equipped with over 13 acres of growing space and 33 greenhouses, nurturing everything from the smallest shrub to the tallest tree. Alongside its sister companies Green Lady Hydroponics and Zócalo Village, Green Things is determined to provide the best plants, care and patio art in the city.
Reader Recommended
Mesquite Valley Growers
8005 E. Speedway Boulevard
520-721-8600, facebook.com/mesquitevalleygrowersnursery
Harlow Gardens
5620 E. Pima Street
520-298-3303, harlowgardens.com
Best Place to Buy a Car
Jim Click Automotive
Multiple locations, jimclick.com
Jim Click Automotive features 10 brands, starting with Chrysler and ending with Nissan. In between find your dream Jeep, a Hyundai, Lincoln or Mazda. You can even find a Ford. Of course, Jim Click Automotive has service and parts, maintenance and financing. Dealerships are scattered but find them on the corner of 22nd Street and Wilmot, Auto Mall Drive and Sahuarita and Green Valley.
Reader Recommended
Tucson Subaru
4901 N. Oracle Road
520-721-2400, tucsonsubaru.com
Chapman Tucson Auto
4626 E. 22nd Street
877-366-9067, chapmantucson.com
Best Animal Supply Store
OK Feed & Supply
3701 E. Fort Lowell Road
520-325-0122, okfeedaz.com
OK Feed & Supply treats customers and their animals like family. Employees are trained to give up-to-date advice on nutrition and care, but their commitment to personalized advice is what sets them apart from the crowd. With a reputation as old as modern-day Tucson, the feed store continues to provide high-quality feed and pet products with top-notch service.
Reader Recommended
PAWSH Adoption and Retail Center
Benefiting Humane Society of
Southern Arizona
5870 E. Broadway Boulevard
520-881-7406, hssaz.org
Arizona Feeds Country Store
4743 N. Highway Drive
520-887-2202, afcountrystore.com
Best Farmers Market
Heirloom Farmers Market
(Rillito Park)
4502 N. First Avenue
520-882-2157, heirloomfm.org
Equipped with its own outdoor shopping space, Heirloom Farmers Market at Rillito Park is the largest, year-round market in Tucson. Along with local produce and cuisine shopping, Heirloom hosts a variety of seasonal events from chef demonstrations to festivals and live music. This Rillito Park gem is considered a special gastronomy destination, catering the community with local products from farmers, ranchers and artisans.
Reader Recommended
St. Philip's Plaza Market
4280 N. Campbell Avenue
520-529-2775, stphilipsplaza.com
Santa Cruz River Farmers Market
221 S. Avenida del Convento
520-622-0525, communityfoodbank.org
Best Farmers Market Vendor
Tucson Tea Company
5870 E. Broadway Boulevard,
520-745-3042, tucsontea.com
Tucson Tea Company entered the hot drinks market with a boom, taking inspiration from the Huachuca "thunder" Mountains of Southern Arizona. Fifteen years later, this woman-owned shop continues to offer loose-leaf artisan teas blended locally in small batches. Find a diverse selection of black and herbal blends at almost every farmers market across the region.
Reader Recommended
AZ Baking Company
231-632-1853, azbakingcompany.com
Alpine Goat Girl
520-404-3920, alpinegoatgirl.com
Best Computer Repair
SWS Computers
3731 E. Speedway Boulevard
520-628-1613, shopsws.com
This all-things-computer store has come a long way from selling electronic components. SWS Computers has been ahead of the curve since starting repair services in 1993 and shifting its focus to computers. The store has since won almost a decade's worth of Readers' Choice awards for its quality products, stellar repair and friendly staff.
Reader
Recommended
Tucson Computer Repair
3512 E. Grant Road, 520-425-8730
tucsoncomputerrepairservice.com
Simutek
3136 E. Fort Lowell Road
520-321-9077
simutek.com
Best Place to Get Your
Pet Groomed
Bark Avenue Dog Wash
1011 N. Pantano Road
520-546-2275, barkavenuedogwash.com
Bark Avenue Dog Wash has superb canine services and a team as loyal as man's best friend. In addition to self-service stations and professional grooming, the store sells a host of quality food brands, innovative toys and care products. With its affordable and spa-like atmosphere, Bark Avenue offers the ultimate dog bonding experience that'll leave your pooch squeaky clean from head to tail.
Reader Recommended
Velvet Bow Pet Grooming
8963 E. Tanque Verde Road, 520-332-6255
2406 S. Harrison Road, 520-999-2887
velvetbowpetgrooming.com
Teddy's Dog House
3906 W. Ina Road
530-744-1965, teddysdoghouse.com
Best Veterinarian
University Pet Clinic
1506 N. Tucson Boulevard
520-795-7016, universitypetclinic.com
This local business was founded by a family with families in mind: animals included. University Pet Clinic has carried its mission of excellent service for almost 30 years, treating pets in a clean, full-service veterinary hospital. That includes exams, dental care, vaccines and more. The clinic supports owners with affordable basic and necessary care, and strives for service catered to the individual with every visit.
Reader Recommended
PAWS Veterinary Center
300 E. River Road
520-888-7297, pawstucson.com
Speedway Veterinary Hospital
3736 E. Speedway Boulevard
520-321-4235, speedwayvet.com
Best Thrift Store
Buffalo Exchange
2001 E. Speedway Boulevard
520-795-0508, buffaloexchange.com
Buffalo Exchange is a thrift store that gives more than it takes. The store operates its consignment service with a standard 25% of original price in cash or 50% in trade. From efforts like the Fund for the Animals to the Earth Day $1 sale, Buffalo Exchange has also committed to being sustainable in style.
Reader Recommended
Humane Society of
Southern Arizona
635 W. Roger Road
520-327-6088, hssaz.org
Golden Goose
15970 N. Oracle Road
520-825-9101, goldengooseaz.com
Best Place to Get a Massage
Tucson Massage Company
1222 E. Broadway Boulevard
520-333-0166, tucsonmassagecompany.com
Tucson Massage Company takes relaxation to the next level with its highly skilled therapists and personalized treatments. Clients can expect a tailored experience to their needs and have a wide selection of comfort options to choose from. When it comes to relaxation and healing, Tucson Massage Company is the local option that can't be beat.
Reader Recommended
Gadabout
Multiple locations
520-325-0000, gadabout.com
Greentoes
529 N. Sixth Avenue, 520-777-6281
615 W. Roller Coaster Road, 520-329-8972
greentoestucson.com
Best Handyman
Ronnie's Handyman and
Home Service
9155 N. Shadow Mountain Drive
520-297-8724, ronnieshandyman.com
Ronnie Peloquin and his three children, Ashley, Justin and Nick, have provided high-quality repair and maintenance with customer service at its core. They are a one-stop shop for home and business services, ranging from plumbing and electrical to painting, drywall and more. Ronnie's team strives to offer the best workmanship to customers who are treated as part of the extended Peloquin family.
Reader Recommended
A Plus Handyman Service
520-409-1116, aplushandymanservices.net
American Handyman Service
520-292-9236, forajobdoneright.com
Best Smoke Shop
Moon Smoke Shop
Multiple locations
520-622-7261, facebook.com/moonsmokeshopgrant
Tucson's premier smoke shop offers affordable products with an out-of-this-world variety. Moon Smoke Shop sells everything from fine cigars and roll-your-own supplies to hookahs, vaporizers and pipes. The shop also supports artisan makers by selling intricate and innovative product designs. Join the fun and vibrant Moon Smoke Shop community, in-store or online.
Reader Recommended
Chico's Smoke Shop
2161 W. Drexel Road
520-578-8688, chicossmokeshop.com
Sticky's Smoke Shop
Multiple locations
520-989-0687, facebook.com/stickys.smoke
Best Summer Staycation
JW Marriott Tucson Starr Pass
3800 W. Starr Pass Boulevard
520-792-3500, tinyurl.com/jw-marriott-tucson
Enjoy limitless luxury, less than an hour away. JW Marriott offers this resort and spa option right outside of Downtown Tucson, equipped with amenities like the winding lazy river, championship golf course and a daily tequila toast with over 150 artisan options to choose from. Take a night or two to upgrade your favorite views of Tucson, reclined with drink in hand.
Reader Recommended
Westin La Paloma
3800 E. Sunrise Drive
520-742-6000, tinyurl.com/westin-la-paloma
Loews Ventana Canyon
7000 N. Resort Drive
520-299-2020, loewshotel.com
Best Alternative Health Center
Tucson Acupuncture
and Wellness
282 E. River Road, 520-849-9003
tucsonacupunctureandwellness.com/
It sometimes happens that conventional medicine lets us down, or perhaps we simply want to explore a different pathway to health. At Tucson Acupuncture and Wellness, there are many different treatments for what ails us; it's not just about needles. Yes, it does have acupuncture, which is used to calm the nervous system and improve circulation. It's also used to treat pain. There's ATP Resonance BioTherapy, for increasing circulation while reducing pain and inflammation, and there's a natural way to reduce fine lines and wrinkles in your face. It even has Chinese herbs. It's all about offering effective, holistic alternatives to conventional medicine.
Reader Recommended
Tumbleweeds Health Center
4826 E. Broadway Boulevard
520-838-4430, tumbleweedshealthcenter.com
Tucson Community Acupuncture
2900 E. Broadway Boulevard
520-881-1887, tucsoncommunityacupuncture.org
Best Photographer
Sean Parker Photography
+ Time Lapse
sean-parker.com
Sean Parker is a real Tucson treasure. He makes our desert and city look as beautiful as it really is. Internationally known for his astro, city and landscape photography, Parker's work can be seen in the Smithsonian magazine, Arizona Highways and the New York Times, to name just a few publications. However, because Parker is based here, he also hosts photography classes, so we may learn to follow in his footsteps.
Reader Recommended
Carlos Chavez Photography
2030 E. Broadway Boulevard, Suite 220
520-250-3302, cchavezphoto.com
Jade Beall Photography
319 S. Railroad Avenue
520-490-7875, jadebeall.com
Best Lawyer
Lerner & Rowe Injury Attorneys
2323 N. Campbell Road
520-977-1900, lernerandrowe.com
We've all seen the commercials, but Lerner & Rowe take their career seriously. The attorneys who work here are aggressive, smart and experienced. They know their way around an injury case, which could include injuries not just from a car accident but from a dog bite, sexual assault, trampoline park, even injuries incurred during Operation Iraqi Freedom and Operation New Dawn. These are just a few examples. Wondering if your injuries qualify? Consultations are free.
Reader Recommended
Zanes Law Injury Lawyers
4580 E. Grant Road
520-777-777, zaneslaw.com
Rafi Law Group
1258 W. Irvington
520-217-7744, rafilawgroup.com