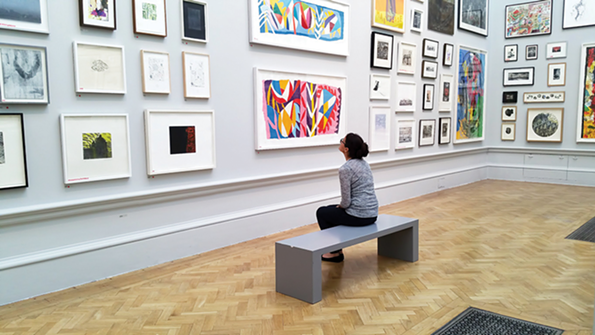 Best Gallery
DeGrazia Gallery in the Sun
6300 N. Swan Road
520-299-9191, degrazia.org
Established by Ettore "Ted" DeGrazia in 1950, the De Grazia Gallery in the Sun celebrates the life and rebellious art of its namesake. Run by the DeGrazia Foundation, the gallery features six permanent and several smaller rotating exhibitions of the artist's oil paintings, watercolors, sketches, ceramics and bronze sculptures. The works of upcoming local artists are also displayed between November and March.
Reader Recommended
Madaras
3035 N. Swan Road
520-615-3001, madaras.com
Philabaum Glass Gallery
711 S. Sixth Avenue
520-884-7404, philabaumglass.com
Best Art Museum
Tucson Museum of Art
140 N. Main Avenue
520-624-2333, tucsonmuseumofart.org
Open Wednesday through Sunday, the Tucson Museum of Art exhibitions and engaging experiences connect art to life. Its collection includes art from the American West, Latin America, Asia, Indigenous cultures, Europe, as well as contemporary art. The museum also features lectures, tours, an art camp and a research library.
Reader Recommended
Tucson Desert Art Museum
7000 E. Tanque Verde Road
520-202-3888, tucsondart.org
The Mini Time Machine of Miniatures
4455 E. Camp Lowell Drive
520-881-0606, theminitimemachine.org
Best Visual Artist
Jessica Gonzales
jessicagonzalesart.com
Jessica Gonzales' murals and paintings can be found throughout the greater Tucson area. The local artist's work bursts with color, expression and life.
Reader Recommended
Joe Pagac
1930 E. Grant Road
520-490-2794, joepagac.net
Diana Madaras
3035 N. Swan Road
520-615-3001, madaras.com
Best Movie Theater
Loft
3233 E. Speedway Boulevard
520-795-0844, loftcinema.org
The nonprofit Loft Cinema brings films and visiting filmmakers to the community that might otherwise go unseen and unheard. The member-supported cinema screens new independent and foreign films and documentaries, as well as classic art films. It also hosts interactive events, a short film contest, an international film festival in the autumn, and a free children's film festival in July.
Reader Recommended
Roadhouse
4811 E. Grant Road
520-209-2728, roadhousecinemas.com
Galaxy
100 S. Houghton Road
1-888-407-9874, roadhousecinemas.com
Best Art Classes
Art Institute at the Arizona-
Sonoran Desert Museum
2021 N. Kinney Road
520-883-3024, desertmuseumarts.com
The Art Institute at the Arizona-Sonoran Desert Museum believes in promoting conservation through the medium of art. Its expert instructors teach both beginning and advanced students how to connect to the desert and its inhabitants through courses in drawing, mosaics, photography, generative AI and other subjects. Classes are also available online.
Reader Recommended
Sonoran Glass School
633 W. 18th Street
520-884-7814, sonoranglass.org
Tipsy Picassos
520-343-5977, tipsy-picassos.square.site
Best Musical instrument Store
Chicago Music Store
45 S. Sixth Avenue, 520-622-3341
5646 E. Speedway Boulevard, 520-886-1516
chicagomusicstore.com
The Chicago Music Store has been keeping Tucson in tune since 1919. The family-owned retailer carries everything from accordions to guitars to keyboard to amplifiers. Rental and repair services are available.
Reader Recommended
Bookmans
Three Tucson locations
bookmans.com
Instrumental Music Center
7063 E. Speedway Boulevard
520-733-7334, imc-az.com
Best Theater Company
Gaslight Theatre
7010 E. Broadway Boulevard
520-886-9428, thegaslighttheatre.com
The Gaslight Theatre has been entertaining Tucson families since 1977 with musical comedies, Westerns, sci-fi spoofs, Christmas shows and more. Guests can order food and beverages to enjoy during any of the six nights a week when shows are performed. The theater also hosts concerts every Monday night.
Reader Recommended
Arizona Theater Company
330 S. Scott Avenue
1-833-282-7328, atc.org
Unscrewed Theater
4500 E. Speedway Boulevard
520-289-8076, unscrewedtheater.org
Best Author
Lydia Millet
lydiamillet.net
Award-winning author Lydia Millet has penned numerous novels, book reviews, opinion pieces, essays and other works. A Pulitzer Prize finalist in 2010, she also works as an editor and staff writer at the Center for Biological Diversity. Her most recent work, 2022's "Dinosaurs," was also a Pulitzer finalist.
Reader Recommended
Adam Rex
adamrex.com
Brian Smith
briansmithwriter.com
Best Dance Studio
Ballet Tucson
200 S. Tucson Boulevard
520-623-3373, ballettucson.org/school
The official school of Tucson's only professional ballet company, the School of Ballet Tucson provides students of all ages with advanced training in a variety of styles. The school is committed to delivering an educational experience that fosters a deep love and appreciation for dance while developing skills that can serve students in all aspects of their lives. Students receive discounts for Ballet Tucson performances and are even given an opportunity to perform alongside the company's professional dancers in select productions.
Reader Recommended
Viva Performing Arts
4563 S. Park Avenue
520-544-9543, vivaperformingarts.com
Breakout Studios
5811 E. Speedway Boulevard
520-275-1085, breakoutstudios.online
Best Dance Company
UArizona Dance
1713 E. University Boulevard
520-621-4698, dance.arizona.edu
The faculty and undergraduate and graduate students at the University of Arizona School of Dance are the driving force behind performances in a wide array of styles throughout the year. Sporting custom-fitted costumes designed by professionals, the up-and-coming dancers take the stage at the Stevie Eller Dance Theater, which was designed and built specifically for dance. Tours for prospective students and their parents are available.
Reader Recommended
Ballet Tucson
200 S. Tucson Boulevard
520-903-1445, ballettucson.org
ZUZI!
650 N. Sixth Avenue
520-629-0237, zuzimoveit.org
Best Outdoor Art Installation
Joe Pagac's Murals
520-490-2794, joepagac.net
Joe Pagac's murals dot so many parts of Tucson that they are, in essence, a part of the municipality's cityscape. His murals capture everything from portraits to nature to trompe l'oeil techniques. His murals also decorate other cities such as Washington, D.C., and Phoenix.
Reader Recommended
Ben's Bells
40 W. Broadway Boulevard, 520-622-1379
816 E. University Boulevard, 520-628-2829
bensbells.org
Tucson Jewish Community Center
Sculpture Garden
3800 E. River Road
520-299-3000, tucsonjcc.org
Best Music School
Tucson Jazz Institute
3233 S. Pinal Vista
520-514-0935, tucsonjazzinstitute.com
The experienced and proven instructors at the Tucson Jazz Institute enable young musicians to reach their highest potential through educational and performance opportunities. The school has been honing the musical skills of middle and high school students throughout the Tucson area and beyond since 2008. Students learn to play jazz, big band and other styles in both large and small ensemble classes.
Reader Recommended
Chicago Music Store
45 S. Sixth Avenue, 520-622-3341
5646 E. Speedway Boulevard, 520-886-1516
chicagomusicstore.com
Instrumental Music Center
7063 E Speedway Boulevard
520-733-7334, imc-az.com