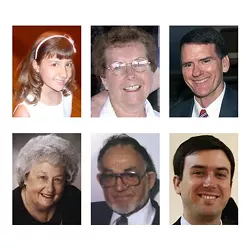 On a crisp January morning 11 years ago, Tucson experienced a terrible horror when a gunman opened fire at Gabby Giffords' Congress on Your Corner event, killing six people: U.S. District Court Judge John Roll, congressional staffer Gabe Zimmerman, 9-year-old Christina-Taylor Green and retirees Dorothy "Dot" Morris, Phyllis Schneck and Dorwan Stoddard.
Thirteen other people were wounded in the shooting, including Giffords herself, who miraculously survived being shot through the head.
Lots has changed in the decade-plus since, including the election of Giffords' husband, former NASA astronaut Mark Kelly to the U.S. Senate. But not nearly enough has happened to reduce gun violence in our country. And our politics have become much more polarized, as the failed insurrection at the U.S. Capitol one year ago demonstrated.
Survivors of the shooting along with family members of those who were killed will join with others at 9:30 a.m. this Saturday, Jan. 8, at the new January 8th memorial adjacent to the Old Pima County Courthouse, 115 N. Church Ave. At 10:10 a.m., the moment of the shooting, a bell will be rung to honor each of the victims of the gunman. Speakers will include Mayor Regina Romero, Acting Pima County Administrator Jan Lesher and former congressman Ron Barber, who was shot twice during the rampage. You're welcome to join.
In this week's issue, staff reporter Alexandra Pere digs into the new research on ketamine, a powerful psychedelic drug that shows promise in the treatment of PTSD and depression. It's a fascinating story.
Elsewhere in the issue: We bring you the latest on COVID numbers as the Omicron surge hits Arizona; round up the transportation projects you're likely to see in the region this year; share the experience of Bisbee on New Year's Eve; profile a domestic abuse survivor whose new show of paintings reflect her recovery; give you a glimpse of the Zoppe Family Circus' return to the Big Top; examine how Big Weed is consolidating local independent dispensaries; and bring you plenty of other stories to help you launch into 2022.
Happy new year, everyone! May it be filled with good health and good fortune.
Jim Nintzel
Executive Editor
Hear Nintz talk about all things Tucson Weekly at 9:30 a.m. Wednesdays during the world-famous Frank Show on 96.1 FM, KLPX.