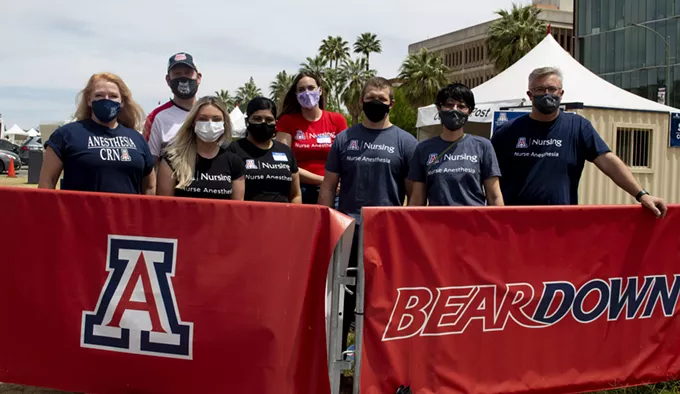 University of Arizona College of Nursing faculty and students with first-hand experience of the human cost of COVID-19 ran a vaccination clinic last weekend.
Led by Kristie Hoch, UA clinical assistant professor and program administrator of the Nurse Anesthesia Specialty, volunteer Certified Registered Nurse Anesthetists (CRNAs) and student registered nurse anesthetists (SRNAs) administered vaccines to people at the drive-thru.
For about 150 years, CRNAs have been preparing patients for anesthesia before surgical procedures, said Hoch.
"We ensure patients are safe and comfortable during their anesthesia and this piece for us is part of ensuring our community is safe," said Hoch, referring to vaccinations as part of that work.
Since the onset of the pandemic, CRNAs have found themselves outside of the operating room.
"Really the entire scope, not just for surgery pre-intra and postoperative care, but we've been called to take care of patients who are acutely and chronically ill with COVID," said Charles Elam, clinical assistant professor at the College of Nursing. He said he and his partner were hired to manage acutely ill COVID patients in Green Valley. They installed central lines, big IVs that go into the neck or chest, and arterial lines that go into arteries. They also managed ventilators and sedated patients.
"This was above and beyond what we typically do, but because we are airway experts we were called upon and stepped up to do what we needed to do," said Hoch.
Phillip Bullington, 31, one of the five doctoral students in the Nurse Anesthesia program who volunteered at the vaccination event, worked as a nurse before beginning his doctoral project and has experience dealing with people who are severely ill.
However, what he experienced as an SRNA in the ICU during the pandemic was beyond his expectations.
"We never really expected the way everything happened and then it just got crazy," recalled Bullington. "Where there's people on ventilators just taking up all the ICUs. We're turning other floors into ICUs and we're running out of places for patients to go. And then they would get sick, but they were healthy enough that they would still live for a while, but they weren't getting better. So just a piling of people who would get more sick and there was nowhere for them to go."