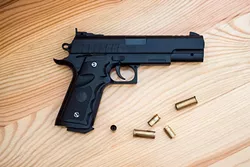 Guns are ingrained in the Arizona psyche, from the legendary Shootout at the OK Corral that morphed into tourist-dependent Tombstone to the CNN broadcast of Donald Trump supporters casually carrying long guns during a protest in downtown Phoenix.
Arizona has some of the least restrictive gun laws in the nation, built on a pioneer, conservative ethos of Second Amendment rights. That has meant most Arizona adults can openly carry weapons into many public and private spaces.
Arizona also is the hub of a national gun-reform group, the Giffords Law Center to Prevent Gun Violence, named after U.S. Rep. Gabby Giffords, who was gravely injured in a mass shooting outside a Tucson grocery store in 2011.
At least five gun bills introduced in the Legislature show the tension between the poles of conservative and progressive viewpoints. The Legislature, which was dominated for decades by Republicans, historically has considered limits on firearms as an infringement of Arizonans' rights. This year, however, against a backdrop of increasing firearms violence nationwide, the GOP holds only slim margins in both chambers.
"We have a long, long way to go in terms of fully realizing the freedom to have the right to keep and bear arms," said Charles Heller, a co-founder of the Arizona Citizens Defense League, dedicated to protecting Second Amendment rights.
Adam Winkler, a professor at the UCLA School of Law and a specialist in American constitutional law, says gun reform laws implemented at the state level only lead to inconsistencies.
"If you really want to affect gun regulation, national regulation is most likely to be effective," he said. "It would be more effective rather than having state-by-state regulations undermined because every state has a different set of rules."
President Joe Biden on April 7 introduced executive orders that address gun violence as a public health epidemic, but national reforms have, historically, been unsuccessful.
Arizona state lawmakers this year have introduced at least five firearms bills, including a measure from Republicans that would declare a business that sells guns, ammunition and related products as essential in an emergency, and several by Democrats on gun safety protocols and tighter background checks.
The Democrats' bills have languished, while the GOP bill declaring essential operations has passed the Senate.
Here's a look at each proposal.
---
Senate Bill 1382
What it would do
The COVID-19 pandemic may have fueled SB 1382, Heller and Winkler agreed.
"I think that this bill is largely a symbolic response to the COVID restrictions that were adopted," Winkler said.
In the first days of the pandemic, Gov. Doug Ducey declared certain businesses as essential, such as hospitals and medical clinics, grocery stores and firearms suppliers. SB 1382 would add gun stores to the list, providing they legally could continue normal business operations.
"A store that sells firearms or ammunition, or firearms or ammunition components, is an essential business, and there may not be any restrictions imposed on the store's normal operations," the bill reads.
The amendment would not prevent the governor or other government officials from ordering the relocation of ammunition supplies out of potentially dangerous areas.
Sponsor
Sen. Wendy Rogers, R-Flagstaff
Supporters say
"In any kind of emergency where the threat to public safety is greater," said Heller of the defense league, "people may have a greater need for a firearm to protect themselves, or some ammunition or some other thing that you would find in a place in a business like that."