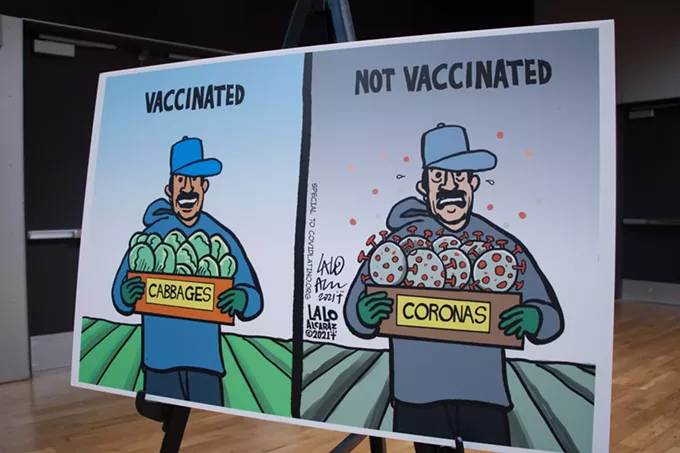 <!———StartFragment———>
TEMPE – It all started over a bowl of "medicinal menudo," a term political cartoonist Lalo Alcaraz coined as part of a running joke.
Several years ago, during a convention at Harvard University, social scientist Gilberto Lopez took Alcaraz to a spot that served the Mexican beef tripe soup. Thankful for the meal – and the dish's reputed abilities to alleviate hangovers – Alcaraz told Lopez, "I owe you my life."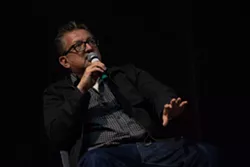 The menudo forged a bond between Lopez and Alcaraz, who has consulted on popular TV shows and films and was a Pulitzer Prize finalist in 2020 and 2021. During the pandemic, Lopez invited Alcaraz to collaborate on a Hispanic-focused education campaign about COVID-19 prevention and vaccinations.
Lopez, an assistant professor at Arizona State University's School of Transborder Studies, launched the COVID Latino project with the goal of using art and social media to disseminate information – and counter misinformation – about COVID-19 throughout the Southwest.
The effort brings together experts from Arizona and California's Central Valley, home to many Hispanic farmworkers, and provides culturally relevant campaigns by way of the internet and social media.
The project so far has included animated public service announcements in Spanish and neighborhood murals to better connect with the hard-hit Latino population.
Lopez said the project stemmed from his frustration over the type of information being circulated in rural, Hispanic communities – "very technical, very jargony information." Through the collaboration with artists, Lopez said, the resulting pieces are easier to share online and will help make the topic more digestible.
"Humans are storytellers," Lopez said, "and we're telling stories in a way people understand."