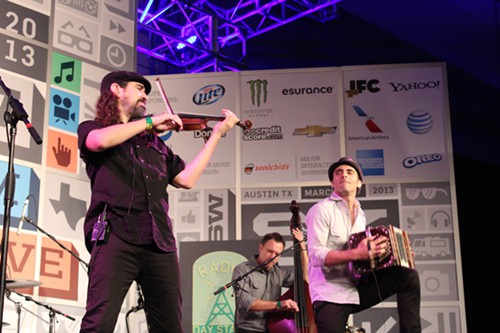 Bajafondo on the Radio Day Stage at Austin Convention Center
Yesterday was just another day at SXSW: Started off around noon at the Stages on Sixth, a day party sponsored by Paste magazine and HGTV. Brooklyn's The Lone Bellow did a cool alt-Americana thing, only slightly delayed when the Paste guy introducing the band tripped over a cord and broke the Mandolin hookup. (Someone in the audience had the rubber band that was necessary to make a quick repair.) Also worthwhile at the party: the tooth-rattling Guards and the flamboyant Foxygen.
Then it was off to the convention center, where I caught sets by the Latino-gypsy-rap outfit Bajafondo and Hamburg's BOY, a pair of European girls who do a really great heartbreak-and-longing thing. Then it's off to a set by the legendary Nick Cave and the Bad Seeds at Stubb's, followed by girl-band Lucius and a techno-funk set by Poolside.
I head over to see Iron and Wine at Austin City Limits' Moody Theater and get there early enough to see the end of Dixie Chicks' Natalie Maines' set, which features an off-the-hook climax with her dad, Lloyd Maines, on the pedal-steel guitar and Ben Harper on the lap-steel. Iron and Wine debuts a big band—three guys on horn, three backup singers, two violinists, a stand-up bass, piano, drums, bass and guitar—and some beautiful new songs. It sounds great, but I need something more lively, so I head over the Continental Club to get energized by the one-and-only JC Brooks and the Uptown Sound. That gives me a enough energy to get back to the Moody to catch a few songs by alt-country Dawes and then end the night with some indie pop from Local Natives at the Lustre Pearl.
Tonight is the Dap-Tone Records Showcase and Dave Grohl's Sound City Players, to name just a couple of acts. But the biggest excitement is building over the lottery to win one of those tickets to the Prince show that was announced yesterday.