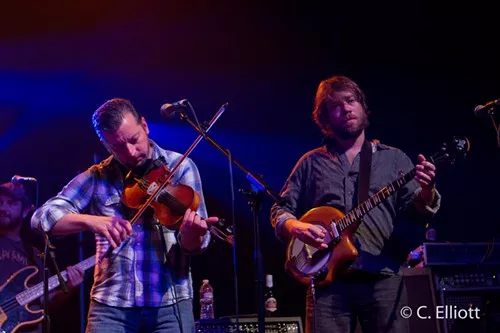 While it was all red carpet and formals for Oscar Night at the Fox, down the street the sidewalk in front of the Rialto was awash in tie-dye, construction and the sweet smell of cannabis. Leftover Salmon, one of the preeminent jam bands of the 1990s was on break, having just reminded almost 400 faithful that even though the group has been somewhat out of the mix these last few years, they still have it.
The band's surviving founders, Vince Herman and Drew Emmitt, have decided to pick up the pieces of their once highly successful enterprise. The band's timeline in the years following co-founder Mark Vann's death in 2002 included a hiatus, disbandment, and a handful of reunions in 2007. But they appear to now be back for the long haul and are playing with a renewed vitality.
Hitting the stage at exactly 8 p.m., they opened with "Big Wheels," a bouncy cover of an old New Riders tune. Aside from its catchy hook and a reference to Tucson, the tune distinguished itself as the only time in the set where Emmitt would pick up an electric guitar; he was otherwise killing it on the mandolin. For the most part the group best functioned as a high energy acoustic band with Herman on rhythm guitar, Andy Thorn on acoustic and electric banjos and new part-time member Jason Carter on violin.
While the term jam band has a certain connotation, as in long, meandering and seemingly endless solos, these feel-good tunes were delivered with crisp vocals and precise arrangements. While the solos may have been expansive, they rarely overstayed their welcome and were seamlessly handed off from one player to the next. This band is also a bluegrass band at heart, although bluegrass-on-steroids might be more appropriate given the relentless backbeat that powered so much of the show. Give bassist Greg Garrison drummer Jose Martinez credit for that.
When they weren't doing the super-bluegrass thing at breakneck speeds it was faux calypso ("BooBoo" and "Zombie Jamboree"); and when it wasn't that, it was Emmitt picking up a fiddle and dueling with Carter on a Cajun zydeco tune ("Tu N'as Pas Aller") that would have given BeauSoleil reason to smile. While their encore, "Take It Easy," was a bit of a head scratcher, they still get the award for best reason not to be in front of a TV on a Sunday night.