After hearing the distressing story of a mother desperate to conceive children only to find out the artificial insemination treatments she received were sourced from the very doctor she entrusted to provide her sperm from an anonymous donor, Arizona Sen. Victoria Steele (D-Tucson) decided to use her position of power to help other victims.
When Kristen Finlayson took an Ancestry DNA kit in 2019, her mother, Debra Guilmette, discovered that Dr. James Blute III, who provided her fertility treatments in the '80s, used his own sperm to inseminate her instead of using sperm from an anonymous Hispanic donor as she requested.
Finlayson went 34 years believing she was of Hispanic descent, only to find out the DNA test results showed she had no Hispanic DNA and was primarily Irish. The Ancestry site shows that Finlayson has 12 half-siblings, including children of the doctor who delivered her.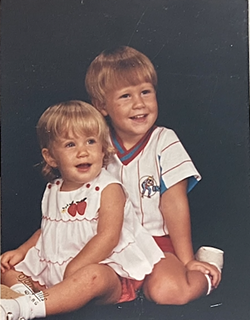 Finlayson's DNA tests revealed that Blute is her biological father.
Steele saw the story, first reported by Lupita Murillo of KVOA News 4 Tucson, and drafted a bill that would make fertility fraud a criminal offense in Arizona as it is in California, Indiana and Texas.
Steele introduced the bill before the 2021 state legislative session began, but her bill was never assigned to a committee.
"I requested a meeting with [Senate President Karen Fann], I said I'd like to see her because I want to ask her to please reconsider, and please assign this to a committee so it can get a hearing," Steele said. "I think that she may be thinking that this is a controversial bill, but I think that actually, I put a bill up here that everybody can get behind, and we could have a real bipartisan bill . . . I assumed that in a few days, it would be assigned to a committee because she would look at it, and in her heart of hearts, she would get that this really does make sense."
On Jan. 20, Steele found out a bill criminalizing fertility fraud did make it to a committee to be voted on, but it was not hers.
Sen. Nancy Barto, R-Phoenix, had introduced a similar bill that would make fertility fraud a criminal offense. It was assigned to the Senate Judiciary Committee on Jan. 20.
"I was floored. I knew [Barto] would like it, but I didn't know she'd like it that much," Steele said. "It's not against the rules, and so she has every right to take my bill and put it in and take credit for it. It doesn't matter, as long as the bill gets passed. But it does matter because that kind of highly unethical behavior makes it really difficult to have bipartisanship, and it's really difficult to get good bills to pass."
Barto said she never knew about Steele's bill, but that she was contacted by a constituent who had a story of fertility fraud and felt moved to draft legislation to criminalize the act.
Barto's bill, SB 1237, proposed making "human reproductive material fraud" a class 6 felony while providing victims liquidated damages of $10,000.