Pets and Beasts
Wednesday, June 12, 2019
"I am a beautiful 2-year-old girl who enjoys being held and lounging indoors. In my previous home, I enjoyed playing with another cat. I am FIV positive which means I will need to be an indoor only cat."
- Beauty
To learn more about FIV visit
http://bit.ly/FelineImmunodeficiencyVirus
. Visit Beauty at PAWSH Park Place at 5870 E. Broadway Blvd. or give an adoptions counselor a call at 520-327-6088, ext. 133 for more information.
Wednesday, June 5, 2019
Posted

By

Tucson Weekly Staff on

Wed, Jun 5, 2019

at

9:58 AM



Investigators are attempting to determine what caused the death of the young owls, which appear to have died at the same time. The animals were found Tuesday, May 28 in the 1500 block of East Prospect Lane, near North Campbell Avenue and West River Road.

Those with information about the case are asked to contact the Arizona Game and Fish Department's Operation Game Thief Hotline at 800-352-0700. Callers may report anonymously if need be, and should reference OGT #19-001424 when calling. Area homeowners have pledged an additional $500 reward for information leading to an arrest.

A reward of up to $1,500 is being offered for any information leading to an arrest after two great horned owls were found dead on Tucson's north side.
Thursday, May 30, 2019

"Hi everyone! My name is Brody and I am a 4.5 year old boy that loves to snuggle up with humans! I was brought to HSSA because my previous family was allergic to cats. I hope I get to meet you!"

- Brody

Visit Brody at HSSA Main Campus at 635 W. Roger Rd. or call 520-327-6088, ext. 173.
Wednesday, May 22, 2019


- Phoebe

You can visit Phoebe at the HSSA Main Campus at 635 W. Roger Rd. or give an adoption counselor a call at 520-327-6088 ext 173.
"Hi there! I'm Phoebe and I'm a 3-year-old girl who is still searching for my perfect family after finding myself back at HSSA for the 3rd time. I would prefer to have you all to myself, and cannot live in a home with cats, but if you have other dogs, please bring them by to meet me!"
Tuesday, May 14, 2019

"I am a sweet 6-year-old girl who loves treats and toy feathers. In the past I have done well with cats but would prefer a home without dogs."

- Callie

Bring your family to meet Callie at HSSA Main Campus at 635 W. Roger Rd. For more information give an adoptions counselor a call at 520-327-6088, ext. 173.
Monday, May 6, 2019

I am a laid back 3-year-old boy who enjoys spending my days inside beside my favorite person. I can be shy at first but if you take the time to get to know my I promise to be a loyal friend.

- Golddie

Meet Golddie at HSSA Main Campus at 635 W. Roger Rd. For more information give an adoptions counselor a call at 520-327-6088, ext. 173.
Wednesday, May 1, 2019
Posted

By

Kathleen B. Kunz on

Wed, May 1, 2019

at

2:33 PM


Every year, the Pima Animal Care Center receives hundreds of calls involving pets that suffer from heat-related illnesses, injuries and even death. Many times, these tragic incidents were preventable.

With triple-digit temperatures coming in the near future, PACC has provided tips for Southern Arizona pet owners to keep their furry friends safe and cool during the hot summer months.

1. Keep your pets indoors.
This one is a no-brainer. By keeping your pets indoors during the day, they will avoid direct sunlight and scorching temperatures. If you can't keep your pets indoors, make sure there is a shaded area outside that they can access with good air flow.

2. Keep your pets hydrated.
Provide lots of clean and cold drinking water in an easily accessible, spill-proof container. Many local businesses leave bowls of water outside their stores for dogs that are out and about during the day, but don't rely on them to hydrate your pooch. Bring extra water if you plan on taking your pet out with you for a walk.

3. Provide your pets with shade.
If your pets do their business in the backyard, make sure they have all-day access to a shady spot outside your home. Keep in mind that for dogs with thicker coats, even shaded spots can be too hot during days that top 100 degrees. You can tell a dog is suffering from heat stroke if they are panting excessively or loudly, are extremely thirsty, or have a bright red tongue and pale gums.

4. Protect your pets' paws. If you wouldn't walk around barefoot on a sunny day, neither should your pet. Walk your dogs early in the morning or in the evening after the asphalt has cooled down and won't burn their paws. A good way to know whether it's safe to walk your dog is to place the back of your hand on the ground for five seconds and see if it is comfortable or not.

5. Never leave your pets inside a car. Even with cracked or open windows, and even if you parked in the shade, the temperature inside a car can become dangerously high within just a few minutes. Don't take your pets for a ride in the car if you're going to a place where you can't bring them along with you. This goes for young children as well.

If your pet is in serious trouble, call 911 or the Pima County Animal Care Center's Animal Protection Services Dispatcher at (520) 724-5900 extension 4.
Monday, April 29, 2019
Posted

By

Tucson Weekly Staff on

Mon, Apr 29, 2019

at

4:22 PM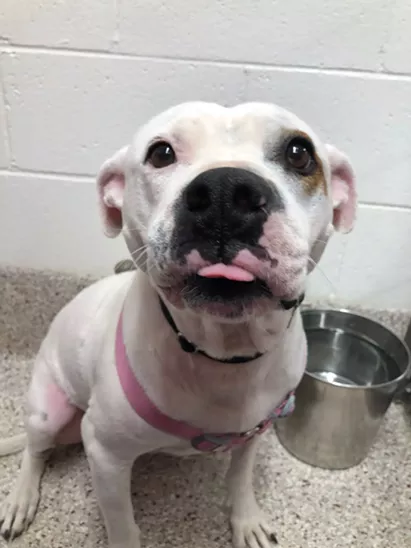 6 slides
Celebrate Cinco de Mayo this year by bringing home a new pet! Pima Animal Care Center is celebrating the holiday by offering all pets four months and older for only $5.
The event will run Friday, May 3 through Sunday, May 5 and will include raffle prizes for people who adopt a pet.
Currently, there are 405 dogs and puppies and 112 cats and kittens at PACC that are in need of a family and a forever home. Make your holiday weekend one to remember and bring home your new best friend.
PACC is located at 4000 N. Silverbell Road, open Monday through Friday, noon - 7 p.m. and 10 a.m. to 5 p.m. on weekends. All pets adopted will come spayed or neutered, with age-appropriate vaccinations, a microchip and a free vet visit. A $19 licensing fee will apply to dogs.