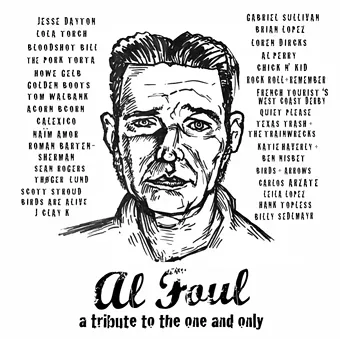 Al Foul with a compilation album after the rockabilly musician recently announced his throat cancer diagnosis.
Al Foul: A Tribute to the One and Only features 28 of Tucson's finest troubadours, from Calexico's Joey Burns to burlesque performer/singer Lola Torch, performing tracks spanning the musician's multi-decade career. Its official release is Friday, March 5, through legendary bluesman Tom Walbank's Bandcamp page.
Walbank said once his friend when public with his diagnosis, the bluesman wanted to help Foul and his family out during this time. He spent the past two weeks reaching out and collecting tracks from other Old Pueblo musicians who jumped at a chance to honor Foul.
"Now that it's [the diagnosis] was out in the open I thought about what I could do to help," Walbank said. "Putting together an album seemed like a no-brainer since I know all these people around town that play music."
Gabriel Sullivan from Dust + Stone Studio and Jim Waters from Waterworks donated time to record several of the album's tracks, said Walbank. He also received a fair number of songs recorded on iPhones and other devices.
"I realized that because it's a pandemic, not everyone wants to go to the studio and not everyone had a home studio, so it was a little tricky," Walbank said. "So there are some songs which are done very intimate on an iPhones and stuff like that."
The compilation is available for $10 at tomwalbank.bandcamp.com starting Friday, March 5.
If you want to otherwise help out Al Foul through these tough times, you can contribute to his GoFundMe fundraiser.
If you're not familiar with Al Foul, Tucson Weekly's Brian Smith profiled him in 2016. A snippet:
He lives and breathes and drinks and eats the music. He's averaging three in-state gigs a week, and he lives on the profits, as he's done for years. Between the tip jar, merch/music sales and venue guarantees, he's not getting rich. In fact, he needs to save money to put new tires on the RV.

The man has proven to be a gifted songwriter and entertainer on albums such as Keep the Motor Running, Spank That Ass and The One, The Only, which have earned him followings in various places around the States and especially in France, where he's been touring annually for years. (His new, as-yet-untitled album drops later this year.) Tunes reveal a sort of autodidactic, street-ripened philosopher, just like old Goodis (the French called hime "the poet of the losers"), and a master of deceptively simple, yet funny, song narratives that offer little redemption, filled with busted-luck yarns of four-time losers, jailhouse bikers, day drunks, speed freaks, souring marriages—all things, folks and follies he's discovered on his travels, imagined or true, or bestowed upon him by his father, or wreckage he's crawled from.

Foul (born Alan Lewis Curtis) comes from a long line of blue-collar men, the kind who fought in wars, who drank hard and lived hard. His old man worked the steel mills, and when they closed up he worked as a machinist and then took care of Foul's mother, a schoolteacher stricken with multiple sclerosis at 21.

"She went from a cane to a walker to a chair to a bed to the grave in 15 years," Foul says. "Man, I had a real fear of getting MS. They say it's not hereditary but my mother's mother had it too."

A fear of heart attacks to boot. They run in the family on his dad's side. His pop had his fist one at 40, and the last one killed him at 63. ("Dad had a big gut; he ate Spam all the time.") A heart attack took his grandfather at 38.

Foul grew up in a hard, mostly Irish and Italian section in south Boston called Hyde Park. Racism rampant. His dad grew up a hard-ass "greaser" and a "rocker" who fought in the streets, "a true juvenile delinquent of the '50s, and an absolute terror when he was young because he didn't have a father. But a lot of kids didn't have fathers in the neighborhood; they lost them in the war."

The men on his dad's side of the family, old-school New England Protestants, disowned Foul's dad because he married a Polish woman.

Foul learned exactly how to react and not react by watching his father, and rebelling. Says dad was mean and brutal but had big heart, a man disquieted by contradiction, feeling trapped and overwhelmed with a sick wife and three children.

"There was not a door or wall in the house that wasn't kicked through," Foul says. "Inside the house was a cacophony of noise and arguments. My dad could verbally abuse his family like nobody. If you pissed him off he'd hit you with a belt. All the neighbors would sit outside drinking beer and laughing their asses off."

His "Archie Bunker type" dad happened to be a self-educated Malcolm X fan who read "a book a day." A gun collector too. They were "broke as church mouses" but dad always had money for new guns. His addiction.

"We never sat at a dinner table once," Foul adds. "Never once. Partly because my mother was sick. If you were tall enough to fix your food you did."