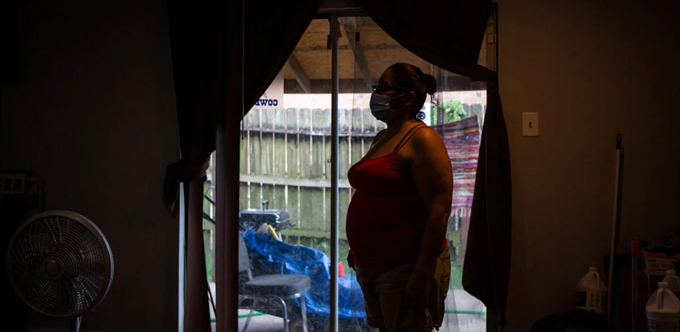 <!——StartFragment——>
ProPublica is a nonprofit newsroom that investigates abuses of power. Sign up to receive our biggest stories as soon as they're published.
HOUSTON — On an afternoon in mid-June, Analleli Solis was walking home from her brother's house just down the street when she noticed someone she didn't know retreating from the front door of her modest brick home.

Solis approached the woman, who handed her an envelope.
Inside was a lawsuit from Oportun Inc., a personal loan company Solis had turned to for years when she and her husband didn't have enough cash to cover rent, fix their cars or take a vacation.
Now, the company was suing Solis to recoup some of that money, demanding $4,196.23 including fees and interest.


<!——StartFragment——>
Solis' shock quickly gave way to anger. Three months earlier, after she missed a few of her $130 bimonthly payments, she said she called Oportun to tell the company she had lost her jobs as a hotel housekeeper and fast food worker because of the coronavirus pandemic and needed some relief.
The 43-year-old mother of three expected the company would understand.
She was a longtime customer, after all. Her latest loan, which she took out to repair her aging SUV, was her fifth with Oportun since 2013, she said, and she had never missed a payment. Staffers were always friendly and helpful.
Silicon Valley-based Oportun, a subprime installment lender that operates in 12 states, also portrayed itself as a financial ally to the Latino immigrant community, its primary customer base, and had built a reputation as a more affordable and humane alternative to payday lenders. In its business filings and on its website, the company — whose name is short for "oportunidad," Spanish for opportunity — claimed to work with borrowers grappling with cash-flow problems beyond their control. Just two weeks into the pandemic, it announced a special hardship program that postponed payment due dates as long as impacted customers notified the company in advance.
But over a series of phone calls, Solis said, Oportun agents told her there was nothing they could do to help her, even though her financial situation was particularly dire as her husband had also recently lost his job. She said they didn't offer a payment plan or mention the hardship program.
"I feel powerless not being able to pay them," Solis, who immigrated from Mexico as a teenager, said in Spanish.
Solis is among tens of thousands of Oportun borrowers who have found themselves in a similar predicament in recent years, according to a monthslong investigation by ProPublica and The Texas Tribune that drew on more than a million Texas court records, hundreds of pages of company financial filings, ainterviews with more than a dozen consumer advocates, attorneys and industry experts.
Our reporting revealed a company that draws clients in by depicting itself as a benefactor of the Latino immigrant community yet charges high interest rates, keeps customers like Solis on the hook with repeated refinancing and routinely uses lawsuits to intimidate delinquent borrowers into paying again.
An analysis of court records in nine of Texas' largest counties — home to the vast majority of the 80 kiosks and strip mall storefronts the company operates in the state — found that Oportun has sued borrowers after they fell behind on their payments more than 47,000 times from May 2016 through July of this year. That's 30 lawsuits per day on average.
So far this year, Oportun has filed nearly 10,000 lawsuits against customers in those counties, with more than half of those coming after the World Health Organization declared the coronavirus a pandemic in mid-March.
That number of filings makes Oportun the most litigious personal loan company in Texas and one of the most litigious debt collectors in the state overall this year. It is rivaled only by larger companies like Conn's HomePlus, Capital One and a handful of firms that buy unrecovered debts from banks and other creditors.
Asked why it sues so many of its customers, particularly during a pandemic, Oportun referred ProPublica and the Tribune to a recent blog post from company CEO Raul Vazquez that said the company used lawsuits as "a mechanism of last resort to get the small minority of our customers who have fallen behind in their payments and not answered our calls, letters, texts or emails for several months to reengage with us."
That was the case with Solis, according to a statement Oportun released after she gave the company permission to comment on her account.
"According to our records, this customer did not reach out to us and was unresponsive to our repeated attempts to reach them," the statement said, adding that "if a customer tells us they are impacted by the pandemic, they are eligible for our emergency hardship programs."
Vazquez defined the "small minority" of loans resulting in lawsuits as less than 6% over the past five years. Though he didn't say how many lawsuits that represented, he said that it had "become a big number" over time and announced that the company would drop all pending debt claims — including the one against Solis — and temporarily suspend the filing of new ones. He also vowed to reduce the company's filing rate by more than 60% and cap interest rates at 36%, an annual percentage rate that consumer advocates consider an absolute maximum for smaller personal loans. (While the company says its average APR is already 36%, ProPublica and the Tribune found that it has often charged rates as high as 66.99% in Texas and California.)
The blog post came after the company discovered that reporters from ProPublica and the Tribune, as well as The Guardian, were investigating its debt collection practices in Texas and California.