Page 3 of 4
CHAPTER 3
The Shootout
Four days after being shot in the head by HSI agents, Warren Jose sat in a Phoenix police interrogation room, in hospital gown and handcuffs, sinking forward with each ragged breath as he struggled to explain what had happened that day.
"Warren, why did you fire at them?" Detective Matthew Hamas asked.
"When I heard the gunshots," Jose said, "I may have, I may have just shot back." Investigators later determined Jose had fired 24 rounds from a sawed-off AK-47.
"Let me explain something to you," Hamas pressed on. "There were a bunch of witnesses and everybody saw you fire first. So I'm trying to understand why."
"If anything, I had to be scared," Jose offered, saying he had been sleeping in the passenger's seat when he awoke to the sounds of screaming, the SUV crashing and spinning, followed by gunfire.
"You don't remember who fired first?" Hamas asked later, according to the videotaped interview, a copy of which was obtained by the Howard Center.
"I don't remember who fired first," Jose replied.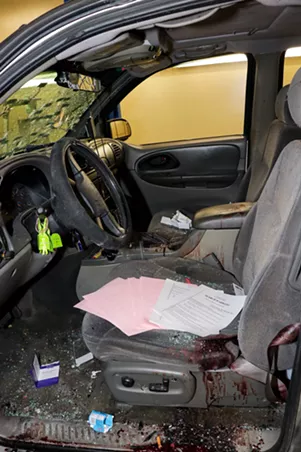 Understanding who shot first was a main goal of the Phoenix Police Department's investigation into the April 11 shooting, based on the questions asked of suspects and witnesses.
HSI, in a federal criminal complaint filed the day after the shooting, said Jose "began opening fire on agents with an AK47-type assault rifle, striking multiple vehicles. Agents returned fire."
But, despite a monthslong investigation, local police and prosecutors did not determine who shot first.
Agents told Phoenix police that they feared for their lives because the Trailblazer had been used as a "weapon" to ram one of their trucks, sending it careening through a cement block wall.
However, during the agents' interviews with police five days later – with their lawyers present – none explicitly said Jose was the first to fire. And police didn't ask.
According to police interview transcripts, none of the other witnesses to the shooting could say with certainty who shot first.
Richard Mortensen, the HSI Special Response Team leader, said he got out of his truck immediately after it crashed through the wall. He said he heard gunfire coming from where an HSI truck crashed head-on into the Trailblazer and ran toward the area.
Agent Marcus Camacho, whose truck rammed the SUV, said he could not see inside the vehicle, but "as soon as we collide I start taking rounds."
"I popped my door open, and I'm receiving rounds. Through the door and all around me, and I can see them exiting the SUV's front windshield," he said.
Agent Jeff Hemphill, who pulled up alongside Camacho, said gunshots went through his windshield as he was stepping out of his truck.
Agent Bryan Altieri, who was injured in the crash of Mortensen's truck, told police he heard gunshots as his partner exited the truck. "Bang, bang, bang, bang, bang, bang," he said. "And I hear someone yell 'Shots fired.'"
According to police interview transcripts, none of the other witnesses to the shooting could say with certainty who shot first.
Valenzuela, the friend of the slain driver, was interviewed just eight hours after the shooting.
When Detective Hamas asked her who shot first, she said she "just assumed" it was Jose. But when pressed on whether she first heard shots from inside or outside the SUV, Valenzuela broke down.
"It didn't seem real, I didn't know," Valenzuela said, barely audible through her sobs. "I looked at Theresa, and she was gone."
Valenzuela said she threw herself over the 17-year-old migrant sitting next to her in the backseat. That girl, Maria Martinez-Luna, told police she didn't see how the shooting started.
She was interviewed by Hamas, with HSI agent Angel Hernandez translating to and from Spanish.
"At any time did you see that he (Jose) grabbed the gun and began to use it?" Hernandez asked.
"No," Martinez-Luna responded. Hernandez translated her response as "She doesn't know."
"When did he start firing?" Hernandez asked.
"When the gunfire started, and then I ducked," the girl responded.
Phoenix police did not interview the other migrant in the Trailblazer, Genaro Jiménez-Sánchez, even though federal prosecutors detained him as a "material witness" in their case against Jose. In a court filing, Jose's lawyer said Jiménez-Sánchez ducked down after the collision with the HSI truck and "heard but did not see gunshots."
Although Phoenix police released their investigative report and most of the evidence collected, police officials would not answer questions. They deferred all questions to HSI, which declined to speak with reporters or take written questions.
Among the crime-scene evidence released by police was a recording from a home security system half a mile from the shooting scene that captured the sounds of the vehicle chase, crash and gunfight. The Howard Center asked two nationally renowned audio forensics and ballistics experts to review the recording.
Both said a handgun, as carried by the agents, and not an AK-47 rifle was the first to fire.
"With a high degree of scientific certainty, the first shot fired was a Sig Sauer .40 caliber shot," said Steven Beck, an audio forensics and acoustics expert who worked as an FBI scientific consultant for 16 years.
"That very first gun shot … it's very prominent," said Beck, who compared information from the recording with details of the scene included in the police incident report and crime scene photos. Using a specialized software package built for analyzing audio, he was able to look at each gunshot's sound waveform to determine the differences between them.
"It's quite loud and had all the characteristics that were consistent with the Sig Sauer," Beck said.
Mortensen was the only one involved in the shootout who carried a Sig Sauer, according to the police report.
The audio recording also was reviewed by Rob Maher of Montana State University, who has authored more than a dozen reports and extensively researched gunshot acoustics. Using a different computer program than Beck, Maher distinguished each gunshot by looking at its varying amplitudes and frequencies.
Maher reached a conclusion similar to Beck's, stating in an email that his "subjective impression is that the first few shots are from a handgun … based on the short duration of the muzzle blast sound."
The Maricopa County Attorney's Office, the lead prosecutor for metro Phoenix, joined in some of the interrogations and reviewed the police department's investigation into the April 11 shooting.
In an August letter to the HSI special agent in charge for Phoenix, A. Scott Brown, the County Attorney's Office criticized HSI agents for not following standard officer-involved shooting protocols, including refusing to give statements right away or conducting a walk-through of the scene.
Prosecutors recommended "no criminal charges at this time" but noted that they had been forced to "rely upon secondary sources," which limited "the degree to which involved agents can be fully and confidently cleared of any wrongdoing."
"There is insufficient evidence to rebut the involved agents' subsequent statements of reasonable belief of imminent use of deadly physical force," the letter said, concluding, "It is of great mutual benefit to retain the public's confidence in reviewing incidents where loss of life occurs."
"The tragedy is in a situation like this, when you start doing cops and robbers and doing like something out of a TV outtake, people get hurt, people get killed," Kirkham said.
Policing experts have said law enforcement officers should not put themselves in positions where vehicles can effectively become weapons, and then use that fact as justification for responding with deadly force.
Kirkham, the Florida criminologist who once worked as a police officer, called the actions of HSI agents leading up to the shooting "deadly" and "reckless."
Given that agents couldn't see inside the Trailblazer and suspected its occupants might be armed and dangerous, or transporting hostages or innocents, he said they should have used extra caution. For example, they could have asked Phoenix police for help, such as blocking traffic up ahead or deploying stop strips to destroy the Trailblazer's tires.
"The tragedy is in a situation like this, when you start doing cops and robbers and doing like something out of a TV outtake, people get hurt, people get killed," Kirkham said.