I, like many Arizonans, have been following
Gov. Doug Ducey's regular COVID-19 press conferences
. I really appreciate him doing these pressers—it allows the media to make inquiries about his policy choices in the face of the current crisis. And I've been able to closely examine the case that he has been making to justify his policies.
His case has not been made in good faith.
The Arizona-based political blog that I manage,
BlogForArizona.net
, has been following
the COVID-19 crisis in Arizona
closely. I have documented
Ducey's deceptive manipulation of White House & CDC guidance to justify re-opening the state's businesses and places of public accommodation
, and his
misleading justification for staying the course
, even as the epidemic becomes
more and more obviously resurgent in Arizona
.
In his May 20 presser, Ducey laid out his case for re-opening Arizona. He pointed to the White House's guidance "
Opening Up America Again
" and the implementation
guidelines provided by the CDC
, using them to argue that Arizona met the gating criteria for moving into Phase One of the White House plan.
The problem is that Arizona did not then, and does not now, meet these criteria.

Primarily, the White House/CDC plan requires that a state have a 14-day period of declining case numbers before entering Phase One.
Arizona has
never
had a downward trajectory in case numbers over a 2-week period. In fact, data from the Arizona Department of Health Services clearly show that the number of known cases has either increased or briefly held steady (depending on the specific period) since the epidemic began. But Ducey has elected to ignore this fact in favor of a clever and misleading dodge based on the expansion of testing in Arizona from 10 thousand tests per week to about 40 thousand tests per week.
You see, the White House/CDC plan includes an alternative criterion for entry into Phase One; the plan also allows it if the state has a 14-day period in which the percentage of positive cases declines, but only if testing is "largely stable" and if good data for the number of actual cases are not available. Given its four-fold increase, testing in Arizona obviously has
not
been stable. Nonetheless, because the increased testing caused the percentage of positive cases to decrease, Ducey pointed to this decrease to justify re-opening, The alternative method was not intended to enable states to ignore an actual rise in their number of cases. Yet Ducey ignored the clear danger of re-opening when case numbers were not yet declining.
Ducey has misled Arizonans by claiming that this alternative method of proving a decline in cases was a better metric than the actual number of cases. Ducey has repeatedly argued that the rising trajectory in cases is somehow
irrelevant
to his decision to re-open and stay open. If he valued Arizona's health, the
actual
number of cases should have been his most important metric to decide whether to re-open the state, and whether to stay open. In response to political pressure from his base, he instead cherry-picked his metric, and then tweaked it, to justify re-opening in face of clear and compelling evidence that the epidemic had never declined in Arizona in the first place.
The wheels finally came off this jalopy when Arizona Capitol Media's Howie Fischer confronted the Ducey with the percentage of positive test percentages from the past few days. Howie pointed out the data the Ducey presented at the June 4 presser, stopped on May 31, "which is convenient since on June 1, the positive tests went to 6.5%, June was 11.5%, and June 3 totaled 14.7%," The percentage of positive tests are exploding. Yet the amount of testing in the state
has been flat or even declining since mid-May.
The idea that we are seeing more cases in the last few weeks because there's been more testing is just flat out false.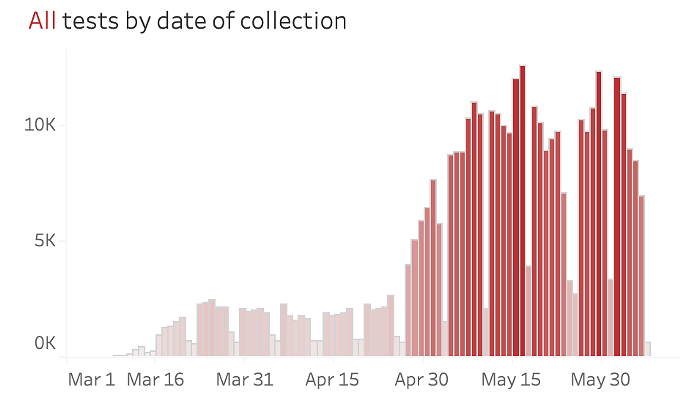 Secondly, the White House/CDC plan requires a state to have a "robust" testing capacity before re-opening
. The purpose is to ensure that any resurgence in infections triggered by re-opening can be effectively tracked. Arizona's testing program cannot possibly be called "robust" with a straight face; it has
been consistently
among the last in
per capita
testing among the states. Despite Ducey's oft-repeated touting of a "testing blitz," the increase in testing availability in Arizona has not been enough to move it from the back of the pack. As of June 8,
Arizona ranked #45 among the states in per capita testing
. Although Ducey is well aware of Arizona's poor testing capacity, he has pushed ahead recklessly with a corporate-style PR campaign about a "testing blitz" that was actually more of a "lazy testing stroll."
Arizona did not meet the White House gating criteria for Phase One in mid-May when Ducey ordered Arizona to re-open, and Arizona does not meet those criteria now. Despite the mounting and undeniable evidence that the epidemic is growing rapidly once again, Ducey continues with his reckless policy.
However, Ducey seems to have recognized that the jig is up.
During his latest presser
(June 4), he completely pivoted his messaging, claiming that he always expected—and told the public he expected—a rise in the number of cases. The rise was "expected" upon re-opening as a result of increased testing. However, he never mentioned this "expectation" in his pressers, and in fact, now that testing has flattened, the number of cases is still going up. Ducey apparently agrees that all this testing is the problem. Maybe that's why Arizona is still just #45 in the nation.
Ducey now claims that the most important measure of the state of the epidemic in Arizona is whether the medical system can handle the "expected" increase in cases without "crisis care." Although he hasn't defined "crisis care," he likely has the
CDC's metrics
in mind: whether medical facilities are becoming overburdened and whether residents can be treated for the disease without emergency measures or shortages of needed equipment and personnel. But both are now happening in Arizona.
The state's largest medical network is
sounding the alarm that their ICUs
are near maximum capacity and
that they have run out of the ECMO
(Extracorporeal Membrane Oxygenation) machines that sustain the life of patients whose lungs have completely shut down from the virus. (They bypass the lungs to directly oxygenate your blood. I suspect that an ECMO machine shortage will soon replace the ventilator shortage as a national issue.) Now, Ducey's own Arizona Department of Health Services is
activating emergency capacity procedures for medical facilities statewide
.
How soon will Ducey acknowledge that his politically motivated rush to re-open has backfired with a resurgence of the epidemic? How many more must sicken and die before Ducey reverses his reckless policy?
Ducey lied to Arizona. We were never ready to re-open. He ignored obvious evidence showing the continued spread of the virus, and failed to sufficiently expand Arizona's testing capacity beyond the bottom of the barrel.
Now the virus is spreading again. It may soon spiral out of control, exceeding the capacity of our medical system, endangering Arizonans' lives, and further damaging the state economy.
And what is Ducey doing about it? Staying the course. To disaster.