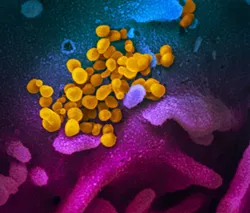 Gov. Doug Ducey announced Wednesday that Arizona's stay-at-home order will extend through May 15 with modifications as the state implements a gradual, "phased" approach to reopening.
"These habits we've acquired over the last 45 days will not be with us forever, but they will be with us for the time being," Ducey said.
Ducey said that he will decide how to move forward based on what future testing shows regarding the spread of the virus, but explained it would be a gradual reopening of businesses now closed.
The governor added that some businesses can voluntarily reopen beginning Monday, May 4, as long as they resume physical distancing. The first stage of opening includes appointment-based services, with more businesses included on Friday, May 8.
Ducey's decision won support from both Democrats and business leaders.
"The revisions put forth by the governor breathe needed oxygen into our retail sector," said Glenn Hamer, president and CEO Arizona Chamber of Commerce & Industry. "Stores that sell essential goods have proven already that they can operate safely, and we look forward to more retailers doing the same."
Pima County Supervisor Ramon Valadez, who earlier in the day urged Ducey to be cautious in relaxing restrictions, said Ducey appeared to be taking the right course of action by encouraging people to remain at home but allowing businesses to reopen on a limited basis.

"What he's doing right now is OK," Valadez said. "We need to go with science and data and public health so we're not re-doing the reopening in another month, because that's what we're looking at if we don't do that right."

Valadez added that vulnerable populations such as seniors or people with underlying health issues avoid going out in public as much as they could.

Ducey said that he working to allow restaurants to begin serving more than takeout and delivery in the near future but bars would remain closed for a longer period.

Arizona Restaurant Association President and CEO Steve Chucri said he had been working with Ducey to develop ways to safely reopen eateries.

"We appreciate the governor's thoughtful and inclusive approach," Chucri said in a prepared statement. "And though we are not ready to open today, by working together we will get there soon."

Tucson Mayor Regina Romero said Ducey was moving in the right direction.

"I am encouraged by Governor Ducey's extension of his 'Stay Home, Stay Healthy, Stay Connected' Executive Order and applaud his measured approach," Romero said in a prepared statement. "These are difficult but necessary decisions that no elected official relishes making."

Romero said that she wanted to ensure that Tucsonans are safe from COVID-19 in the workplace and the marketplace before the stay-at-home order is lifted.

"Every day that our local businesses remain closed and our workers without jobs pains me," Romero said. "I am as eager as anyone to begin gradually re-opening our economy, however we must do so in a manner that is safe and consistent with the advice of public health experts. It is critical that a phased-in re-opening follows the guidelines established by the CDC, and locally by the Pima County Health Department. To date, Arizona and Pima County have not met this criteria."

Romero added that she wanted to work with Ducey and state officials before lifting more restrictions.

"Given that the Executive Order pre-empts municipalities from taking action at the local level, I would highly advise Governor Ducey to seek the input of Mayors and local elected officials who are on the frontlines of this pandemic," she said. "I look forward to working with Gov. Ducey to promote the safety and well-being of Arizonans during these difficult times."

Tucson City Councilman Steve Kozachik likewise said it was important that local jurisdictions have the authority to set their own protocols regarding the outbreak.

"We need to follow science and not put our city at greater risk of reversing any slight perceived gains we may have achieved," Kozachik said.

House Democratic Leader Charlene Fernandez (D-Yuma) said it was a "good decision" to extend the modified stay-at-home order. She said the state should follow CDC criteria for reopening the state and called for more testing.

"Arizona does not yet meet all of these standards—while our healthcare system appears to have capacity, our curve of infection is not yet bent—so it was a good decision to extend Arizona's stay-at-home order until May 15 with modifications," Fernandez said. "Gov. Ducey said that Arizona is heading in the right direction, and we certainly hope that is the case, but we need more tests and more decreasing trendlines."

Ducey's announcement came on the same day that the state's confirmed cases topped 7,200, with 304 people dead after contracting the virus. A total of 80 people have died from COVID-19 in Pima County, which was home to 1,215 of the state's 7,202 confirmed cases, according to the Arizona Department of Health Services.

Ducey has been criticized by some Arizona conservatives for the stay-at-home order, but a late April poll by Public Opinion Strategies showed that most Arizonans approved of the effort to slow the outbreak. Roughly six in 10 voters thought his approach had been "just about right," while 29 percent said he had "not gone far enough" and just 8 percent said he had "gone too far," according to the poll of 600 registered voters.

Ducey issued the initial stay-at-home order on Monday, March 30, ordering the closure of "non-essential" businesses, but critics said he allowed too many businesses to remain open. As the virus continued its spread, Ducey later trimmed the list of "non-essential" businesses, forcing barber shops, beauty salons, swap meets and similar businesses to shut down.

Hundreds of thousands of Arizonans have lost their jobs since the outbreak began, with more than 420,000 people applying for unemployment benefits in recent weeks. Even many businesses that have been able to keep their doors open have experienced sharp drops in revenue. State budget forecasters have said the state could be facing a billion-dollar budget shortfall but advised that with so little data to work from, they could be off by $500 million in either direction.

Jim Nintzel and Austin Counts contributed to this report, which has been updated with reaction throughout the day.