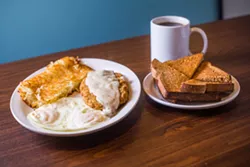 Tucson's superb breakfast and brunch scene are a little less delicious this week after Bisbee Breakfast Club announced it would close all Tucson locations due to growing concern over the COVID-19 pandemic.
The closure includes carry-out and curbside pickups and took effect on Tuesday.
"Through no lack of support from you wonderful folks, we've powered through the last few weeks, doing our best to adapt," the company wrote in a statement released to its Facebook accounts. "Now, however, given the growing concern over COVID-19, we've decided it's in our staff and guests' best interest to batten down the hatches and wait this terrible situation out."
According to the company, locations will reopen "as soon as the situation allows."
Bisbee Breakfast Club has four locations in the Tucson area: 4131 W. Ina Road on the north side, 4811 E. Sunrise Drive in the Foothills, 2936 E. Broadway Blvd in central Tucson and at 410 N. Wilmont Road on the east side.