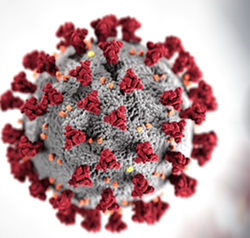 Today's Southern Arizona coronavirus roundup:
•
Pima County had five confirmed cases
and the state of Arizona had 15 cases as of the morning of Wednesday, March 18.
•
Restaurants in Pima County, Marana and Oro Valley remain open
but Pima County is discussing new policies and the mayors of both towns have declared emergencies and plan to follow Pima County's lead. The Pima County Board of Supervisors is s
cheduled to discuss an emergency declaration
at a special meeting tomorrow. Also,
Rocco's Little Chicago is now delivering!

• Marana Unified School District announced it is
distributing Chromebook to students
and will operate a mobile meals truck for students while schools are temporarily closed.
• Tucson Medical Center is
no longer allowing visitors
unless you are accompanying a pediatric patient or a mother giving birth.
•
How lucky are you feeling?
Casino del Sol and Casino of the Sun have shut down but Desert Diamond Casinos ad Entertainment in Tucson, Sahuarita and Glendale remain open.
• More temporary closures and limited hours: Tucson Premium Outlets is
shuttering through March 29
. Target is
limiting its hours
.
• Pima County constables say they
will not proceed with evictions
without further guidance from Pima County Health Department and the Arizona Supreme Court during the outbreak.
• The Department of Corrections has
changed healthcare policies
in face of the outbreak.
• The U.S. Senate has
passed a coronavirus relief bill
that boosts unemployment insurance and allows free coronavirus testing. A larger relief package is in the works.