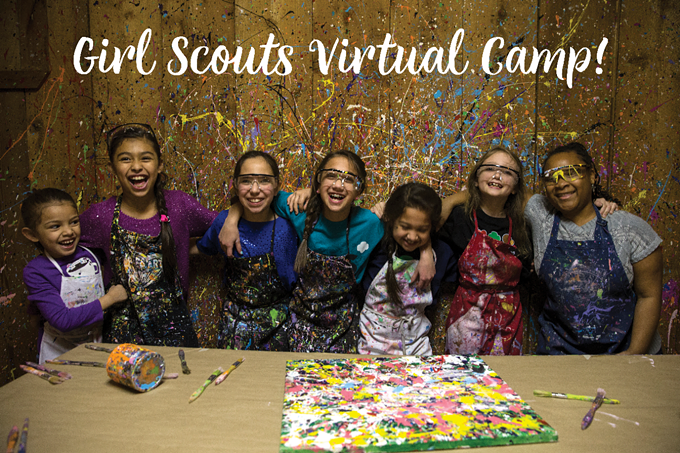 In a statement made today, the
Girl Scouts of Southern Arizona
have revealed their response to COVID-19 in the form of
Virtual Girl Scouts
. Starting Wednesday the site will be updated with activities for girls to do on their own.
See the release below:
Girl Scouts of Southern Arizona's Response
to COVID-19: Virtual Girl Scouts!

Dear Girl Scout Families and Caregivers,

We have been moving rapidly to act on the latest COVID-19 developments to ensure that we are doing our part in helping to keep the Girl Scout community safe and healthy.

The greatest action we can take is Social Distancing. All Girl Scout activities, functions, meetings, and gatherings will be paused for the remainder of the month. Please plan accordingly. Furthermore, staff will be working remotely from home to ensure business continues in a safe manner. Our team will respond to incoming needs via email and phone and communications will continue as planned. As the weeks go on, we will assess April activities.

"While this is a challenging moment for our country and our world, it is also an opportunity for Girl Scouts to show the world why our Movement is more important than ever before, and for us as Girl Scout leaders to serve as role models for the leadership skills and behaviors we seek to instill in girls," said Sylvia Acevedo, CEO, Girl Scouts of the USA.

Girl Scouts of Southern Arizona wants to keep your girl active and engaged. Our wonderful program team is preparing virtual badge and patch activities that can be done from the comfort of your home, focusing on STEM, Outdoors, and Life Skills. Virtual Girl Scouts will have newly uploaded content starting Wednesday, and we will continue to add additional offerings throughout the coming weeks.

During this time, Girl Scouts can receive free shipping when purchasing from the the Girl Scout Shop. For additional retail needs, please contact Jillian Hoenshell.

We will continue to stay nimble as additional information and updates are rolled out from our state officials. As we continue to live by the Girl Scout Promise and Law, we are reminded to remain courageous and strong, and be a sister to every Girl Scout.
VIRTUAL GIRL SCOUTS
Yours in Girl Scouting,

Kristen Hernandez
Interim Chief Executive Officer
Girl Scouts of Southern Arizona
The
Catalina Council of Scouts
has similarly
released a statement
regarding COVID-19. Along with stressing cleanliness and the values that scouts should carry with them at all times, they also stress:
In accordance with the announcement by the Governor and State School Superintendent, the Catalina Council strongly recommends and expects an immediate suspension of all Unit Scouting activities, meetings and gatherings until schools' resume operations (currently – March 30th).

Please feel free to use technology to host virtual meetings and encourage parents to use this opportunity to teach their kids the lessons that they would be learning during their Scout meetings.
The rest of the statement outlines preventative measures that are being taken. Currently, plans for any summer camp activities remain up in the air.