In line with ancient Celtic myth, not unlike the mighty Boudica, Queen of Iceni, on
The Orange EP
these formidable women warriors lead us to higher realms of feminine intuition and spiritual wisdom, to arrive at a mysterious landing.
Otherworldly voices, folk harp and viola delicately commingling, Mariah McCammond (Loveland) and Deanna Cross (The Unday, For Love or Absinthe) are The Hatpin Duo.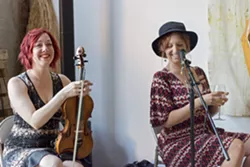 McCammond's voice, underpinned by her delicately plucked harp, call out like a siren, planting dreams, entwined with Cross' fine-drawn viola lines together form a potent hothouse for the mind to put forth shoots.
The Hatpin Duo celebrate the release of
The Orange EP
with a soirée. On Saturday, Feb. 8. The event features a dance performance by Kinetic Arts, an art exhibition by Liz Weibler (
The Orange EP
cover artist) and a set from DJ Buttafly. At Kinetic Arts Tucson.