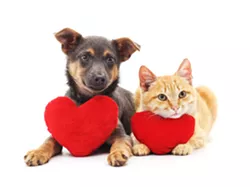 In the words of Charles Dickens... "What greater gift than the love of a cat?" And in our opinion, dogs, too!
Join
Pima County Public Library
in helping homeless pets at
Pima Animal Care Center
, our community's only open-admission shelter. Between
December 16 and January 6
, drop off pet supplies at any *Pima County Public Library.
Want to know what's most needed? Check out this holiday wish list:
Most Needed
Nylabones & Kong Toys
Collars, leashes, and harnesses
American-sourced treats, food, toys, and bones
Kuranda Beds
Gently-used or new pet beds
Large towels & small fleece blankets
Variety of canned cat food
Cats
ThunderEase Multi-Cat Calming Diffuser
Feliway Multi-Cat Calming Diffuser
Gerber baby food (meat flavors)
BeechNut Chicken and Chicken
Broth baby food
PartyMix Cat Treats
Canned Cat Food (all types and flavors)
Cat heating pads/blankets
Dogs
Jif Creamy Peanut Butter
Adaptil Calming Collars
Crates & Kennels (all sizes)
Slow feed dog bowls
Dog training clickers
100% Pure Canned Pumpkin
* Joyner-Green Valley Library and Salazar-Ajo Libraries are not drop off sites.